When it comes to cooking couscous, rice or quinoa, I always land up having leftovers. No matter how strictly I plan and how accurately I measure, there is always some left at the bottom of the pan. It needs to be re-used the next day and most of the time, it works in my favor. The two best ways I utilize these leftovers are by either adding it in soup for volume or prepare patties to bite along side our evening tea. And since I have a terrible weakness for pan-fried patties, that's the route I choose more often.
Besides, it's a great way to mix veggies and turn it into a healthy snack. Similar to what I did last time with beetroots and arugula.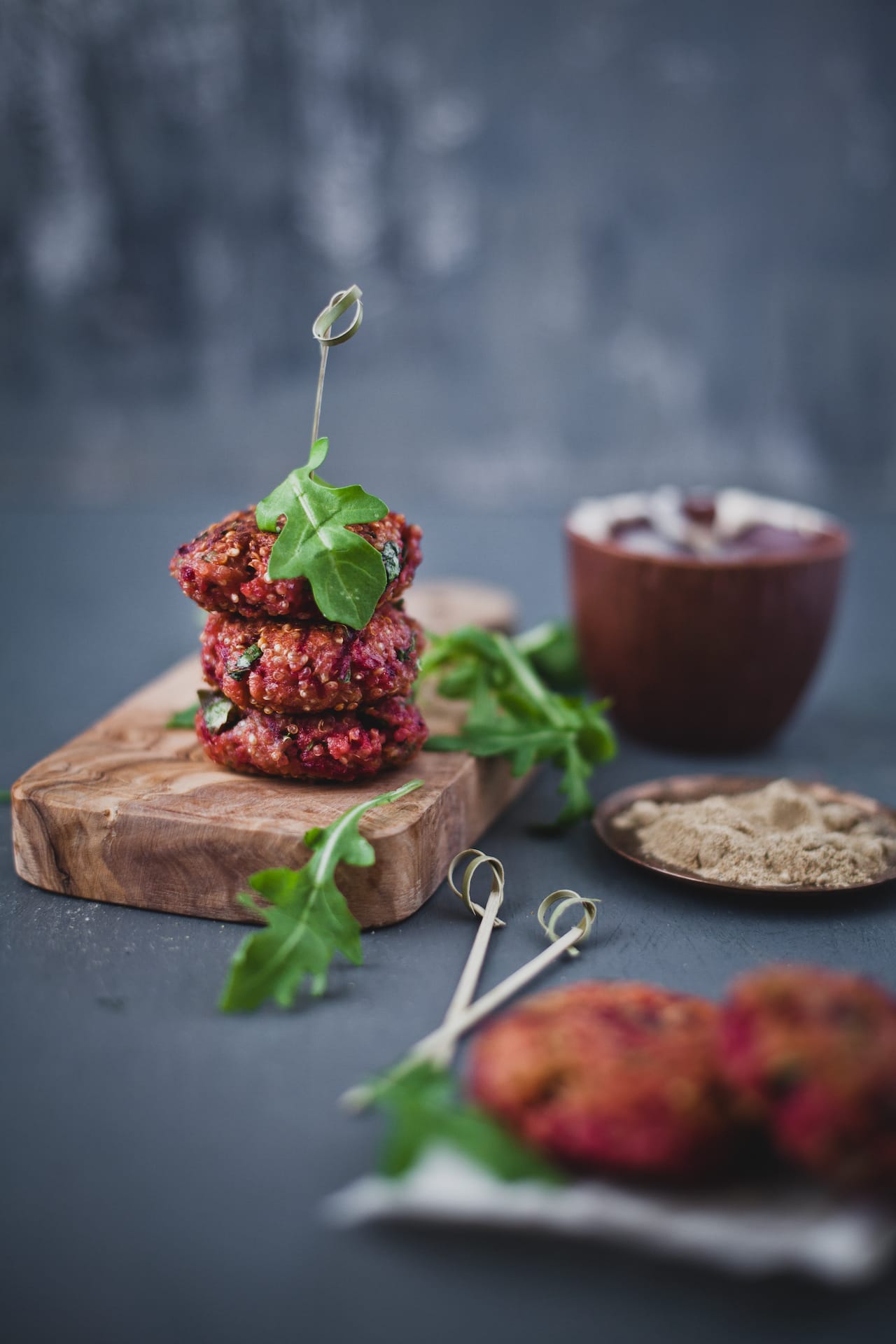 I developed love for beetroots at a much later stage in life when it became my routine diet for nearly six months. I was severely anemic and beetroots certainly did save me besides the medicines and other food. Not that it's my favorite but I sure do adore the pink shade it adds. Plus, I find beetroots super photogenic. I have lost count for number of beetroot photos that I have captured till date. It's such a pretty subject to shoot.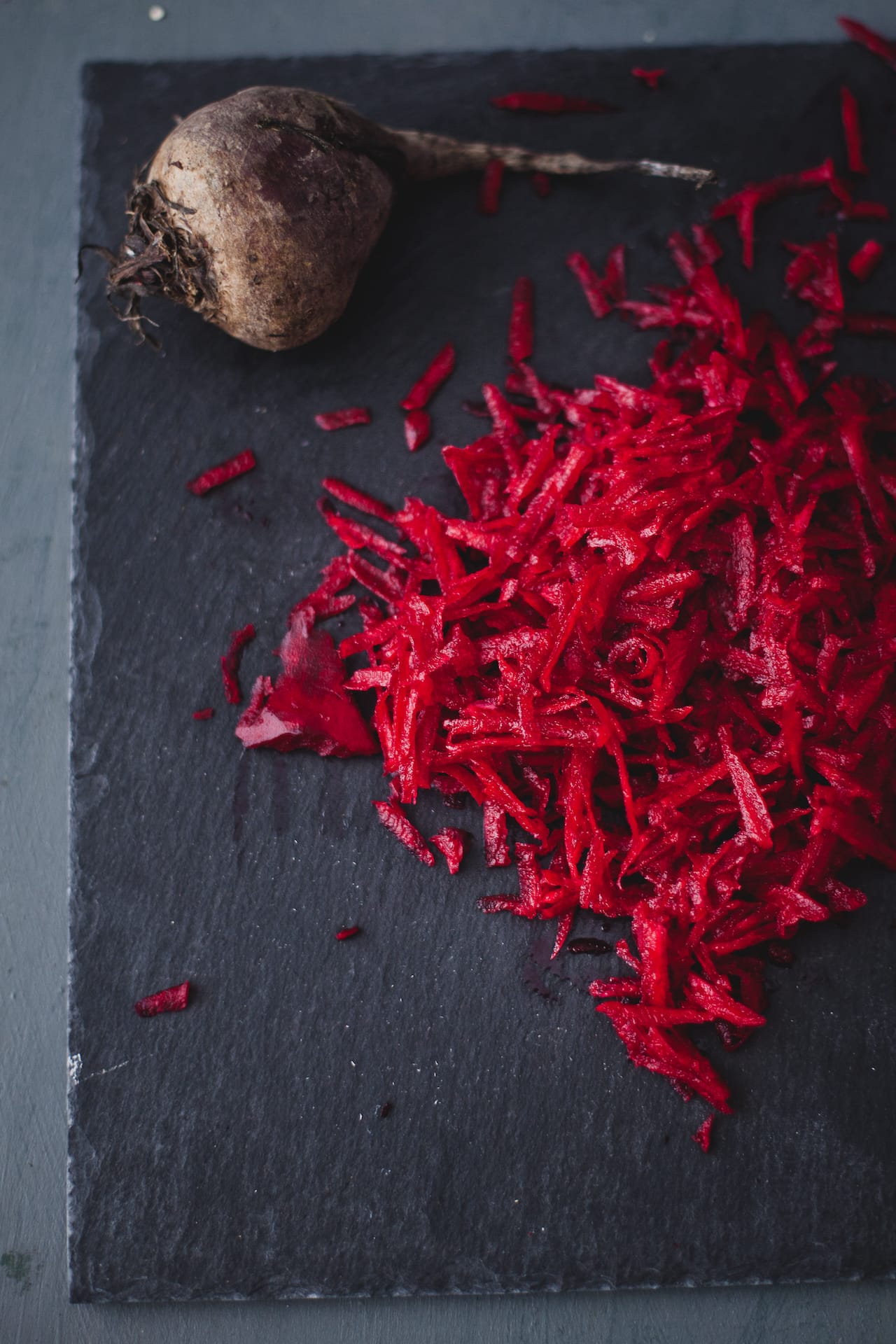 These patties are super simple to create and although I served it as a snack, if shaped in bigger size, they can very well be used in a veggie burger. There is the sweetness from beetroots, the right amount of peppery flavor from fresh arugula and the crunchy texture from quinoa. Just pour a cup of tea/coffee, snug up in the couch with a book or turn on your favorite TV channel and enjoy these while they're still warm.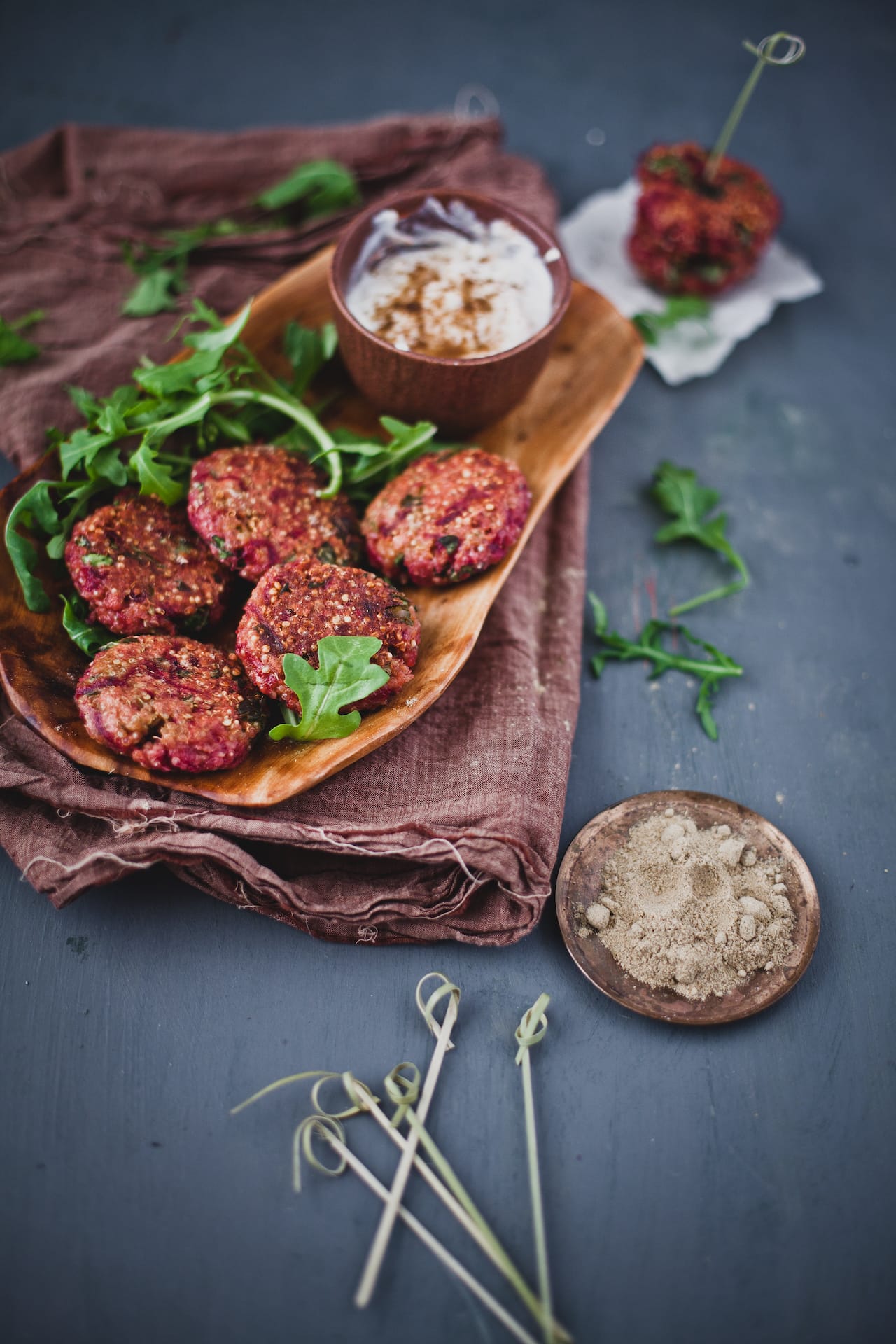 A tiny pinch of chaat masala at the end adds the smack that my husband is extremely fond off when it comes to patties/fritters. It's however not a necessity. A few squeezes of lemon or lime would work too.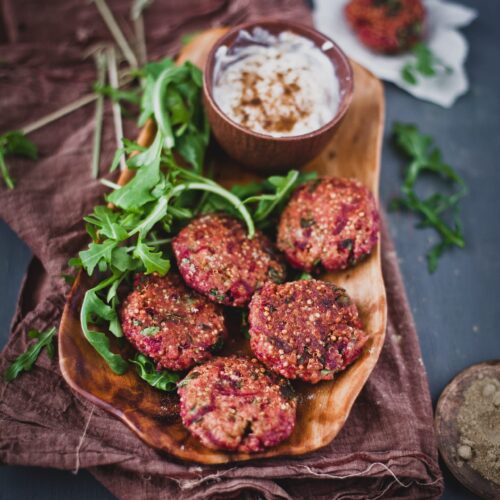 Beetroots Arugula Quinoa Patties
Ingredients
¾

cup

quinoa

2

medium size beetroots

(grated)

2

tablespoons

breadcrumbs

1

tablespoon

all purpose flour

1

egg

1

teaspoon

cumin powder

1

teaspoon

chili flakes

3

cups

arugula

(roughly chopped)

salt

oil

chaat masala

(optional)

fresh lemon/lime juice

(optional)
Instructions
Mix 1 cup water with 1 teaspoon cumin powder, some salt and quinoa in a pan. Bring it to boil. Reduce the heat to medium and let it simmer until water is completely absorbed. This should take about 15 minutes. Once done, take it off heat, cover the pan and let it rest for 5 minutes. After 5 minutes, fluff it with a fork and let it cool to room temperature.

In a bowl, add cooled quinoa, grated beetroots, egg, breadcrumbs, flour, chili flakes and arugula. Give it a mix and shape into bite size patties. Allow the patties to rest in the refrigerator for about 15 minutes.

Heat 3 tablespoons oil in a pan at medium heat and place the patties without over crowding it. Depending on the size of the patties, you might have to add more or less oil. It should take about 5 to 7 minutes on each side. Once done on one side, flip carefully and allow it to cook for 5 more minutes. Since I am always worried that it might remain uncooked in the center, I always bake it at the end for about 7 minutes at 350F.

Sprinkle some chaat masala or squeeze lemon/lime juice and enjoy while it's still warm.
Notes
The cooking time will be less if you have already cooked quinoa.
Nutrition