At times, you try a dish for the first time and you absolutely love it.. it just hits your taste bud! Well, that is exactly what happened with me when I tried Quiche for the first time. Few years back, when I was in Bangalore, one of my friends took me out for lunch and she decided to introduce me to quiche. At first, my reaction was.. what?? what is that now? the name doesn't sound fancy!!
The restaurant was beautiful and the ambiance was very homely...score 1! So, after a couple of martinis and some spicy appetizers, we ordered for spinach corn quiche and some salad. When the quiche was served, it looked super yummy and the smell was making me happy...score 2. I was still not sure if I would like it, but as soon as I took one bite, I was in paradise. It made me absolutely happy and it immediately went into my list of most favorite dishes. The creamy cheesy filling with the crunchy crust was like a party in the mouth.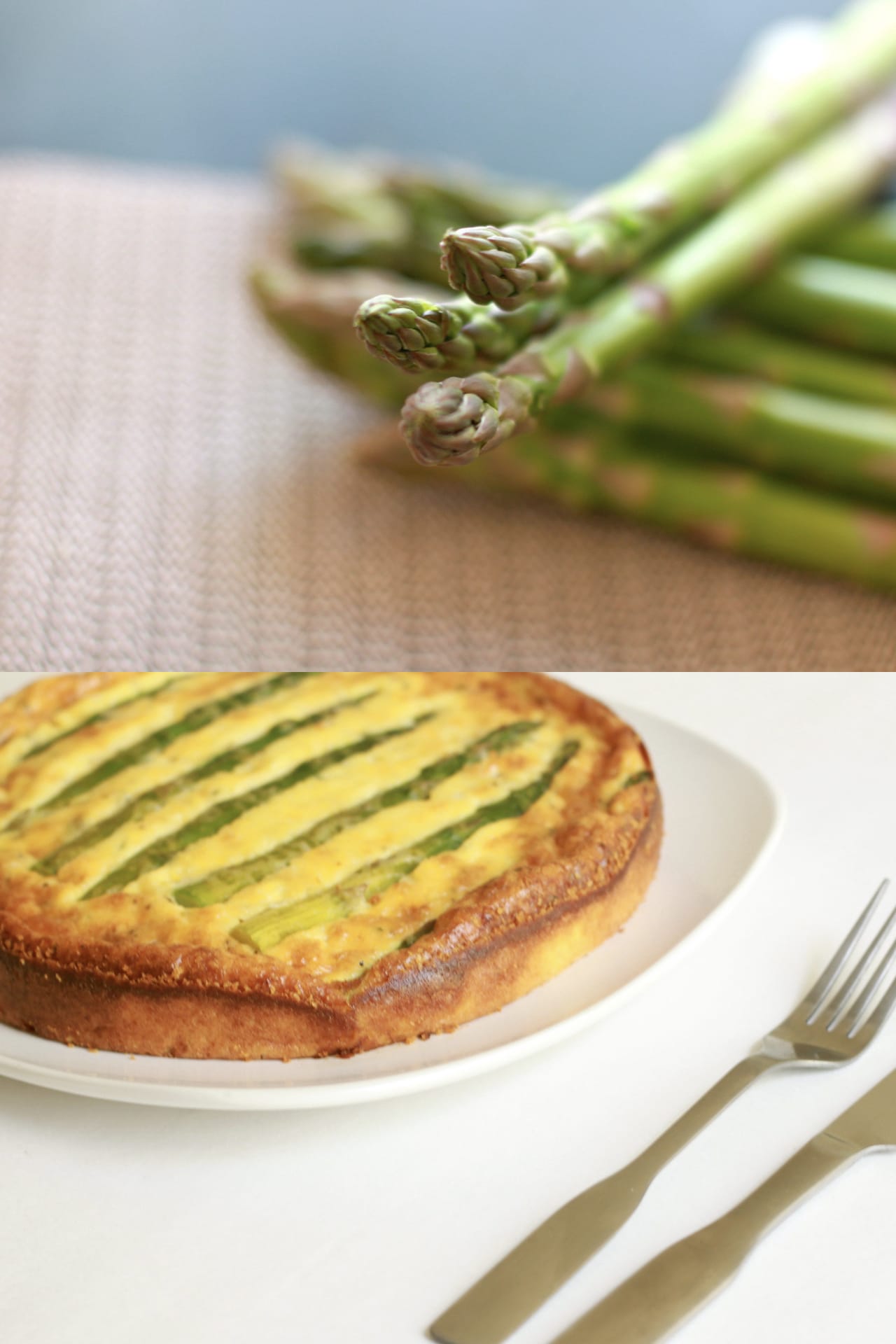 Last weekend, I was craving for quiche and we both were feeling too lazy to eat out. As always I thought why not give a try and make it at home. I had some frozen puff pastry 🙂 I finished my morning tea, gave it a serious thought and decided to make Asparagus and Shrimp Quiche for our brunch. You can make out how much risk I take 🙂
After looking through the net for about half an hour, I came across lots of amazing recipes and some of them were crust-less. How cool is that! To my surprise, most of these recipes didn't require too much prep time. You chop your vegetables, mix them with some egg and milk and then, put them in the oven. Voila!! You are ready to enjoy your crust-less quiche in about 30 mins. I made the quiche with shrimp and asparagus this time and next time, I am planning to make it with my favorite spinach and corn.
Asparagus and Shrimp Quiche
Ingredients
1

medium onion

(finely chopped)

5 to 6

white shrimps

(cut in bite size)

3

cloves

garlic

(finely chopped)

4

eggs

1

cup

heavy cream

8

asparagus

salt

pepper

1

tbs

chilly flakes

½

cup

grated parmesan cheese

oil

bread crumbs to dust the baking pan
Instructions
Blanch the asparagus by placing it in boiling water for about 3 minutes and then, shock them in ice water. Keep them aside.

Heat 2 tbs oil in a pan and add the garlic.

Add onion, salt and pepper and saute them till onions are translucent.

Next, add the shrimps and cook for another 3 minutes.

In a big bowl, whip the eggs with heavy cream, salt, pepper, chilly flakes and parmesan cheese.

Add the cooked onion and shrimp to the bowl and mix them properly.

Grease a baking pan with some oil, dust it with bread crumbs and pour the mixture from the bowl to the baking pan.

Arrange the asparagus on top in a line.

Drizzle some olive oil on top.

Bake it at 400 F for 28 to 30 mins.

Serve it hot !
Nutrition
I absolutely enjoyed it. It was easy to make and I found it a perfect brunch item for a lazy weekend. However, I was missing the crust a little and I think, next time I will have to make it with crust 🙂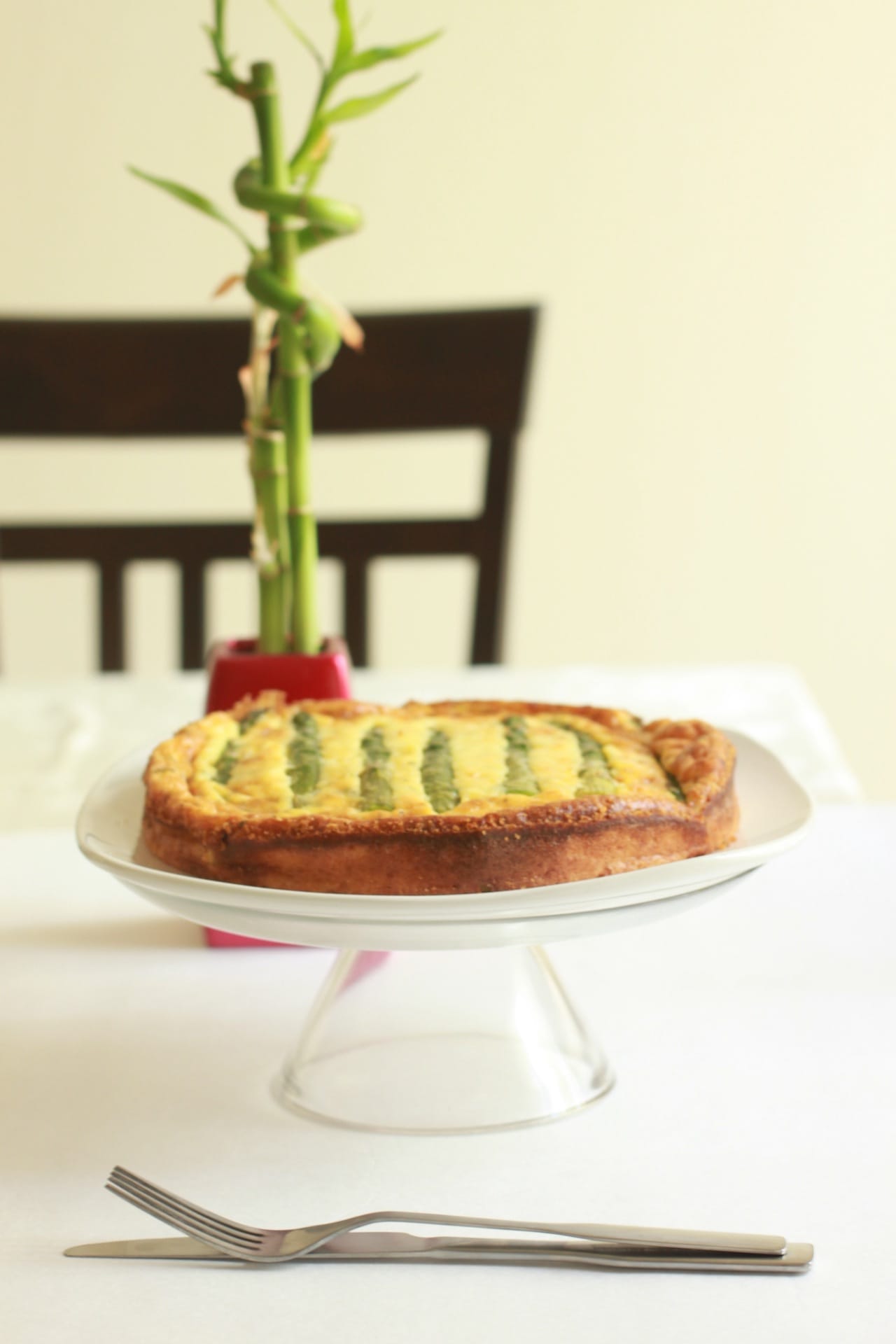 Sharing it with Friday Potluck