Crunchy potato fritters topped with chickpea stew, bathed with the famous trio of red and green chutney along with tangy yogurt, topped with raw onions, cilantro and tiny strands of fried chickpea flour batter called sev! And to give that final smack, a pinch of chaat masala is sprinkled at the end. With so many things going on in one plate, Aloo Tikki Chaat should clearly fall under meal category and just not snacks!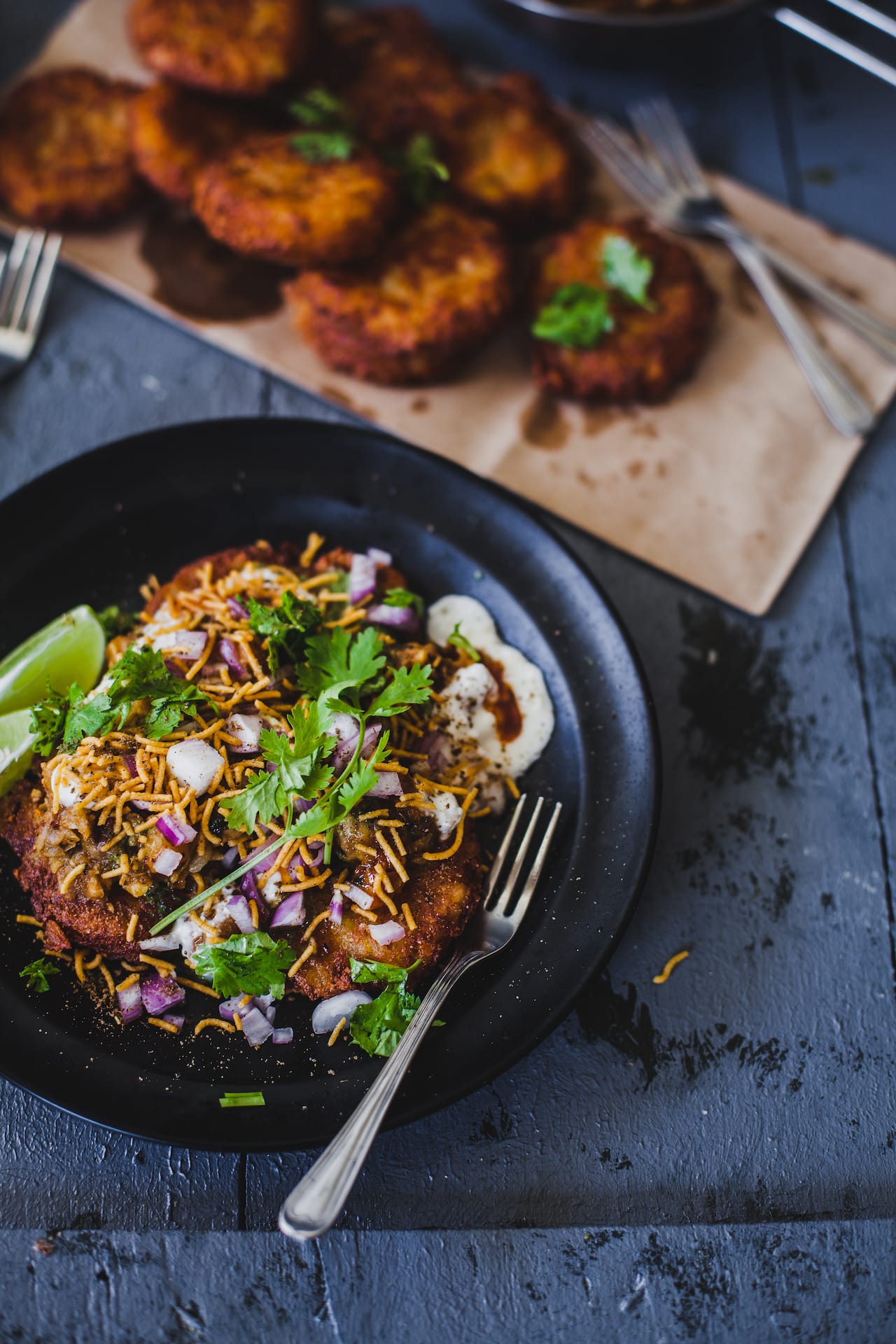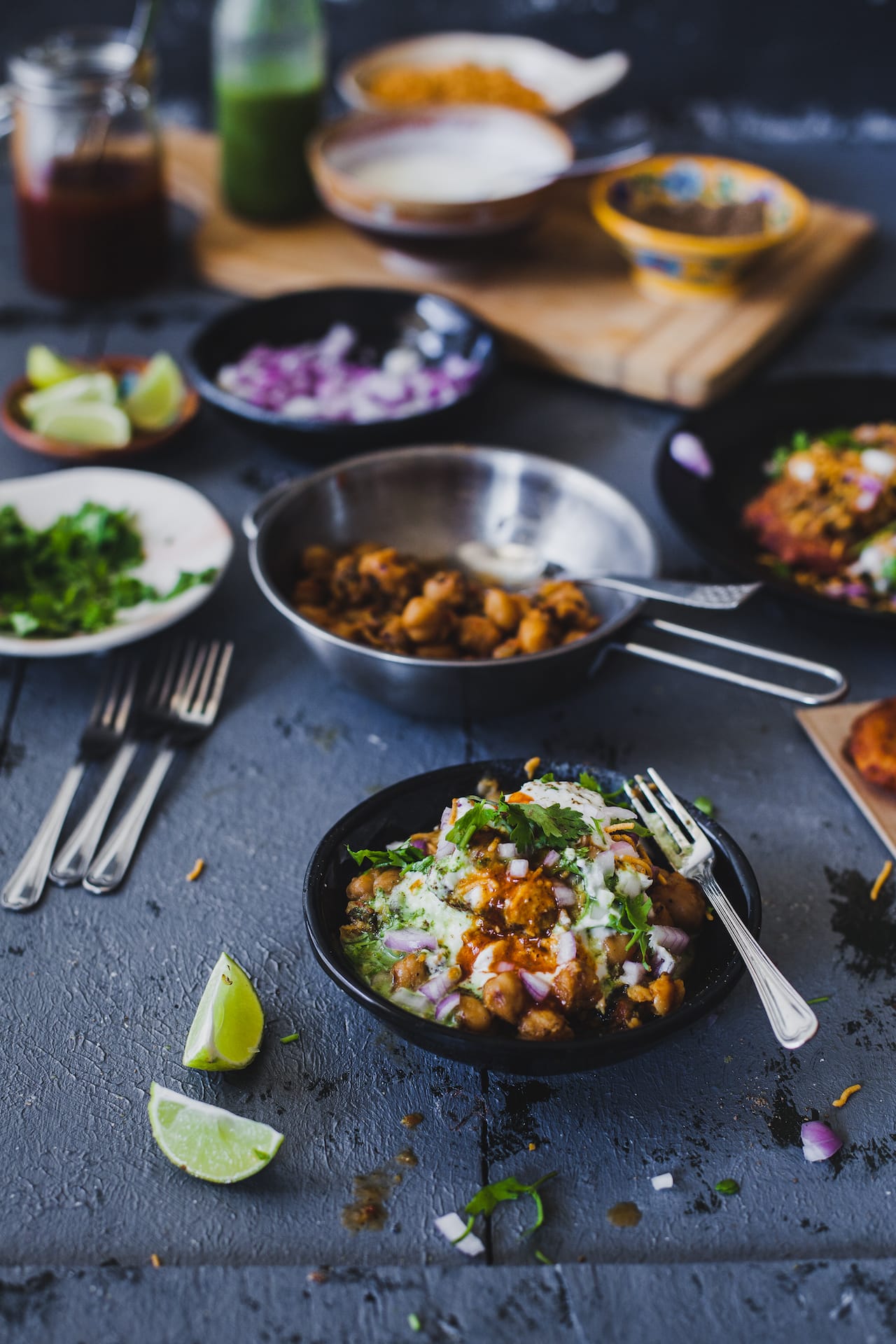 For people who are unaware, Chaat is not one single dish but a type of street food snack that is very famous in India. It is a mishmash of several things that have the ability to hit the entire flavor note, sweet, salty, sour and savory. It has the texture, the crunch, a combination of chutney and sour yogurt to cool off the heat. It's moreish and uplifting every single time.
It may look like quite a task to build a plate of chaat and to tell you the truth, I would fancy ordering a plate rather than making my own. However, it's not at all that difficult to prepare, it's just the number of components that goes in the dish.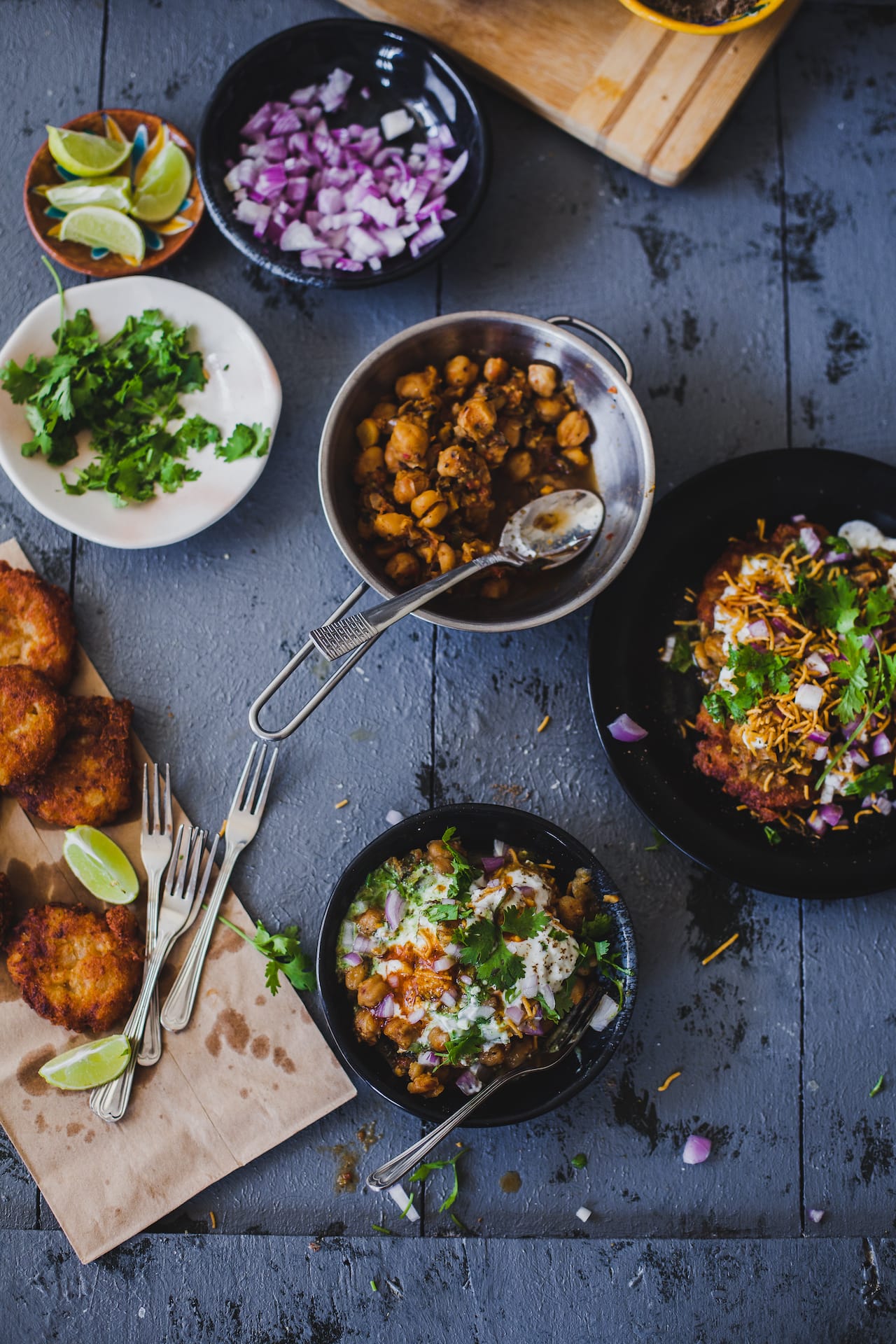 Every chaat starts with a base. In this case, it's the potato fritters. Aloo Tikki, literally translating to potato fritters, is a finger food by itself, served with ketchup and washed down with a cup of tea. When you transforming it to chaat, the key is to deep-fry the fritter to super crunchy texture. Slathered with the different sauces and other stuff, it should be served right away to avoid the fritters from turning soggy.
Aloo Tikki Chaat
Ingredients
for chickpea stew

¼

cup

chickpea

(soaked overnight and boiled to tender (or just use canned version))

1

small onion

(sliced)

couple cloves of garlic

(grated)

½

inch

length ginger

(grated)

1

teaspoon

cumin seeds

¼

teaspoon

cumin powder

¼

teaspoon

coriander powder

¼

teaspoon

chili powder

1

teaspoon

garam masala powder

salt

oil
for the potato fritters
2

medium size potatoes

(peeled and boiled)

salt

1

teaspoon

cumin powder

1

teaspoon

coriander powder

2

tablespoons

corn flour

oil for shallow deep frying
other ingredients required to prepare the final dish
1

medium red onion

(finely chopped)

coriander chutney

(find the recipe here)

tamarind chutney

(find the recipe here)

½

cup

sour plain yogurt

fresh coriander leaves

(finely chopped)

wedges of lime

chaat masala

(optional but easily available in Indian stores)

fried chickpea flour batter called 'sev'

(optional but easily available in Indian stores)

salt
Instructions
To prepare the chickpea stew, drizzle some oil in a hot pan and sprinkle the cumin seeds along with garlic and ginger. In few seconds, once the cumin seed starts to splatter, add onion and season with salt. Once the onion turns mild golden shade, drop the boiled/canned chickpeas. Stir and add cumin powder, coriander powder and chili powder. Allow it to cook for a few minutes and then add some water to make thick gravy. Mash the chickpeas lightly and add garam masala powder. Check for salt and add any, if required. Once the chickpea stew is done, keep it aside to be used later.

To prepare the aloo tikki (potato fritter), mash the boiled potatoes and put it into a mixing bowl. Add cumin powder, coriander powder, salt and corn flour. Give it a mix and shape several patties out of it. I like to keep it roughly circle and not too thick. To fry the patties, add enough oil in a pan and once the oil is hot enough, drop the patties carefully and allow it to fry until golden brown on both sides.

To prepare the chaat, layer two to three potato patties on a plate. Spoon some chickpea stew on top followed by the sour yogurt, the red and green chutney, chopped onion and fresh cilantro. Finally, add a little bit of sev, squeeze little bit of lime juice and sprinkle chaat masala.

Serve immediately.
Notes
If you prepare the chickpea stew, coriander chutney and tamarind chutney in advance, it will take much less time to build the dish.
The potato fritters should be crunchy, so remember to shallow deep fry the potato fritters just before serving.
Nutrition