Some days are busy and some days are lazy. While the busy days start with ginger tea and cereal poured from a box in a bowl of cold milk, a lazy day begins late with a plateful of our desired breakfast. From something egg-y to sooji halwa, from bread pakoda to roasted tomatoes with buttermilk biscuits; we prepare anything we feel like eating that morning. Weekend is a day of indulgence for us and we like to slow it down and cherish the two precious days of the week.
These muffins were baked in my kitchen on a fine Sunday morning. However, if you don't have lazy bones like mine, you can easily whip this up on any weekday. Like most breakfast muffins, the batter can be prepared the night before and baked the next morning while you get ready to hit the road.
It's always a wonderful feeling to start the day with something freshly baked.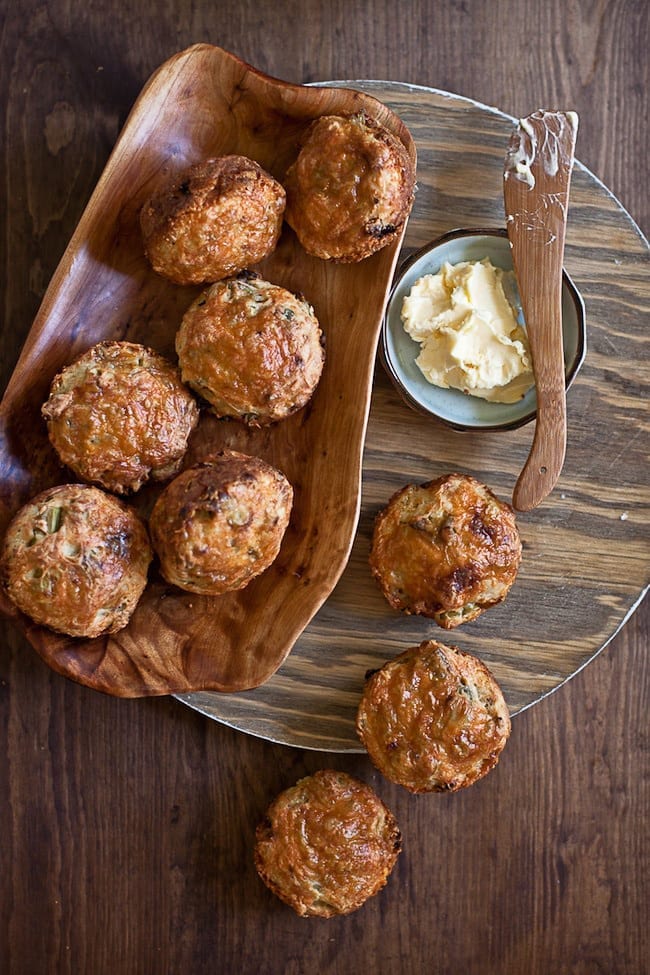 Few weeks' back, a lovely lady approached me from Mooney Farm to try their sun-dried tomatoes. I was thrilled seeing the different variety they have and ideas started popping in my mind on how to use them. Rich with a blend of spices, all these have a very distinct flavor of it's own and that makes it interesting to add in a variety of dishes.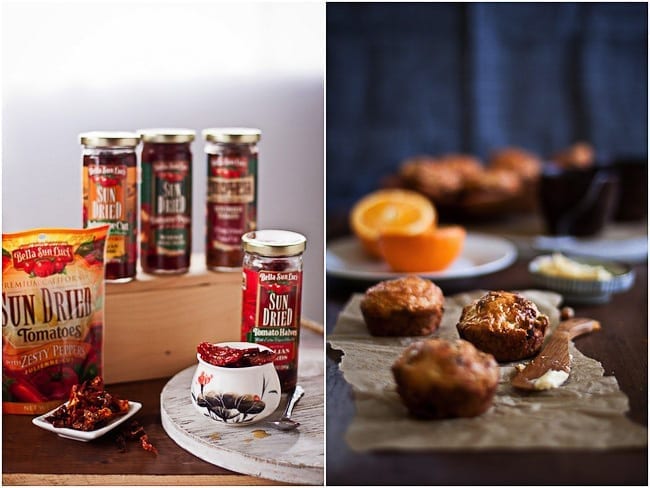 For these muffins, I chose to use the Italian herb sun-dried tomatoes, which when mixed with the spicy jalapeño and salty parmesan created a perfect depth of flavor. As it bakes, the kitchen starts smelling like a bakery store and the sizzling sounds truly tests your patience. Get busy with some other work and ignore the kitchen for a while!
Sometimes, the easiest recipe is the trickiest one. I learnt it the hard way that over mixing a muffin batter will make it tough and all the effort you invested will be a waste. Go slow and mix the ingredients with a wooden spoon or rubber spatula just until everything is combined.
A Healthy Breakfast Muffin
Ingredients
2

cups

all-purpose flour

½

cup

chopped jalapeño pepper

½

cup

sun dried tomatoes

(chopped)

½

cup

chopped spring onion

½

cup

grated parmesan cheese

3

eggs

4

tablespoons

of olive oil

1

tablespoon

chili flakes

⅛

teaspoon

salt

½

teaspoon

sugar

1

teaspoon

baking powder

1-½

tablespoon

milk

some freshly cracked black peppers
Instructions
Pre-heat the oven to 350F and grease the muffin pan with some oil. You can use the liners too.

Whisk the egg along with sugar and salt.

Mix flour with baking powder and then add jalapeño, tomatoes, spring onion, chili flakes and give it a light mix.

Pour eggs to the dry ingredient's bowl. Add oil, milk and using a wooden spoon or a spatula, mix all the ingredients until they combine properly. Do not whisk or over mix it!

Add black pepper, half of the grated cheese and give one last mix.

Pour the batter in the muffin pan and fill it half way.

Sprinkle the left over grated cheese on top and let it bake for 20 mins.

Check for doneness by inserting a toothpick in the center. If it comes out clean, the muffins are ready
Nutrition
If you have a savory tooth like me, go ahead and give this recipe a try. Spread some salted butter on it, enjoy it plain along with a cup of tea or and save some to enjoy with your soup for dinner.