There are two things I mostly use in my savory dishes.. Fresh Herbs and Garlic.
My cooking starts with smashing, peeling and chopping some fresh garlic and ends with some handful of fresh herbs sprinkled for garnish and color. It amazes me that how just a hint of something can lift a dish to a whole new level.
There are some dishes where you don't even need to add those garlic or herbs.. just infusing the oil with these ingredients can fill the dish with so much flavor. You can use them for pasta, salad, flavored rice dish or even bread.
The choice is really endless!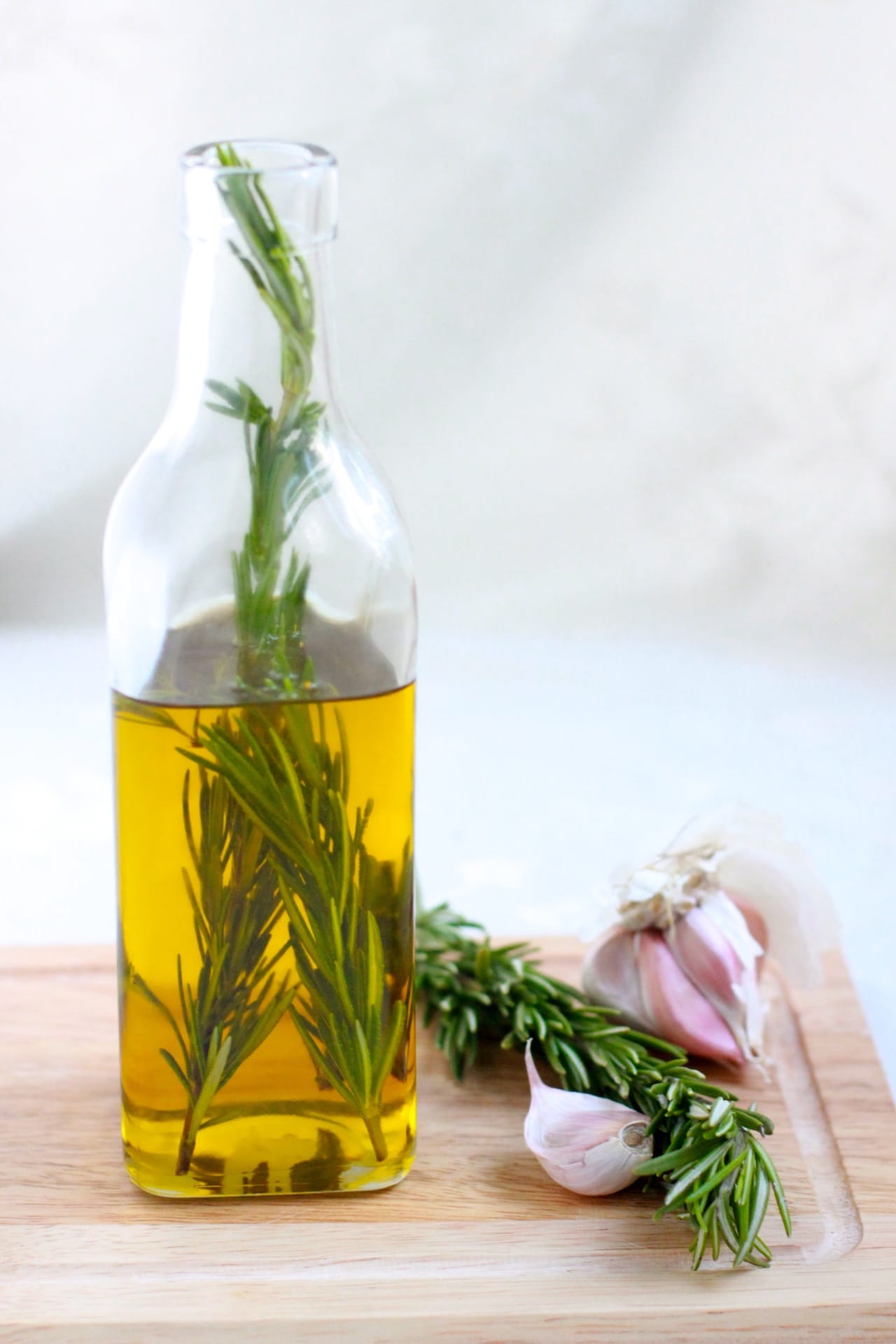 I was ignorant about storing infused oil. I had absolutely no idea that it was possible until I came across some amazing pictures of infused oil. They looks so pretty and glossy that I had to try it !
When it comes to infusing oil, there are a few basics. I would recommend that you to do some reading on the ingredients and oil you are planning to use. After doing some reading, I learned that you should use light or flavorless oil. Also, for some herbs, you can use them fresh whereas for others, you need to use them dried.
Like in my case I used garlic and had to take some precaution related to that, like discard the garlic, heat the oil, and do not store the garlic in the bottle. 
There is cold infusion and hot infusion and for most of the ingredients, you can use either. In case of cold infusion, you just pour the oil and the flavoring elements in a air tight jar and leave it in the room temperature for few hours. This method will take some time for the oil to get flavorful.
As I was using garlic I had to choose the hot infusion method. There is no exact science on what ratio you should be using for the ingredients, absolutely up to you! 
Making flavorful oil is super easy and you can use them in marinade, bread-crumb toppings, stuffing, sauces, like I said before.. endless choices.
It not only adds flavor but also provides a visual appeal. 
Rosemary and Garlic Infused Olive Oil
Ingredients
4 to 5 fresh rosemary sprigs
3 to 4 garlic cloves
2 cups olive oil, I used extra virgin
Instructions
Wash the rosemary springs and dry them completely.
Pour the oil in a saucepan and bring to heat. It should take about 2 minutes. Make sure that you do not boil it.
Now add the crushed garlic or minced garlic and let it cook for about 2 to 3 minutes in medium heat
Switch off the heat and add rosemary to the oil.
Let it cool completely.
Use a clean dry bottle to store the oil . You can either strain the oil or leave the herbs in. It's extremely important to discard the garlic.
You need to refrigerate this infused oil as we used garlic.
Enjoy your infused oil!
Please note:
Notes
Storage: Any infused oil should't be stored for too long. Specially if you using garlic.Couldn't find on the internet an exact storage duration. I would say make in small quantity and don't store more than 2 to 3 weeks max and that is what I have been following.
Precautions: When infusing oils, please be aware of the dangers of botulism. Here are some helpful links with more information:
Common Foodborne Pathogens: Clostridium botulinum
Heating Kills Botulism for Infused Oils
Did you enjoy this Rosemary and Garlic Infused Olive Oil? Share your creation by tagging
@playfulcooking
on Instagram with the #playfulcooking and I will re-share in my story!