The cake, a book and some hot tea; joy in simple pleasures!
I grew up eating a lot of home-baked vanilla flavored cake with no frosting. We didn't have a cookie jar to dig in after school but we had a cake box that would hardly be empty. Ma didn't need any special occasion, she just needed some free time in hand and our lunch box would definitely have a piece of cake in it.
Ma's cake is still very popular in our family circle. If you were imagining a tall, fully frosted, beautifully painted cake, then you would be disappointed. Her cake was plain, soft, made with oil (no butter) and vanilla flavored. Period.
Over the weekends, my brother and I would often bake together with Ma. Our tiny hands would be busy mixing the flour with baking powder or rub oil on a white transparent paper before layering it on the baking pan while Mom would whisk eggs and sugar. There was no electric mixer in our home. Her power tool was always her hand and it still is. Every now and then, we would look through the glass on top of the oven to enjoy the magic and run back to tell her about how the cake is growing or changing color.
These days she doesn't bake as often as she used to but even today, we never order cake from bakery. Any occasion, be it small or big, she will happily get busy prepping the cake batter while Dad would take out the old oven and dust it clean. Everyone in our family loves her cake and whenever we have a get together, the house once again gets filled with the aroma of vanilla and our evening tea gets more delicious.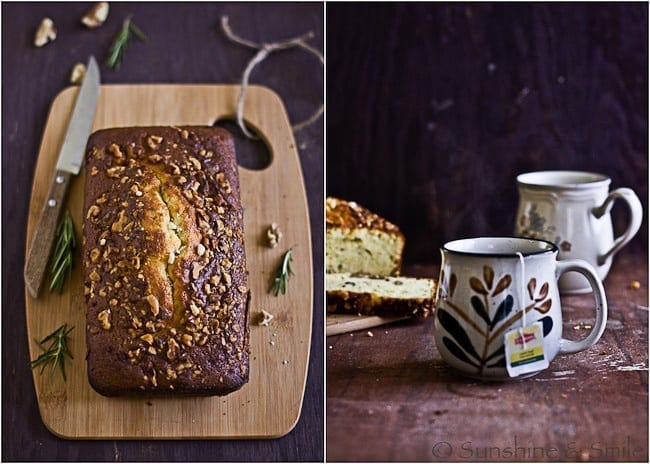 Few months back, I gave a tiny twist to Ma's cake. I added rosemary instead of vanilla! The inspiration to add rosemary came from Nigella Lawson's cookbook and even though it surprised me at the beginning, I realized later that how beautifully rosemary could work on desserts. Arvind is picky about cake; he doesn't like dark chocolate cake or any fruitcake.  Thankfully, this one, he loves!
The woody, poky, evergreen aromatic rosemary is one of my favorite herbs. It gives the cake a mild refreshing flavor.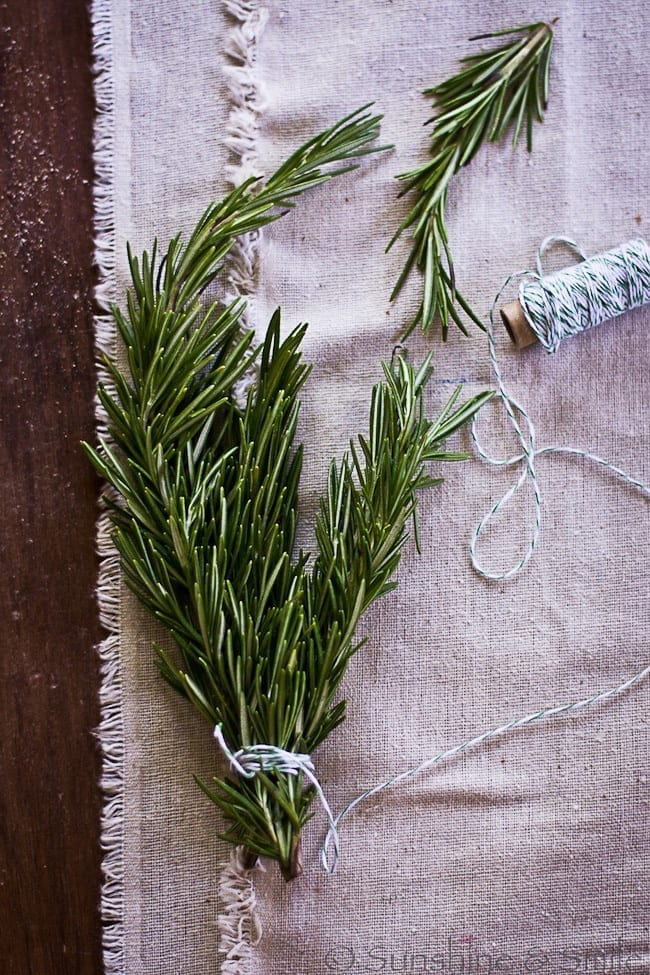 Just like Ma's cake, this cake also turned out soft and crumbly with crusty edges. And even today, I get tempted to lick the parchment paper clean, just like my little brother and I used to do as a kid!
Rosemary-Walnut Loaf Cake
Ingredients
3

eggs

1

cup

sugar

1

cup

olive oil

(plus extra to grease the baking pan)

1

cup

all-purpose flour

(plus extra to dust the baking pan)

2

tablespoons

fresh rosemary

(finely chopped)

½

cup

walnuts

(roughly chopped)

1

teaspoon

baking powder

zest of one lemon

3

tablespoons

milk

a pinch of salt
Instructions
Pre heat the oven to 350F.

Grease the pan with oil and dust it with some flour.

Whisk the eggs and sugar in a bowl.

Add lemon zest, oil and whisk again.

Add milk and whisk again.

In a separate bowl, mix flour, baking powder, salt and rosemary.

Pour the egg-mix in the bowl and whisk until everything is mixed nicely.

Finally, add half of the walnuts and give it a mix.

Pour the batter in the baking pan and add the rest of the walnuts on top of the batter.

Bake it for about 35 minutes or until it's cooked through. Poke with a skewer or toothpick and if it comes out clean, it's done.
Notes
1. To get a nice volume, always use the ingredients at room temperature.
2. Ovens have different cooking times. So, keep an eye on the cake as it bakes. It may take more or less time.
3. Walnuts can be replaced with any other nuts you prefer and can also be omitted.
Nutrition