Roasted pumpkin risotto with crispy sage and crunchy pumpkin seeds! Its the perfect season for such meals and also because I can go for pumpkin or risotto any time of the year. Technically, there is no autumn in India and there are still some occasional bouts of rain. But there is this mild chilly feeling in the morning, hinting us that soon we could bring out warm clothes. That's reason enough for me to start getting hearty with our meals.
We both enjoy creamy risotto and I do cook it quite often but rarely does it show up in the blog. Firstly, after doing all the stirring and standing by the stove. After that long cooking of 30 to 40 minutes, I don't have the enthusiasm to stand any longer for photography. Secondly, I hate to let the risotto rest. It turns lumpy and soggy. Most often, I make it over the weekend for dinner and we eat immediately after it's prepared. Preferably paired with a glass of wine!
I had initially prepared this dish as collaboration with Foodhall India. Loved the color so much that I couldn't stop myself from taking a few extra pictures so I could share it out here too.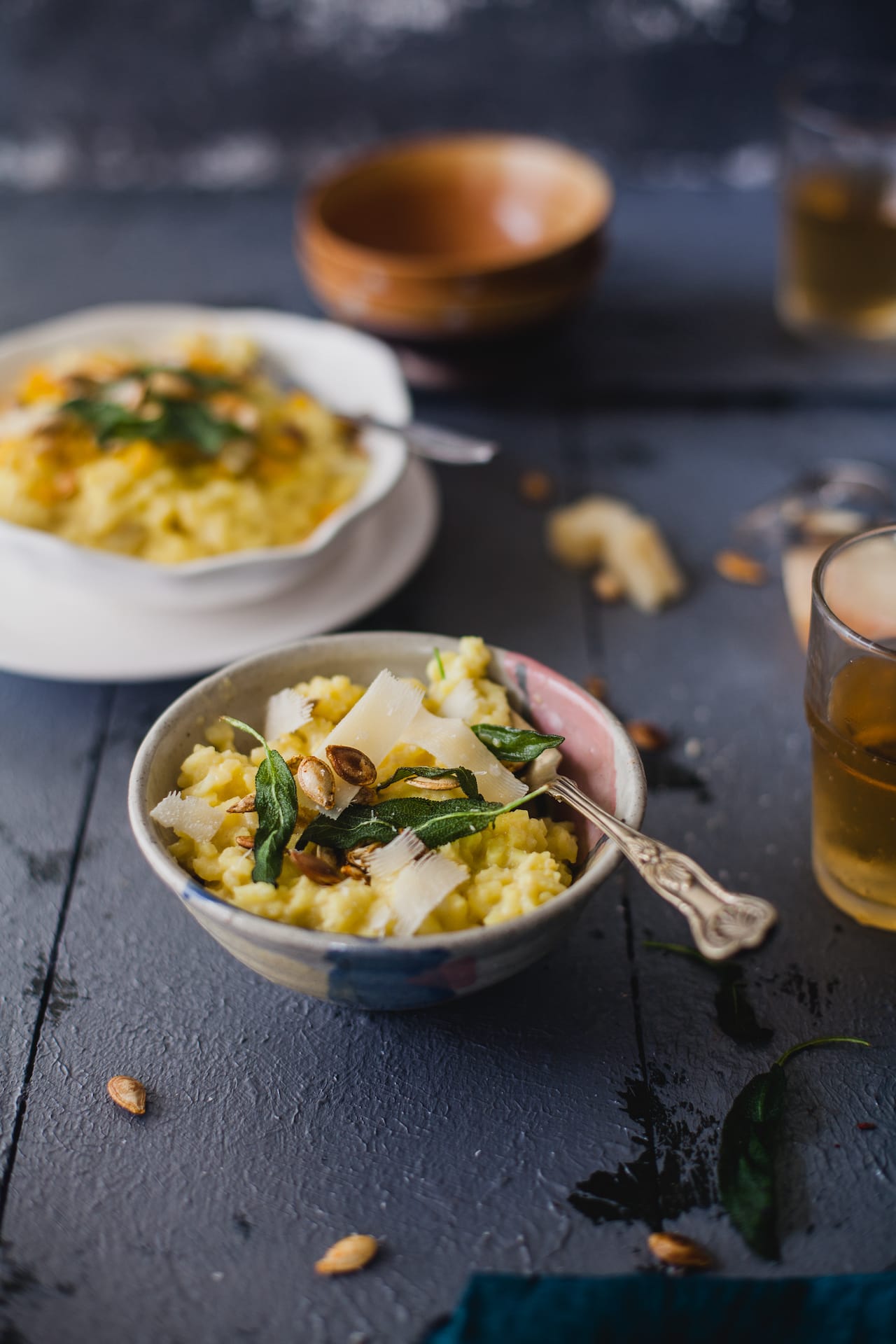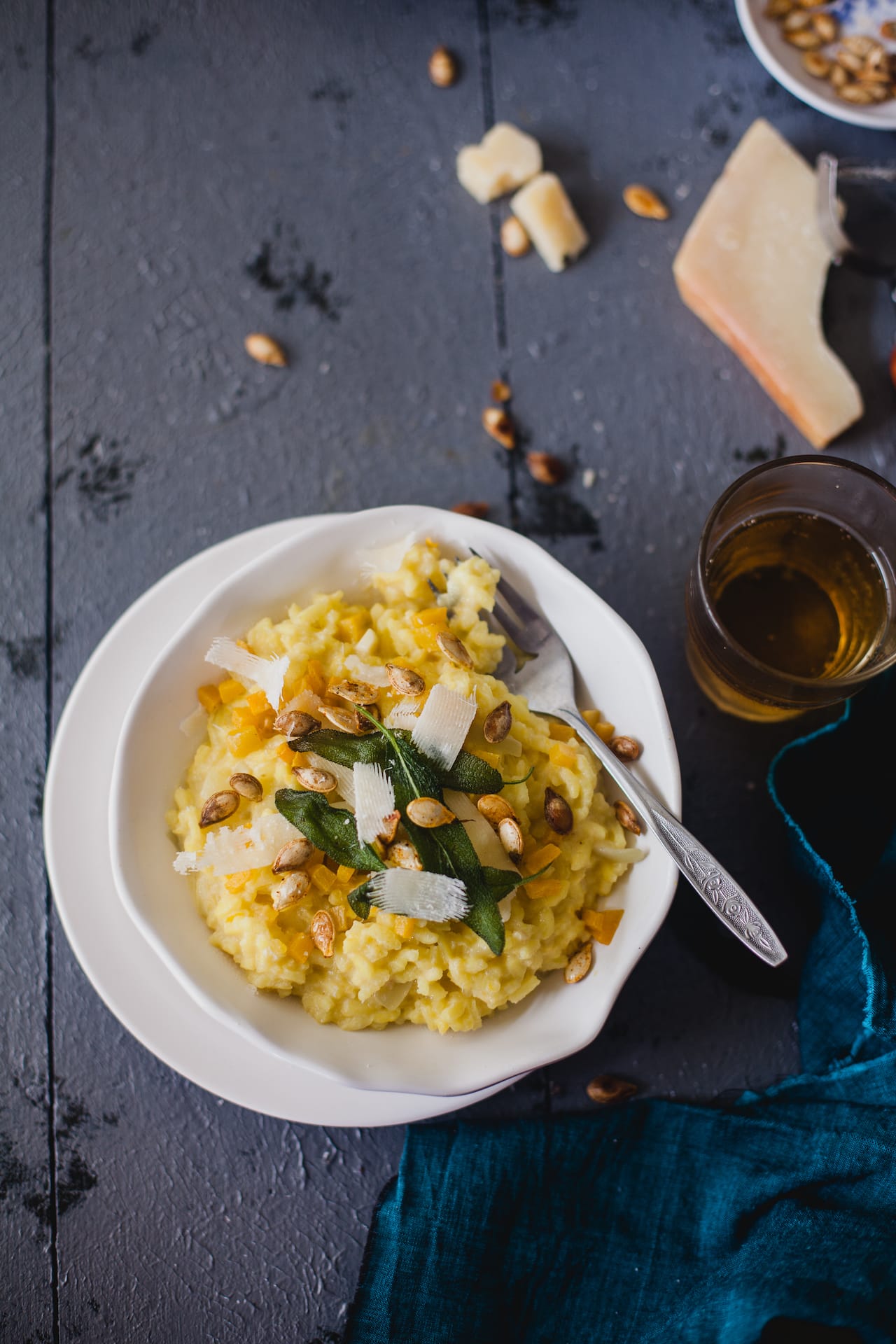 The bitter-sweet fresh sage with roasted pumpkin is a classic combination that blends effortlessly. I absolutely love how crispy sage not only adds that robust aroma but also a mild texture to the creamy risotto. It's a simple meal with not so complex flavor and that makes it very hearty and comforting.
Roasted Pumpkin Risotto
Ingredients
1

tablespoon

butter

1

medium onion

(thinly sliced)

3

cloves

of garlic

(finely chopped)

1

cup

arborio rice

3

cups

stock or water

1

teaspoon

herbes de provence

300

gram

pumpkin

(peeled and cut in bite size cubes)

¼

cup

cream/milk

100

gram

parmesan cheese

few sage leaves

toasted pumpkin seeds for garnish

(optional)

salt

oil
Instructions
Preheat the oven to 220C and scatter the pumpkin cubes evenly in a baking tray. Drizzle oil, sprinkle salt and herbes de provence. Give it a toss and roast it for about 30 minutes or until it's tender.

Once the pumpkins are cooled, take ¾ of it and blend it to a puree.

Pour the stock/water in a pan and bring it to a boil. Then, bring the heat down to the lowest and let it stay warm.

In a pan, add butter with a little bit of oil and scatter garlic along with onion. Give it a toss, sprinkle salt and let it cook for about a minute.

Add arborio rice, give it a stir and let it cook for a minute.

Ladle little bit of the warm stock/water to the rice, give it a stir and let it cook in medium low heat until the stock/water is absorbed. Once done, add some more stock and continue following the step until the rice is almost al-dente.

Now, mix the puree pumpkin to the rice and give it a mix. Continue cooking until the rice is al-dente.

Pour cream/milk, grate half of the parmesan cheese on top and give it a mix. Finally, toss the remaining roasted bite size pumpkin cubes and give a final mix. Check for salt and add any, if required.

To toast the pumpkin seeds, clean the seeds and dry them using a paper towel or leave it in the open air for a few hours. Once fairly dried, heat little bit of oil in a pan and layer the seeds. Sprinkle salt, chili powder and give it a toss. Continue toasting while tossing them every now and then until they're golden brown in color.

To make crispy sage leaves, drizzle some oil in a hot pan and layer the leaves. Let it cook for a couple of minutes and take it off to a paper towel.

Serve the risotto warm with crispy sage, toasted pumpkin seeds and shaved parmesan.
Notes
Depending on what kind of risotto rice you use, the cooking time might differ accordingly.
Nutrition