This summer, probably for the first time, I am missing the Indian Monsoon. The rain, the smell of sand after first rain, getting drenched and especially, eating crispy pakodas with hot masala tea by the window while watching raindrops wash away the heat. It hasn't rained here for so many months now that I have even forgotten when it rained last. Some days, it gets cloudy in the morning but by the afternoon, it's a clear cheerful sky.  I hate to complain because nothing makes me happier than waking up to a sunny summer morning however, a little shower now and then would have been nice.
So while I wait for the heat to cool down, I am trying my hands on every summer drink possible.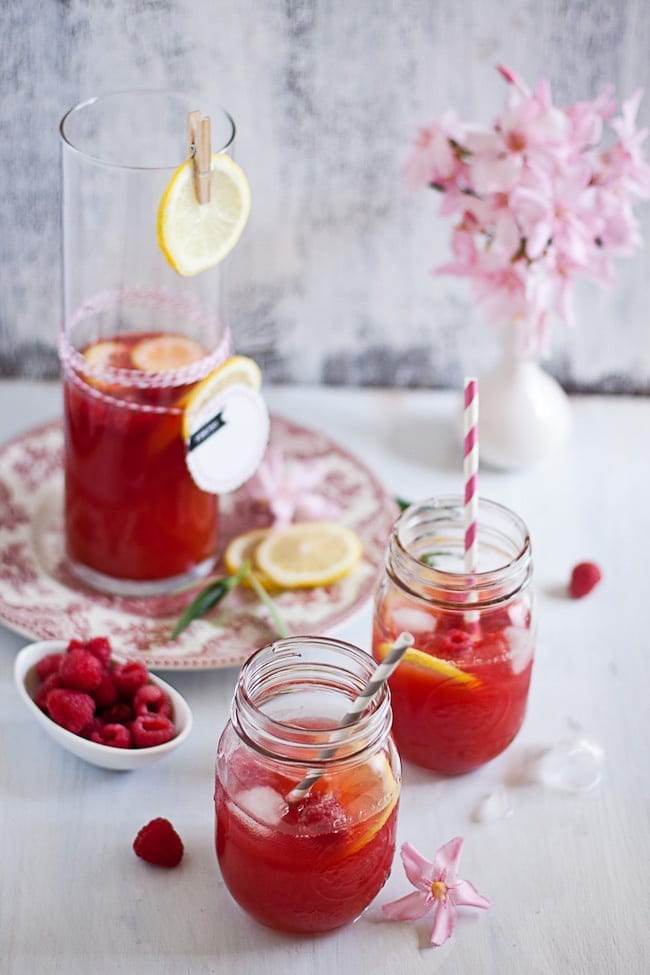 One of our favorites is Raspberry Lemon Iced Tea and we have been having them a lot these days. It's has a perfect blend of sweet and tart with the hint of tea and the sexy red, which makes it more appealing. For a berry lover and tea lover, the combination worked much delightfully on my palate than I had expected. It's easy to make, needs no complex ingredients or kitchen gears and above all, it's refreshing. And when the temperature shoots up, that's all that matters.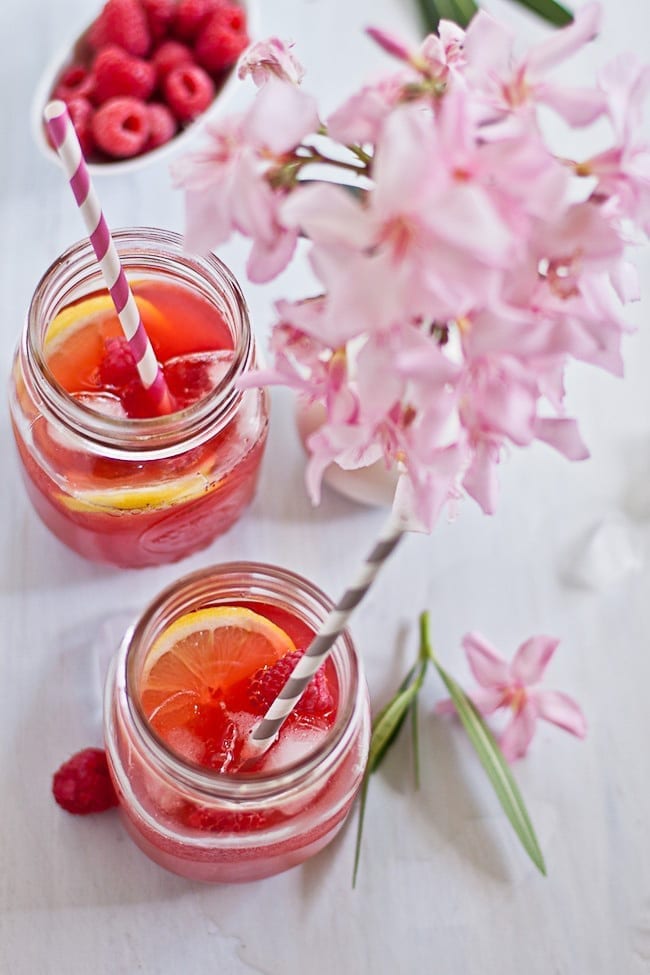 For all my friends who don't like tea, you know what you can call this beverage by omitting the tea – raspberry lemonade! And for those boozy nights, pour some gin or vodka and give it a fancy name.
The best part about this drink is that it can be made in advance. All you need is some fresh lemon juice, tea and raspberry syrup. Frozen berries and bottled lemon juice would work too but there is nothing better than using fresh ingredients. So, start by picking some fresh, juicy good-looking raspberries, squeeze out all the juice from those lemons and brew some tea. Here is a very informative article on How to Brew Tea.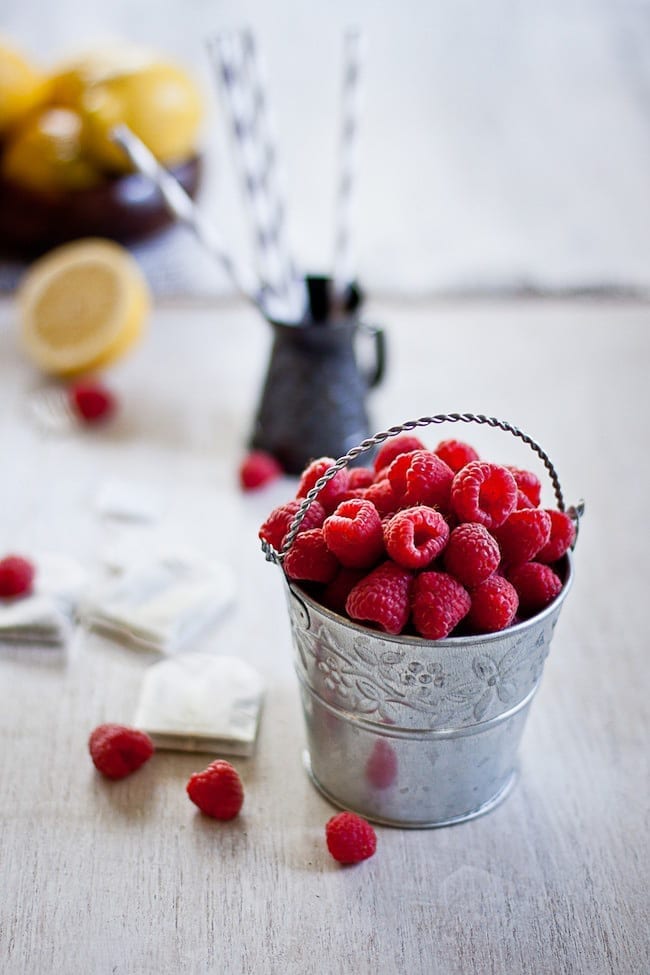 Raspberry Lemon Iced Tea
Ingredients
For the syrup
2

cups

fresh raspberries plus extra for garnish

1

cup

sugar

¼

cup

water
For the lemon iced tea
juice of 4 lemons

1

lemon

(thinly sliced for garnish)

2

cups

water

1

teaspoon

tea leaf or 1 tea bag
Instructions
To make the syrup
In a saucepan, mix all the ingredients and bring it to a boil.

Once done, lower the heat and let it simmer until the berries are softened. This should take about 10 minutes.

Let it cool and then strain the syrup to a jar using a sieve.
To make the lemon tea
In a deep pan, bring 2 cups water to boil.

Add tea to the pan, cover it and stop the heat. Let it brew for 5 minutes.

Once done, strain it to the raspberry syrup jar using a sieve.

Next, add lemon juice to the jar and give it a stir.

Keep it the refrigerator and let it to cool down completely.

While serving, drop some ice cubes in a glass, add a slice of lemon, two to three fresh raspberries and the raspberry iced tea.
Notes
Honey can be used instead of Sugar. You might need to add more or less honey/sugar depending on how tart the raspberries are and how you prefer them.
Frozen berries could be used instead of fresh berries. Also, you could use any other berry or fruit syrup as per your flavor choice.
Nutrition
While the summer is still here and we still have access to garden-fresh berries, quickly grab some and relish every bit of it!