I have lived in South India for so many years and yet, I never heard of the dish called Pesarattu. When a friend suggested me the dish a few months back, I was surprised at how quick and simple it is to prepare this crepe like dish. I didn't have to worry about fermenting and yet, I could enjoy something similar to dosa in a fuss free manner. Ever since then, I make it very often and my preferred version is the Palak Pesarattu | Spinach Mung Bean Crepe. It's nourishing, filling and the color is strikingly gorgeous green. With mildly spiced aloo masala (potato stir fry) and a simple daal or sambar, the meal turns out to be absolutely satisfying.
When I don't have spinach at home, I make with cilantro or whatever greens I have handy!

So, what is Pesarattu?
It's a specialty breakfast dish from Andhra Pradesh. The mung beans are soaked and blended to form a smooth puree. The batter is typically flavored with ginger, fresh green chili and evenly spread on a medium hot skillet. It's similar to crepe and dosa except, it's doesn't have eggs like the crepe batter and the batter doesn't need fermentation like the dosa batter. So, in a way, Pesarattu is unique on its own. It's very nutritional, gluten free and can be a lovely canvas to add greens or spices to suit your palate.
I often like to add greens like spinach or kale along with some ginger and cumin seeds. While making the pesarattu, I also sprinkle some idly podi (I use store bought, easily available in any Indian store). Adding the podi just adds an extra dimension of flavor to the whole dish. However, you could just avoid the podi and enjoy pesarattu with just the aloo masala.
Key tips on cooking the Pesarattu:
Let the batter rest for 15 minutes. You could also make the batter previous night and it will still remain gorgeous green. However, the fresh batter definitely tastes better.
You need to keep the skillet at medium heat for evenly cooking the batter. This will crisp it up and retain the color to some extent If you cook it in higher heat, the pesarattu will turn into a slight brown color.
When preparing the pesarattu, spread the batter evenly in circular motion with the back of a ladle. Since the batter will not be as runny as crepe, swirling the pan won't help.
Once the top looks dry, you should know that the bottom is cooked evenly. The edges should start releasing on its own, making it easy to flip. If you are using a cast iron pan, you have to release the bottom with a little effort but it should still come out very easily.
If you never had this nourishing, healthy, easy to make meal, it's time to buy some green mung and give it a go. Do share with me your experience by tagging me in Instagram or any social media @playfulcooking
Find more BREAKFAST recipes here!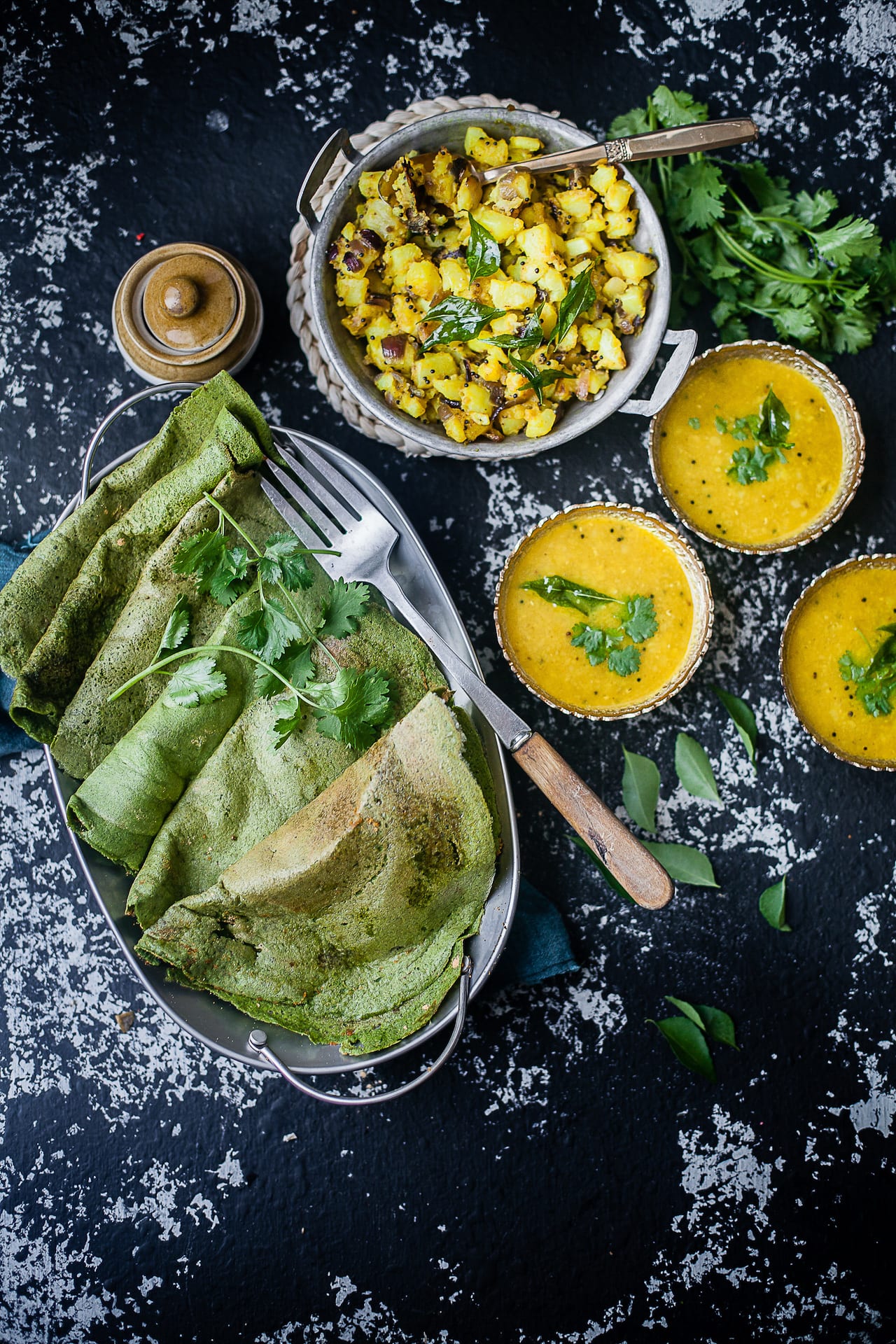 Palak Pesarattu | Spinach Mung Bean Crepe
Yield:
13 to 14 pesarattu
Ingredients
for the pesarattu
1 cup green mung beans, whole or split
1/3 cup flattened rice
1 tablespoon fenugreek seeds
fresh spinach, I used baby spinach or fresh herbs
1 inch fresh ginger
1 teaspoon salt
½ cup of idly podi, if using to sprinkle on pesarattu
drizzle of ghee or oil for each pesarattu, optional
for the aloo masala
4 medium size potato
1 small red onion
½ tablespoon oil
½ teaspoon black mustard seeds
few fresh curry leaves
½ teaspoon turmeric
1 teaspoon salt
Instructions
Soak the mung beans for at least 4 hours. You can also let it soak overnight. If the mung beans are split, 2 hours of soaking should be enough.
For the aloo masala, slice the potatoes in half and boil them until it's fork tender. Peel the skin off and slice the potatoes into tiny bites. You could also just mash it up.
Place a pan at medium high heat and pour ½ tablespoon of oil. Sprinkle the mustard seeds, dry red chili and curry leaves. Allow it to splatter for a few seconds. Then, sprinkle the turmeric powder and mix it around. Drop the boiled potato (mashed or diced) along with the salt and mix it all around. Cook for 3 minutes, tossing and turning occasionally. Once done, take it off into a bowl to be used later while making the pesarattu.
After 4 hours, when the mung beans are hydrated and mildly puffed, drain it off and put it into a blender along with salt, ginger, cumin seeds and spinach. Blend it to a smooth puree and add water as needed to get the right consistency, which is similar to that of dosa or pancakes. It should not be too runny like crepe.
Let the batter rest for 15 minutes.
When you are ready to prepare the pesarattu, place a large flat skillet on medium heat. When the pan starts to heat up, rub a little bit of ghee on the pan. If you add too much ghee or oil, it will be very difficult to spread the batter with the back of the ladle. So, just a tiny couple of drops is enough and then, rub the pan with that using a kitchen towel or pastry brush.
Ladle about ½ cup of batter in the center of the pan and immediately start spreading the batter in circular motion to cover as much pan as it can. Drizzle a little bit of oil or ghee on the top. If you using idly podi, sprinkle it on the top as well. It would take about 3 minutes for it to cook on one side. Take a spatula and try to release the edges. If it comes out easy, the bottom is cooked and you can flip the pesarattu to cook 2 more minutes on the other side.
Then, flip it back, spoon a little bit of the aloo masala and fold the pesarattu in half. Take it off the pan and serve immediately as the cold pesarattu loses its crisp texture.
Continue making rest of the pesarattu the same way!
Did you enjoy this Palak Pesarattu | Spinach Mung Bean Crepe? Share your creation by tagging
@playfulcooking
on Instagram with the #playfulcooking and I will re-share in my story!