Orange Mint Almond Cake is a light and refreshing cake made with fresh orange juice and zest along with fresh mint. There is a hint of almond flour in the batter, which adds a lovely nutty texture to the cake crumb. It is an easy one bowl cake that you must try this citrus season.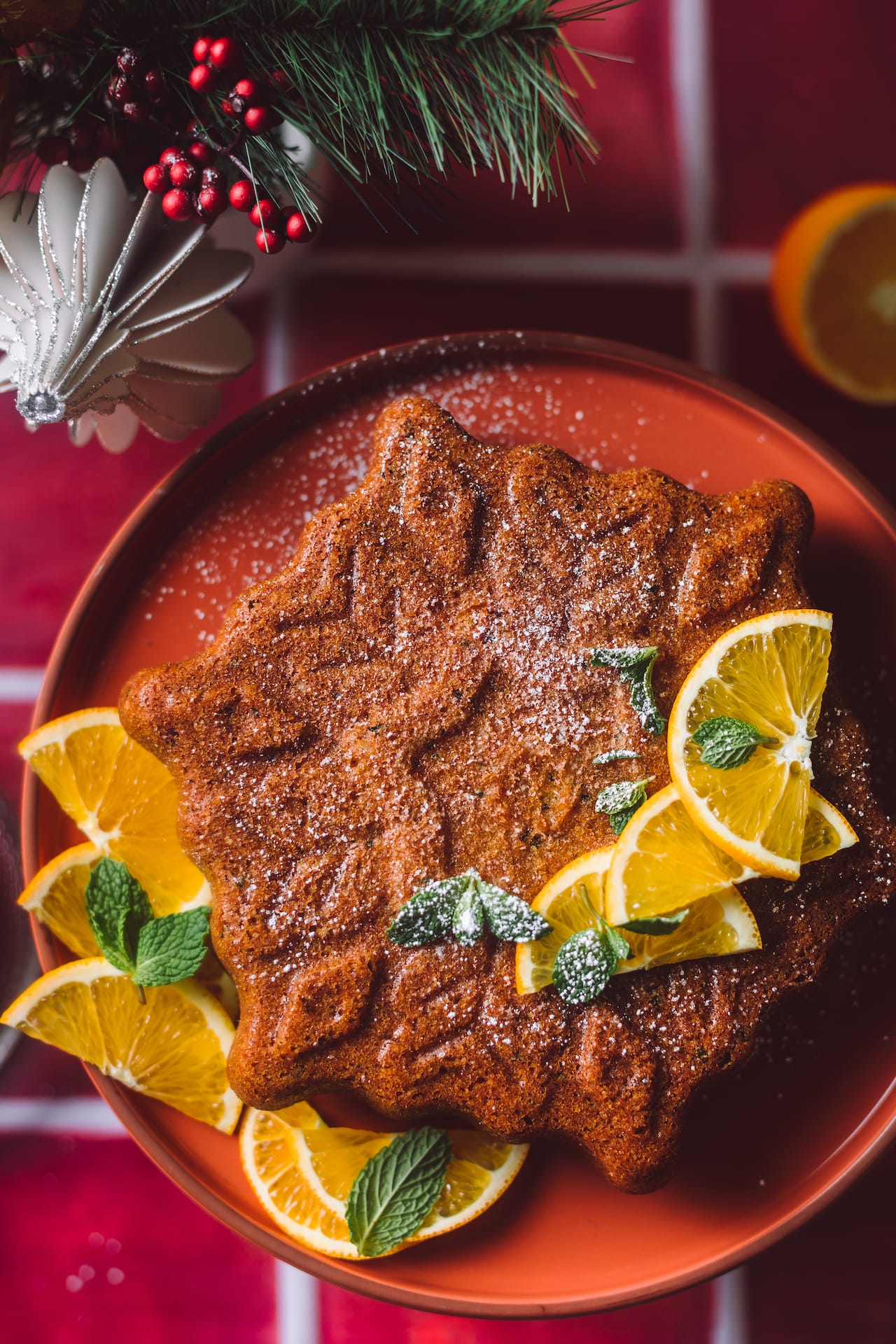 The cake is very similar to my Lemon Mint Pound Cake except in this cake recipe with orange and mint, I added almond too. The texture of the cake crumb is beautifully light and spongy.
With a cup of tea or coffee, it is a delightful snack.
Ingredient Notes for the Orange Mint Almond Cake
Egg - I have always made this cake with egg and not tried eggless yet. But you can try it by using 1 cup thick yogurt instead.
White Sugar - You need regular white granulated sugar. You can try other variety of sweetener too, but that might change the texture and color of the cake.
All Purpose Flour & Almond Flour - The cake is not gluten free as I do use all purpose flour in the batter. If you are allergic to nuts, you can make this cake with just all purpose flour too.
Vegetable Oil - I like to use oil instead of butter, as I love the light texture you get from using oil. If you however want to use butter, you can use ½ cup room temperature softened butter.
Baking Powder and Baking Soda - You need both baking powder and baking soda in this recipe to work together to give that fluffy, soft texture.
Fresh Mint Leaves - The refreshing flavor of the cake comes from using fresh mint. Finely chopped fresh mint is added to the cake batter.
Orange Juice and Zest - Please make this cake using fresh orange juice and zest. Store bought orange juice will not give the sweet tangy flavor of orange that you get from the fresh ones.
The recipe makes a small 6-inch tall cake or 8-inch cake. You can use loaf pan too. The exact measurement of the ingredients is given in the recipe card below.
Steps to prepare the Orange Mint Almond Cake:
Whisk the egg with sugar until it looks smooth.
Pour oil and whisk again to incorporate everything.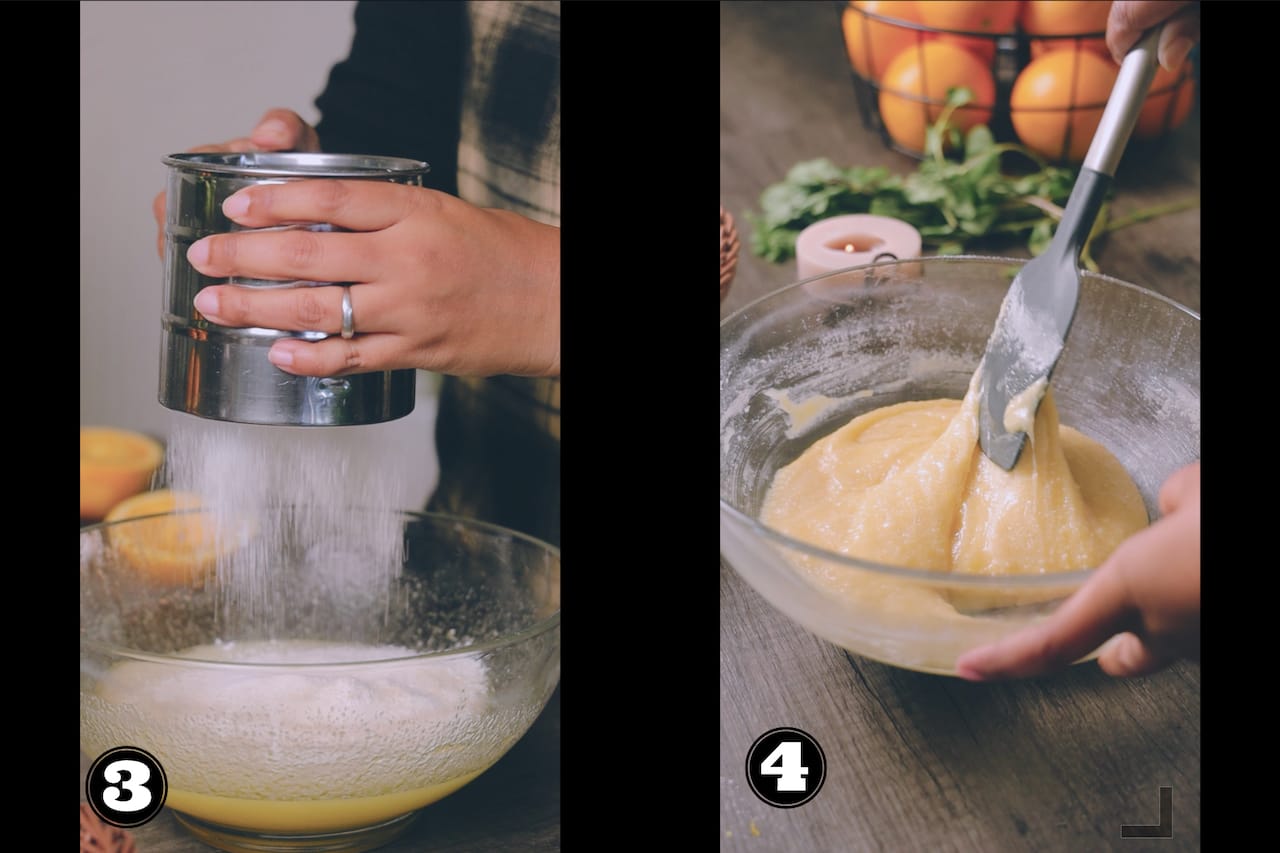 3. Sift all the dry ingredients which includes, all purpose flour, almond flour, baking powder, baking soda and salt to the mixing bowl.
4. Once you add the dry ingredients, don't use the whisk anymore. Use a rubber spatula or a wooden spoon to fold the dry ingredients to the wet ingredients. Fold and mix until everything come together smoothly.
5. Strain the fresh orange juice to the cake batter.
6. Add the finely chopped fresh mint and orange zest.
7. Once again, fold the batter to incorporate everything.
8. Pour in a greased pan and bake.
Recipe Video
How to store the cake
It is always advised to store cake in the fridge covered, just so it doesn't get dried out.
You can either store it whole or sliced.
FAQs
Is the cake gluten free ?
The cake is not gluten free as I use all purpose flour in the batter.
Can you make this cake eggless?
I have always liked this cake with eggs in it, but if you want to try eggless, you can add 1 cup thick plain yogurt. Whisk the yogurt with sugar and oil until it's smooth and fluffy before adding the dry ingredients.
Can I skip the nuts?
Yes! You can stick to just all purpose flour and not include the almond flour at all.
What is the size of the cake?
The batter will make a tall 6-inch cake or an 8-inch cake. The cake pan I used is roughly 8 inch and I had got it from Crate and Barrel, but I don't see that anymore in their website.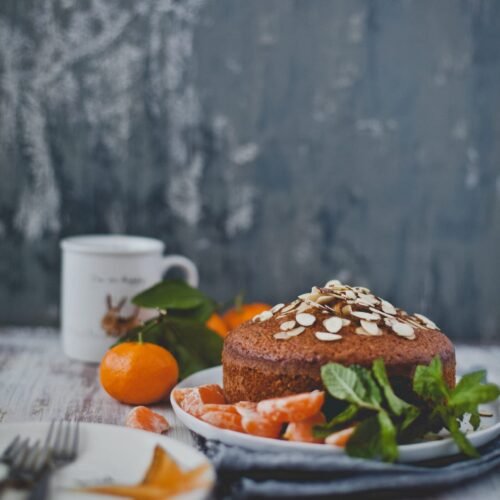 Orange Mint Almond Cake
Ingredients
2

eggs

1

cup

sugar

¾

cup

olive oil

1

cup

almond flour

½

cup

all-purpose flour

1

teaspoon

baking powder

⅛

teaspoon

salt

zest of one orange

juice of one orange

1

teaspoon

vanilla extract

¼

cup

finely chopped fresh mint

¼

cup

sliced almond for garnish
Instructions
Pre-heat the oven to 350F and grease a 6-inch round pan with oil. Dust a little flour on all sides of the baking pan and throw any excess flour away.

Whisk eggs and sugar until they're combined together. Add oil and whisk once again.

In a bowl, mix all-purpose flour with almond flour, baking powder and salt. Pour this mixture to the egg mixture and whisk until it's all mixed together. Add orange zest, juice, chopped fresh mint and vanilla extract. Whisk once again.

Pour batter in the pan and bake it for about 35 to 40 minutes or until the cake is baked through. Poke a knife in the center and if it comes out clean, the cake is done. Let it cool for 5 minutes before you take it out of the pan.
Nutrition
Serving:
6
-inch round cake