I didn't think I would need another recipe of Banana bread until I tasted my cousin's recipe. He enjoys baking with his kids and on our beach day, he got this super moist loaf of banana bread. It was the best banana bread I ever had and this One Bowl Banana Nut Bread has now become my go-to banana bread recipe. It has delicate crumbs and not dense, crumbly but not dry, the texture and sweetness are spot on too.
The original recipe has been sourced from Simply Recipes.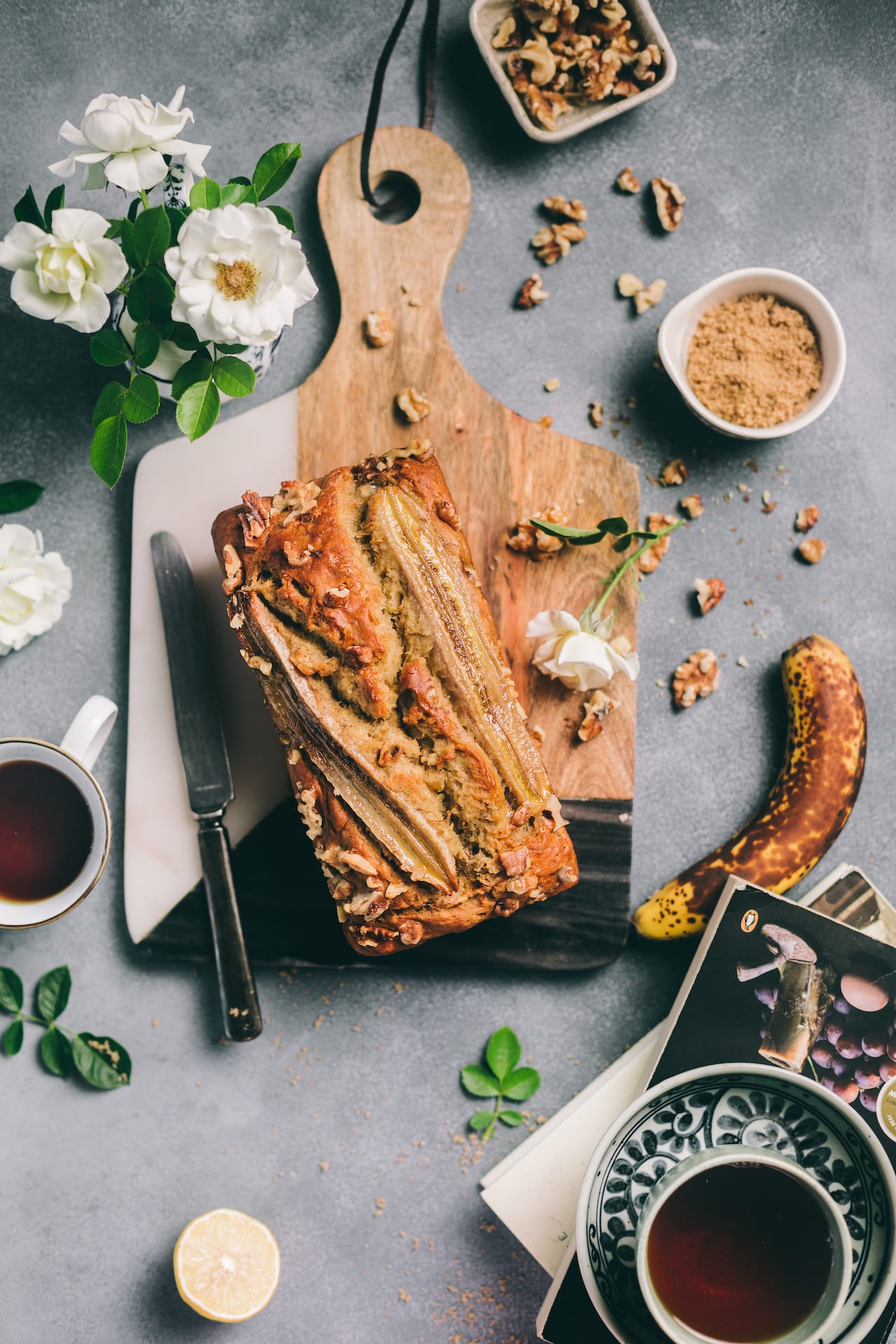 EASY ONE BOWL BANANA NUT BREAD
Making this banana bread is easy and quick. What makes this recipe super cool is that it's a one-bowl bread recipe. You don't even need to mix dry ingredients and wet ingredients separately.
Just mash the banana using a fork and keep adding everything to the same bowl. I didn't even bother to whisk. I used the same fork to mix everything into a batter.
Pour the whole thing in a regular size loaf pan, and it came out baked to perfection.
What kind of nuts works best? 
Typically, for such tea cakes or breads, I always go for almonds or walnuts. Both these nut gives a lovely crunchy bite. But you can use peacan too or pistachio or your choice of nuts.
You can also add some dried fruits if you like.
HOW TO MAKE THIS EGGLESS?
Egg adds the richness and softness to the cake. It makes it fluffy. If you want to bake this Banana bread eggless just use any of the following instead of the egg:
The Banana Nut Bread uses just 1 egg that you can replace with either of these mentioned below:
3 tablespoons yogurt/buttermilk
¼ cup apple sauce
1- tablespoon ground flaxseeds/chia with 3 tablespoons water. Let it sit for sometime for the water to fully absorb the seeds.
Variation of Banana Bread
I have made banana cakes in the past with cocoa powder and Nutella but I definitely love this version with a ton load of nuts. It gives a crunch and makes a perfect teatime snack too. You could definitely add chocolate chips too.
You can also add some chocolate chips in the batter.
One Bowl Banana Nut Bread
This One Bowl Banana Nut Bread moist but not dense, crumbly but not dry, the texture and sweetness are spot on too.
Ingredients
4

overripe bananas

⅓

cup

melted butter

1

teaspoon

baking powder

½

teaspoon

baking soda

½

cup

sugar

1

egg

1½

cup

all-purpose flour

½

cup

assorted nuts

(I used walnuts and almonds)
Instructions
Preheat the oven to 350F.

Grease a loaf pan with butter and dust some flour on it.

Take a mixing bowl and drop the peeled bananas into the bowl. Using a fork, mash the bananas. Keep adding rest of the ingredients (except the nuts) to the bowl and mix it with the fork or a wooden spoon until they're incorporated into a batter.

Finally, mix the assorted nuts.

Pour the batter into the greased pan and place it in the middle rack of the hot oven. Bake for 50 minutes. Check by inserting a chopstick or a knife. If it comes out clean, take the pan out of the oven. If not, continue baking and check again after 5 minutes.

Once it's done, let the bread cool in the pan for a while. Then, release the sides using a serrated knife. The bread should come out easy.
Nutrition