Last weekend was one of those rare weekends when we spent both the days at home. We relaxed, cooked a lot and ate cake for breakfast in our pajamas. It was Arvind's birthday on Sunday and this time, I got a little ambitious with the cake. I layered the cake, covered it with basil frosting and even made candied basil leaves to decorate on the cake. Although the flavor was really nice, the cake turned out a tad bit dry. And as for making the cake look pretty, I have a long way to get there!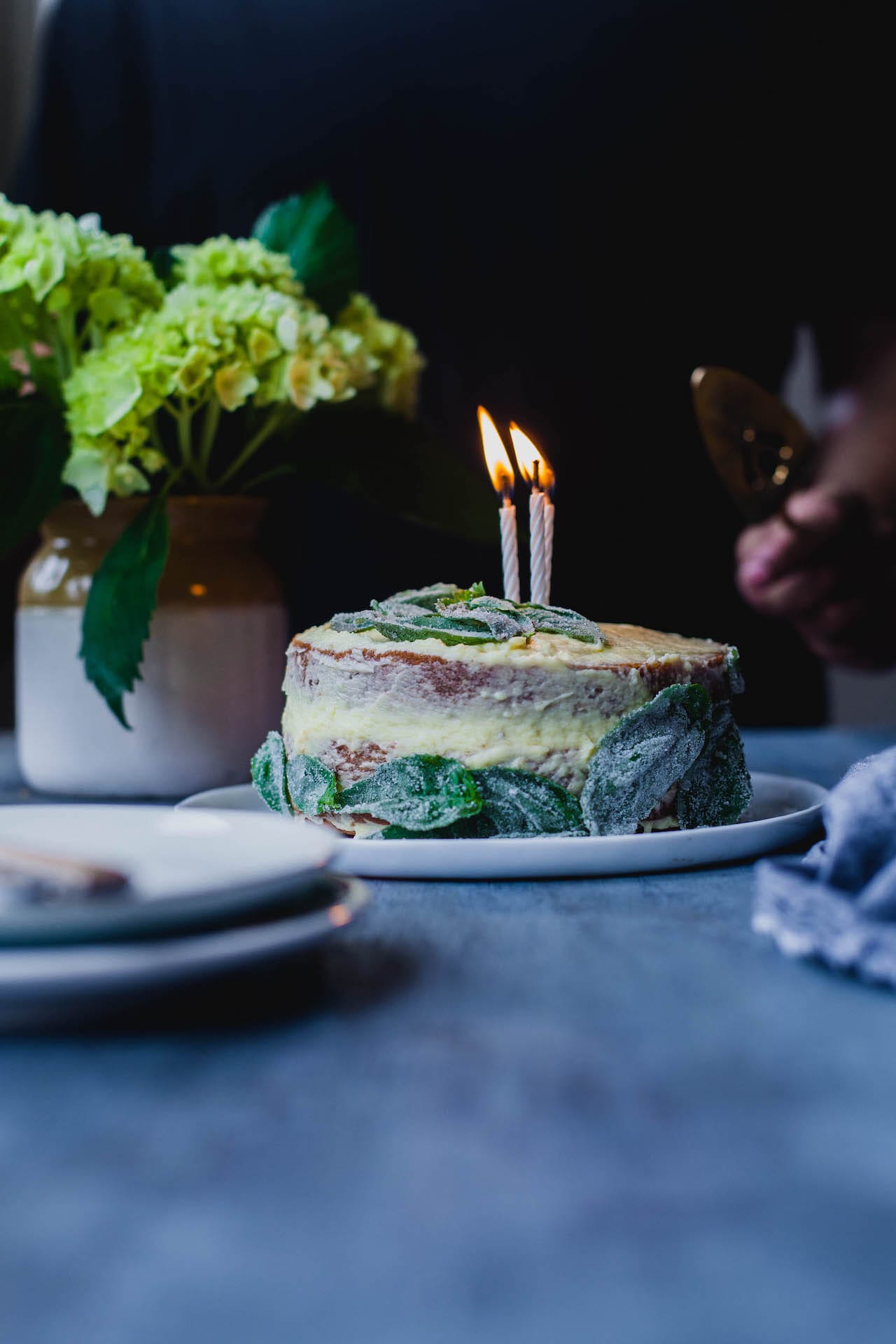 My initial plan for his birthday cake was a white chocolate cake with basil frosting. He loves white chocolate. But every time I have tried to bake something with white chocolate, I've ruined it. If you have a foolproof white chocolate cake recipe, please do share the link/recipe with me.
So, after two flop white chocolate cakes (it sank in the middle), I decided to go back to good old lemon cake. Thankfully, that came out well, even if a little dry.
At first, I was not too sure if I should blog about the cake. But then, we all enjoyed the flavors and it was fun, especially watching our boy. He just couldn't wait for me to finish frosting, kept saying "Mumma happy to you .. happy to you". However, he didn't care to wish his Dad. In his world, it's just candle, fire and cake that relates to "happy to you". He even calls the fireplace "happy to you". I don't want him to grow! His favorite part of the entire breakfast-birthday-celebration was to light the candles and blow it off. We did that back to back until there were no candles left. After all that excitement, I was wondering if he would even take a bite. Thankfully, he did! A big slice and that made us the happiest. Worth all the effort!
Something tells me that from now on, we will have to store birthday candles. Chances are, Avyan will ask for it every time I bake a cake.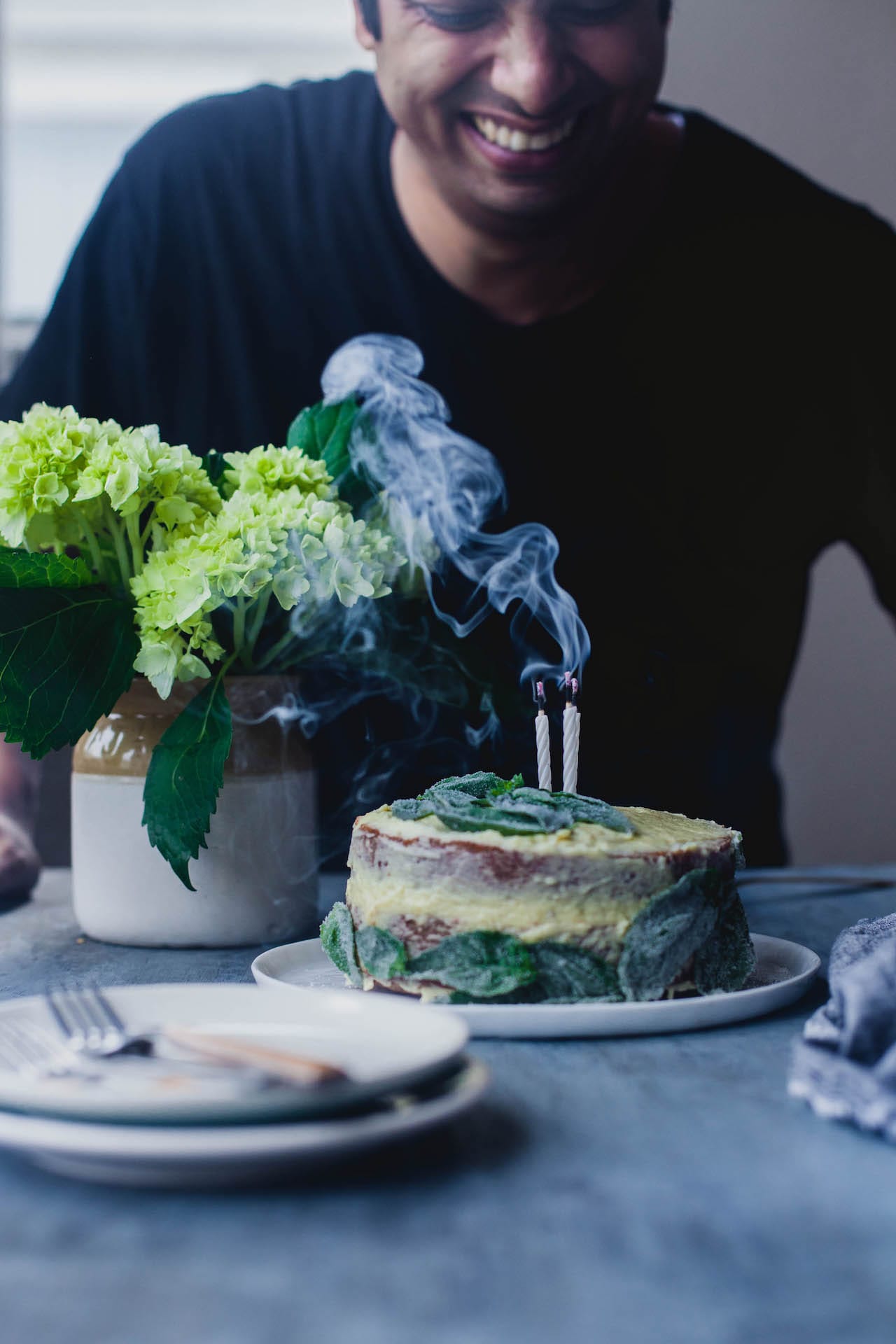 The basil frosting is from Molly Yeh's blog and I learnt about the candied basil leaf from one of Rachel Khoo's show.
Lemon Cake With Basil Mascarpone Frosting
Ingredients
for the cake
2

eggs

½

cup

olive oil

zest and juice of 1 lemon

¾

cup

all-purpose flour

1

teaspoon

baking powder

½

teaspoon

baking soda

¾

cup

sugar

pinch

of salt
for basil frosting
10

fresh basil leaves

1

stick unsalted butter

4

oz.

mascarpone cheese

zest of 1 lemon

1

cup

powdered sugar

pinch

of salt
for candid basil leaves
fresh basil leaves

powdered sugar

1

egg white
Instructions
for the cake
Preheat the oven to 365F and grease a 6-inch round baking pan.

Whisk egg with sugar until it's smooth. Then, pour the oil and whisk again.

In a separate mixing bowl, add all the dry ingredients (flour, salt, lemon zest, baking powder, baking soda and salt). Give it a mix and pour it into the egg mixture. Pour lemon juice and whisk until the cake batter until it comes to a smooth consistency.

Pour the batter in the baking pan and bake it for about 35 to 40 minutes.

Poke a knife in the center of the cake. If it comes out clean, it's done or else, bake for some more time.

Allow the cake to cool completely before you apply the frosting.
for the frosting
In a pan, add butter and roughly chopped basil leaves. Once the butter has completely melted, bring down the heat to low and continue cooking for about 15 minutes, stirring every now and then.

Strain the infused butter, add lemon zest to it and keep it in the refrigerator for the butter to partially firm up.

Once ready, beat the partially firmed infused butter with mascarpone cheese and powdered sugar.
for candid basil
The basil leaves should not be wet. So, clean them in advance and allow it to dry up completely.

Take a plate or bowl and pour the powder sugar.

Beat the egg white until it's lightly frothy.

Now, dip the basil leaves in egg white and then dip it in the sugar bowl to coat the basil leaves completely. Shake gently to remove any excess sugar and set on a parchment paper.

Repeat the process with all the basil leaves.

Finally, to assemble the cake, make sure that the cake is completely cooled.

Using a serrated knife, layer the cake.

Place one layer of the cake on cake stand or a serving plate and spread a thick layer of the frosting on top. Spread it evenly using an offset spatula and then, place another layer of cake on top. Add more frosting and finish with the final layer. Add rest of the frosting on top and layer the cake smoothly all over.

Decorate with candid basil leaves and it's done!
Nutrition