A decent chocolate treat is soul satisfying, mood uplifting and can switch any miserable day to a chirpy one. Living in west coast, I shouldn't ever nag about the weather but it's been blue off late and it yelled for some sugar rush to boost my spirit. Plus, with all the Valentine's Day chocolate delicacies that are floating in the virtual food world and food channels, it's tough not to flow with the temptation. It's nothing bad, only food and good food, if I may say. Well, chocolate is good for health in several ways, obviously as long as you don't over do it. I had mentioned it several times in past that I am not a chocoholic but at times, the craving hits hard. And if that's an airy, fluffy, velvety mousse, which melts in your mouth, I could dig in and gobble non-stop. Not that I do, but I totally can.
Yesterday, just before dinner, I whipped this insanely easy chocolate mousse with a hint of coffee flavor in it. My husband was surprised when he watched me suddenly jump out of the couch and go straight to the kitchen, like I left the stove on by mistake. I am still working on fixing that bad habit! That was clearly not the reason why I rushed to the kitchen. Like I said before, craving hits hard at times. After a quick 15 minutes, the mousse was ready. Really, it was that quick. As usual, I was trying to scrape every single bit of it and when I couldn't do it anymore, I licked the whisk clean. Who doesn't do that, right? Not even a tad bit embarrassed about it. It's dark chocolate after all and that silky smooth mousse was too good to get washed by water. Arvind stood there and stared at me with a flat expression. I am sure such things don't surprise him any more.
My plan was to save some for the special love-day that's just around the corner. Not that we go outrageous and celebrate Valentine's Day with flowers and hearts hovering around us. We find that silly. We don't even like to eat out on that day because its just too crowded. But we do like to treat ourselves to something special. Now, if only I could resist the temptation until Friday. There are still two more left in the fridge and I placed the milk gallon right in front of it hoping that the trick works! The truth is, I don't trust myself much with chocolate mousse or any chocolate treat. The good news however is that this mousse so easy to prepare, I can make it any time.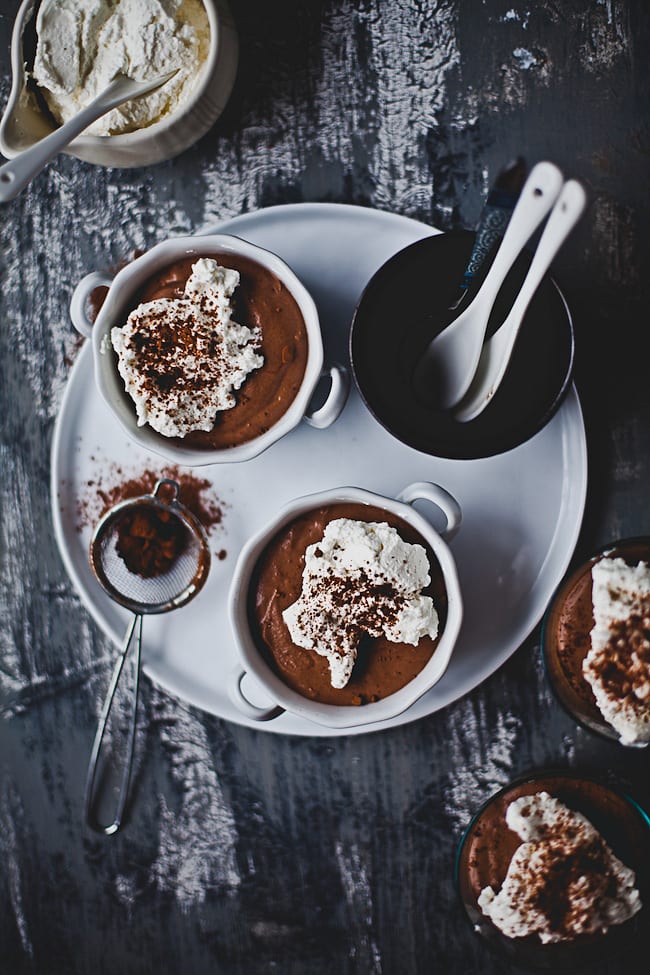 Chocolate And Coffee Mousse
Ingredients
1

teaspoon

gelatin powder

2

tablespoons

cold water

3

tablespoons

hot water

½

cup

sugar

½

cup

dark cocoa powder

1

tablespoon

instant coffee powder

pinch

of salt

1

cup

heavy whipping cream

1

teaspoon

vanilla extract
Instructions
In a bowl, mix gelatin with cold water and let it stand for a minute. Then, mix hot water to it and let it cool to room temperature.

In a mixing bowl, add sugar, salt and sift cocoa powder plus coffee powder to it. Add whipping cream to the bowl and using an electric mixer, whisk at medium high until it's stiff. Scrape in between to make sure everything is mixed well. Pour the gelatin mixture, vanilla extract and whisk to mix everything together. Spoon it to individual containers, cover it and refrigerate it for a few hours.

Serve it plain or add a dollop of whipped cream on top.
Nutrition
"All you need is love. But a little chocolate now and then doesn't hurt." ― Charles M. Schulz