When your daily routine revolves around cooking every single day, be it for a job or to feed your family, there comes a day in the week when you need a break from the mundane. I go through this phase at least once every week, mostly on Fridays. That day, my bones get lazier than ever. Other than cooking for Avyan, all I do in the kitchen is prepare an easy egg sandwich for lunch. As for the dinner, either Arvind puts on his chef hat or we order take out.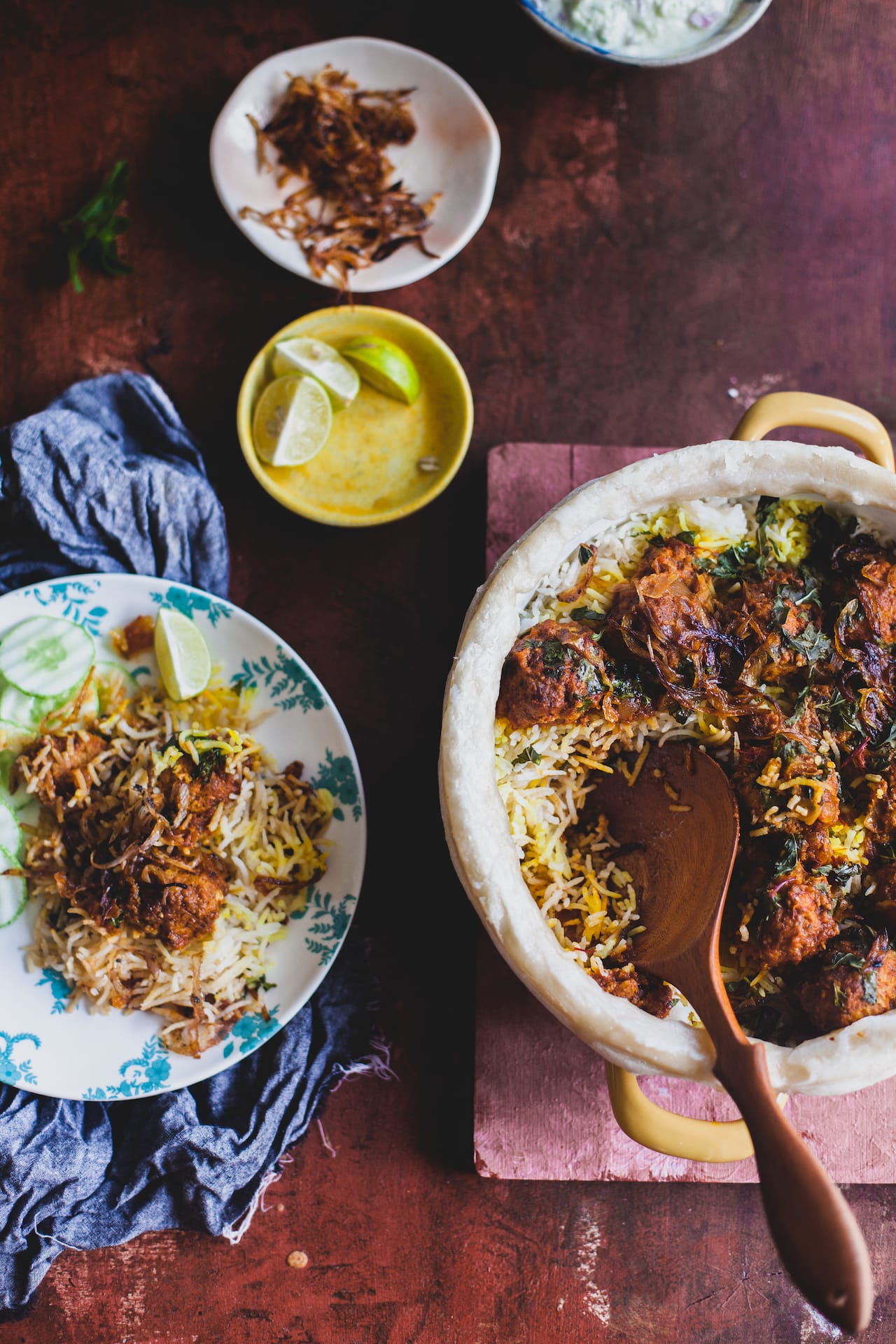 If I leave the dinner carryout idea to Arvind, we land up eating biryani, almost always! The boy doesn't get bored of the dish, ever. Every time he hears of a new type of biryani, he hunts down the best place to try it out. I am not a huge fan of biryani and my biggest concern with restaurant biryani is that it never has enough meat or that robust flavor. It's just spicy. Very rarely, I come across that perfectly flavored biryani with a fair quantity of meat in it.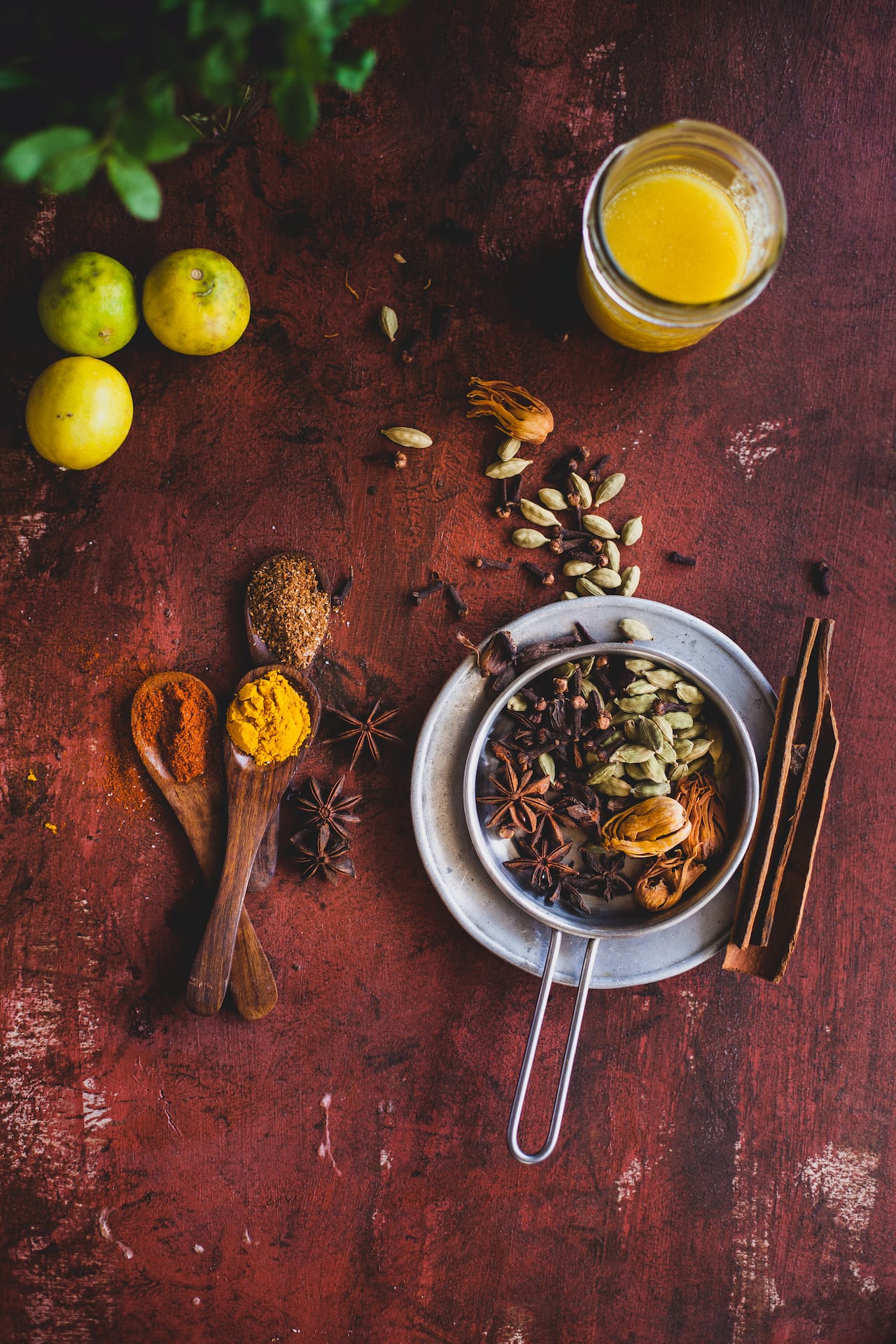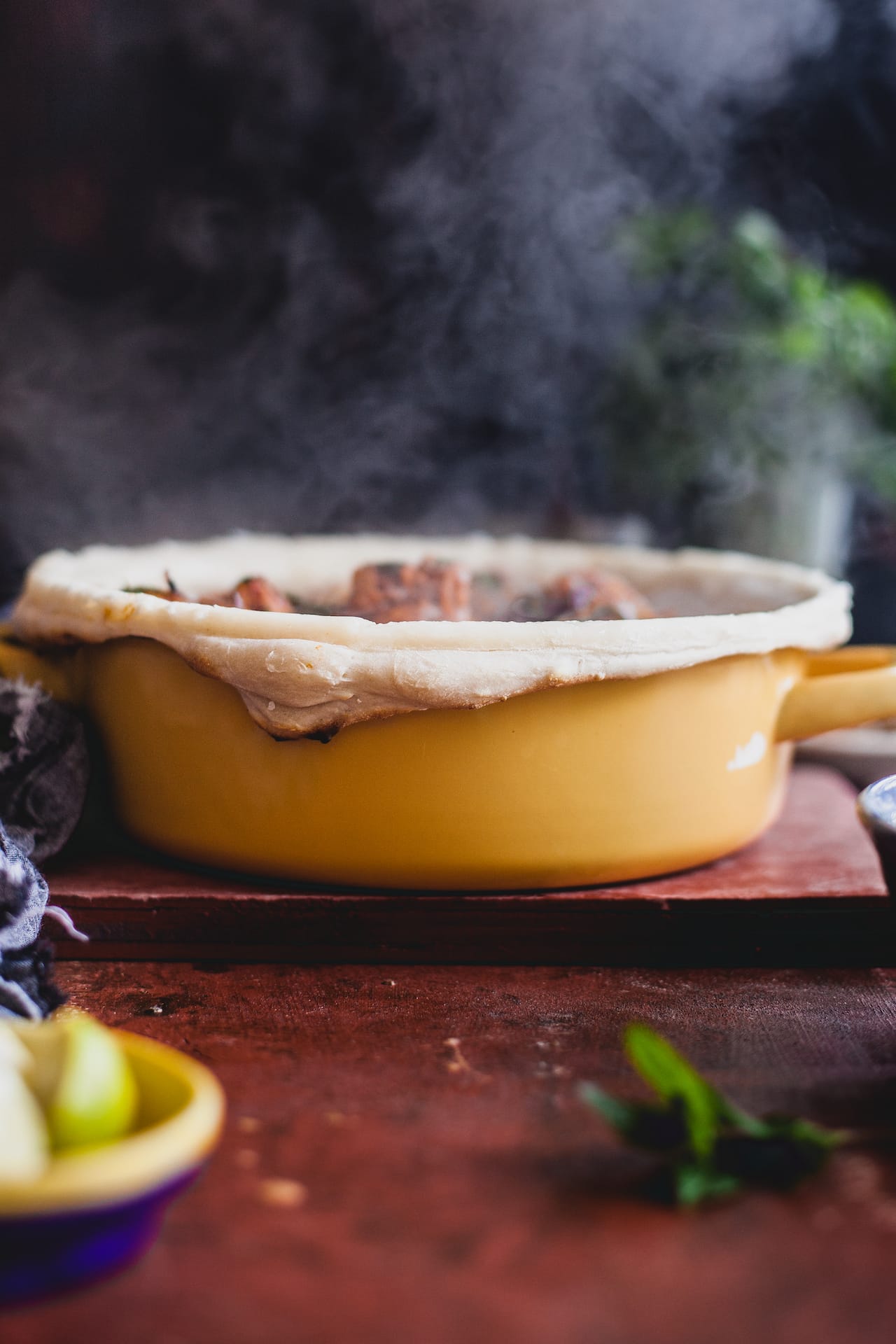 I always prefer the homemade version that's filled with whole spices, ghee (clarified butter), lot of meat chunks, fresh mint, fried onions and a hint of saffron. Most importantly, it has to be prepared by following the method of dum (sealing and slow cooking).
It's a lot of components but that's exactly how I enjoy it.
So occasionally, I forget my love for quick cooking and roll up my sleeves for the long process of preparing a big pan of perfumed biryani. And after I received the gorgeous heavy bottom casserole in my happy color from Fujihoro, motivation just flew into my system to spend those extra hours in the kitchen. And this cookware is perfect to cook such dishes. Not just functional but also pretty enough to make a center piece.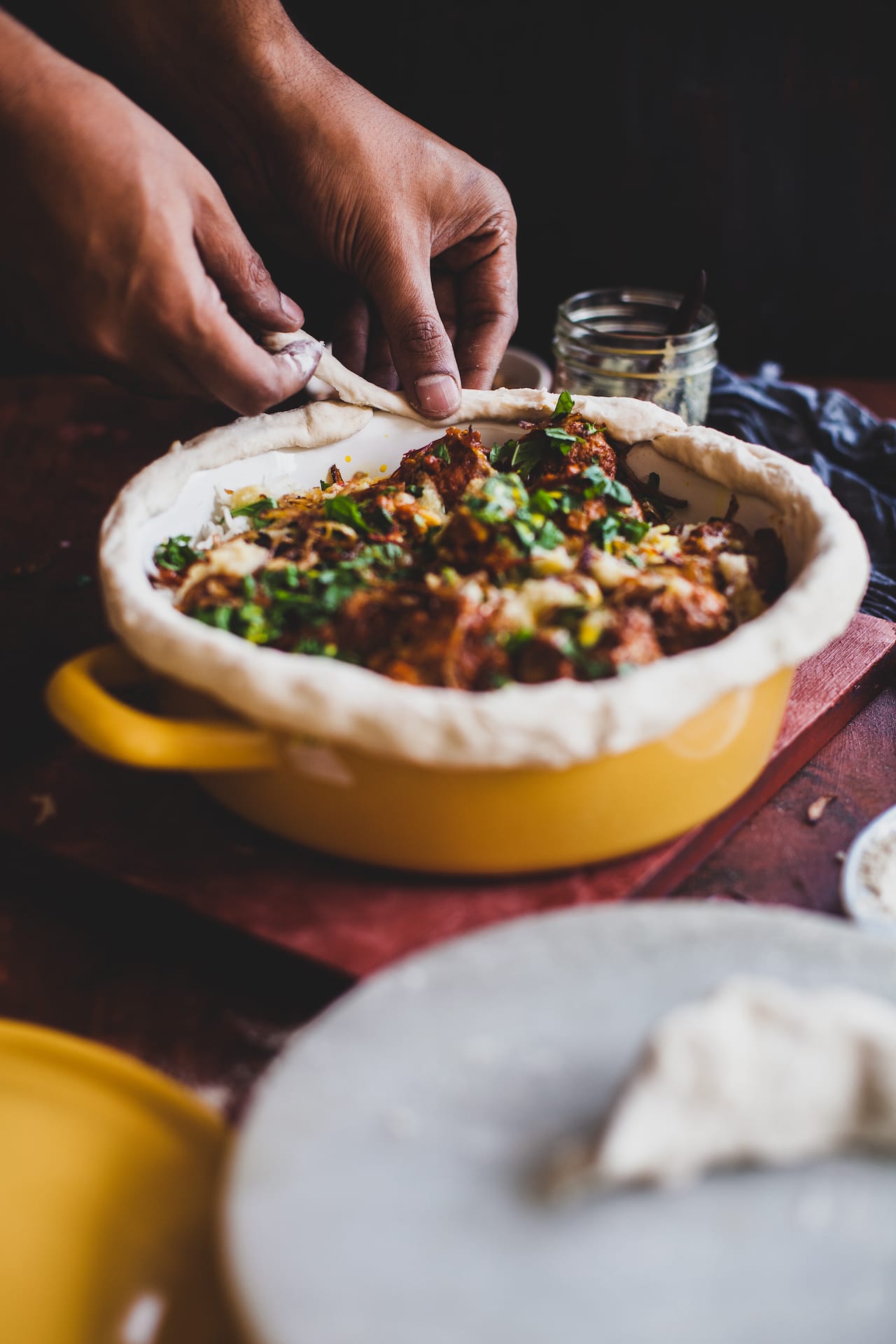 Kofta Biryani is flavored rice cooked with meatballs. The idea is to partially cook the rice with whole spices, cook the meatballs in tomato gravy and finally, slow cook them together by forming layers in a heavy bottom pan. If you want that immense flavor, go for the dum version where the pan is sealed with the lid by using simple flour dough. This traps the aroma completely into the dish. And as you open the lid after cooking, that aroma is enough to pull everyone to the dining table.
Chicken Kofta Dum Biryani | Playful Cooking
Ingredients
for cooked rice
1½

cups

of long grain basmati rice

(rinsed and soaked in water)

3

green cardamoms

1

black cardamom

1

cinnamon stick

3

cloves

1

mace spice

1

star anise

1

tablespoon

ghee

water to cook the rice
for meatballs in tomato gravy
500

gram

minced meat

1

egg

¼

cup

bread crumbs

400

gram

tomato puree

2

medium onions

(finely chopped)

3

garlic cloves

(finely chopped)

½

inch

ginger

(finely chopped)

1

teaspoon

fennel seeds

⅛

teaspoon

cumin powder

⅛

teaspoon

coriander powder

½

teaspoon

chili powder

⅛

teaspoon

turmeric powder

1

teaspoon

sugar

salt

oil
few more ingredients
pinch

of saffron

2

tablespoons

milk

½

cup

finely chopped fresh mint leaves

2

medium red onions

(finely sliced)

2

tablespoons

ghee

(clarified butter)

¼

cup

flour
Instructions
to prepare the saffron milk
Start by dry roasting the saffron threads on a pan at low heat until the saffron threads turns to a tad bit darker shade. Drop the roasted saffron threads in a bowl and pour 2 tablespoons of milk to it. Give it a stir and allow it to rest until it's ready to be used. The color of the milk will slowly change to a beautiful saffron color.
to prepare the fried onion
Drizzle some oil in a pan and scatter the thinly sliced onion evenly. Sprinkle some salt and allow it to cook in medium heat by stirring occasionally until the onion turns golden brown in color. Once done, take it off the heat and spread it on a kitchen towel. Keep it aside to be used later
to prepare the sealing dough
In a mixing bowl, add flour and pour water little by little as you start making the dough. Once ready, keep aside to be used later.
to prepare partially cooked long grain rice
Pour ghee in a heavy bottom saucepan followed by all the spices mentioned. Once it sizzles, drain the soaked rice and pour it into the pan. Sprinkle salt and give it a stir. Now, add 2 cups of water and bring it to a boil. Then, lower the heat to simmer and allow the rice to cook. Once all the water is absorbed, switch off the heat and allow it cool down for a while. Next, fluff it using a fork and keep aside to be used later.
to prepare the meatballs in tomato gravy
Add minced meat in a bowl along with salt, 1 egg, half of the finely chopped onion, half of the garlic, a pinch of chili powder and a pinch of turmeric powder.

Give it a quick mix and form tiny balls.

Shallow fry the meat balls until golden brown on all the sides.

In a separate pan, add oil and drop fennel seeds, chopped onion, chopped garlic and chopped ginger. Sprinkle with salt, turmeric and cook until the onions are mild golden shade.

Pour tomato puree, ½ cup of water along with sugar, cumin powder, coriander powder and chili powder. Stir and let it simmer in medium low heat for about 5 minutes. Finally, drop the meatballs, give it a mix and allow it to simmer for 5 more minutes. If the gravy gets too dry, add more water. Once done, keep aside to be used later.
to prepare kofta dum biryani
In a heavy bottom pan, spoon some ghee and layer half of the flavored rice. Next, put half of the meatballs along with the gravy on top of the rice and layer evenly. Scatter half of the chopped fresh mint, half of the fried onions and drizzle half of the saffron milk. Repeat the process to create more layers.

Then, take the flour dough that was made earlier and roll it thin. Press the dough on the edges of the pan to make it stick. Use some water along with the dough, if required. Cover with the lid and press tight so that it's sealed.

Put the pan on the stove at medium low and allow it to cook for about 30 minutes.

Serve warm with some yogurt on the side.
Notes
It may sound like a lot of work and it sure is, but with a little bit of multi tasking, it is quite doable. Whenever I have to prepare biryani for a party, I try to make a few things in advance. I prepare the partially cooked rice, the chicken kofta in tomato gravy including the fried sliced onions the day before. And the next day, just before the meal, I layer it as mentioned in the directions and proceed with the slow cooking.
If you are a vegetarian, you could use mixed vegetable kofta or paneer kofta instead of chicken kofta.
Nutrition