The countdown is over and finally, it's the first day of summer. The heat is on with temperatures shooting up to 90 F and I am totally feeling the sunshine.
The weather has been playing a game with us. With all the unpredictable rain and cold winds, spring didn't feel like spring at all. The weather man from the news channel would always warn us for more rain and I would look up at the sky hoping to see the clouds go away.
For the last few weeks, it started to get a little warm and I was loving it.
Summer is all about the bright clear sky, beautiful gorgeous flowers and longer days. It's also about fresh fruits, fresh green vegetables, lots of lemonades and light flavorful meals. It has always been my favorite time of the year, my favorite season.
My first day of summer called for super delicious cold summer-y dessert with lots of colorful berries. Do you like berries?
I bought these blue boxes of berries which had black, red and yellow berries.. I have never seen yellow berries before. They are sweet and so juicy. After munching on to them for a while, I thought of making some dessert which I could share with you.
Baking was not the option that I was looking for and hence, parfait was the perfect choice!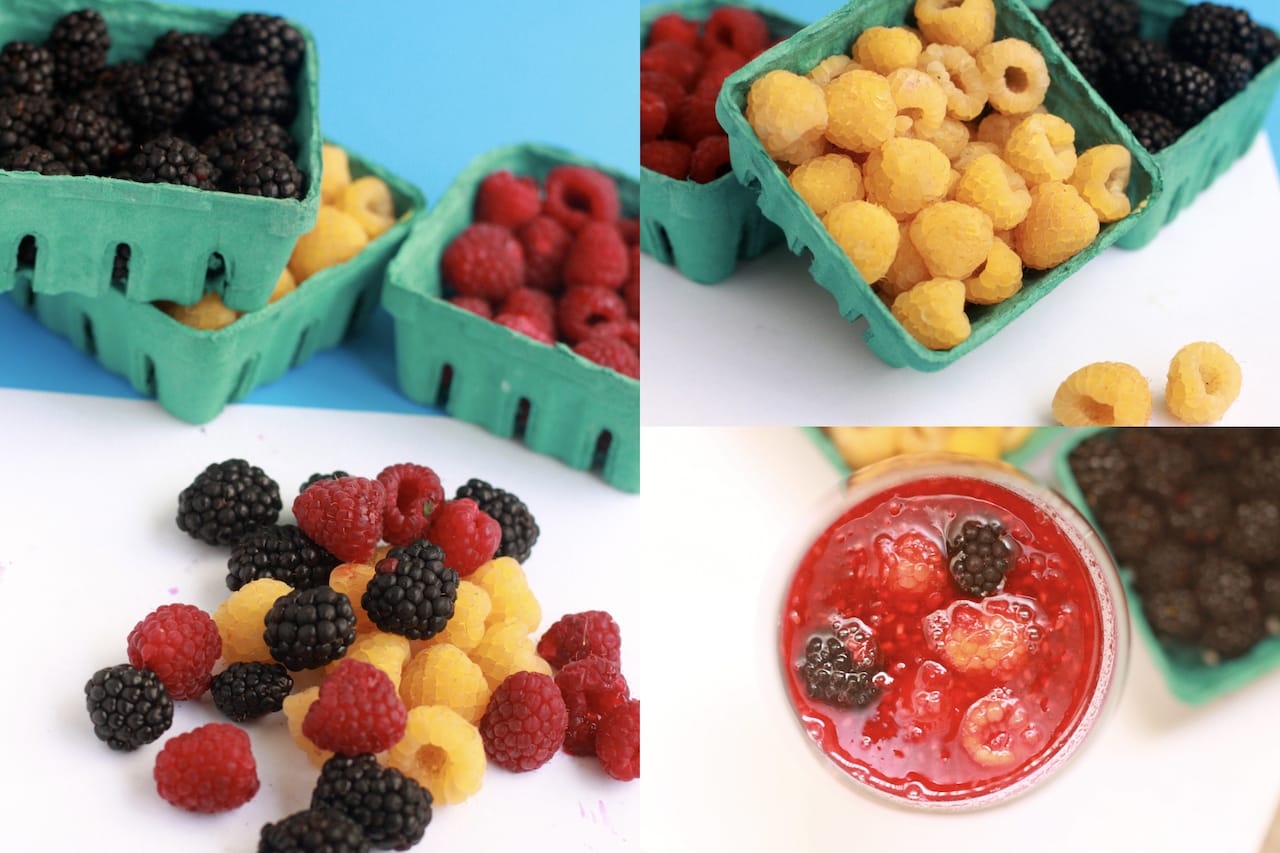 As per Wikipedia, Parfait is a French word literally meaning "perfect" commonly employed to describe a kind of frozen dessert. In Northern America, parfaits are usually made by using dairy yogurt layered with nuts or berries. What better time to enjoy this than now..
If you don't like berries, you can use any other fruit of your choice. If you don't like yogurt, use fresh cream and add some creamy mascarpone. I wanted a light dessert and hence, used plain yogurt 🙂 You can make multiple layers.. you could use any crunchy topping you want.. This is what I chose!
Berry Yogurt Parfait
Ingredients
1

cup

pureed raspberries/strawberries

1

cups

of mixed berries

(or any fruit of your choice)

1

tbs

gelatin

(I used vanilla flavored)

2

teaspoon

vanilla extract

1

cup

powdered sugar

2

tbs

sugar

¼

cup

rolled oats

¼

cup

roasted nuts

(I used almond)

2

cups

yogurt
Instructions
In a bowl, add ¼ cup water and 1 tbs gelatin. Mix and keep it aside for couple of minutes.

In a sauce pan, add the pureed berries with some powdered sugar and vanilla extract and cook for about 3 minutes in low heat.

Add the gelatin water mix to the sauce pan and continue cooking for another few minutes.

Let it cool and then, put it in the glass or a bowl.

Drop few whole berries on the top. Cover it and let it rest in the refrigerator for about 3 hrs or until it sets like a jello.

Mix the yogurt with 1 teaspoon vanilla extract, pinch of salt and 2 tbs sugar. Keep it aside.

In a pan, roast the rolled oats and almonds.

Roughly chop the almonds and mix it with the oats.

Pour the yogurt mix on top of the raspberry jello, drop some whole berries on top and top it with the oats and almond dust.
Nutrition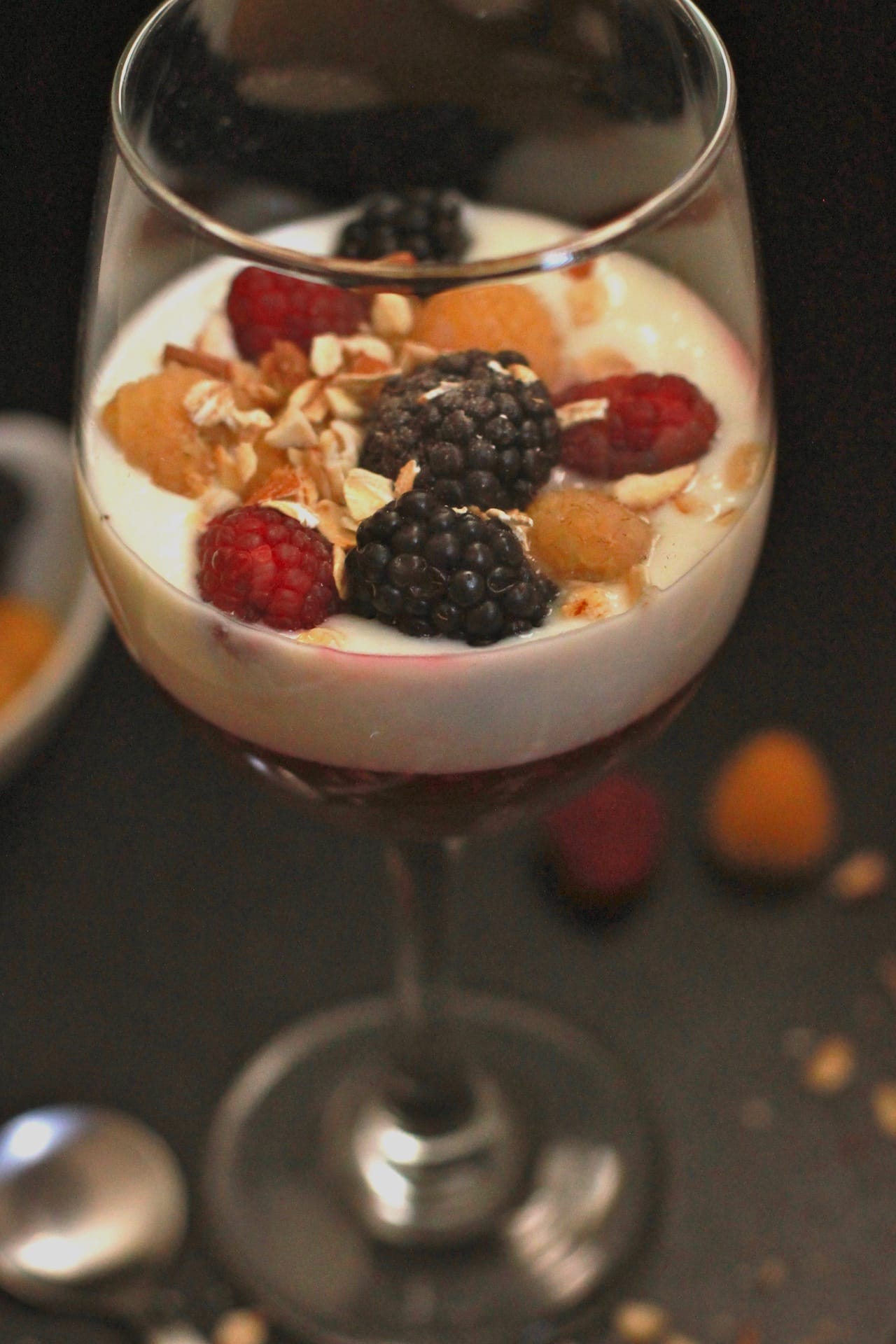 Note:
1. You can use granola instead of rolled oats and almonds.
2. I chose to make the jello with raspberries just because I love the color red!
3. You could refrigerate the parfait after pouring the yogurt and just before serving, add the fruits, oats and almonds.
4. The jello should set in about 3 hours but you can keep it in the refrigerator overnight.