There was a period when I couldn't consider rice in any different shade other than white. Small grain white rice would be prepared on a daily basis, long grain basmati white rice for biryani on special occasions and aromatic short grain white rice for (payesh) Bengali rice pudding. Of course, later I learned about Kerala rice, par boiled rice but no matter how many different kinds were available back then, they were all white. Or at least that's all I knew. These days, markets are brimming with such a special range that one can hardly get bored of eating rice. Options like brown rice, forbidden black rice, red Bhutanese rice and many many more.
I haven't tried all of these yet but I will get there some day.  Very gradually, I started to enjoy the crunchy texture of brown rice. It took a while for me to learn the boiling technique but once I figured that out, brown rice got a permanent spot in my pantry right next to the basmati white rice.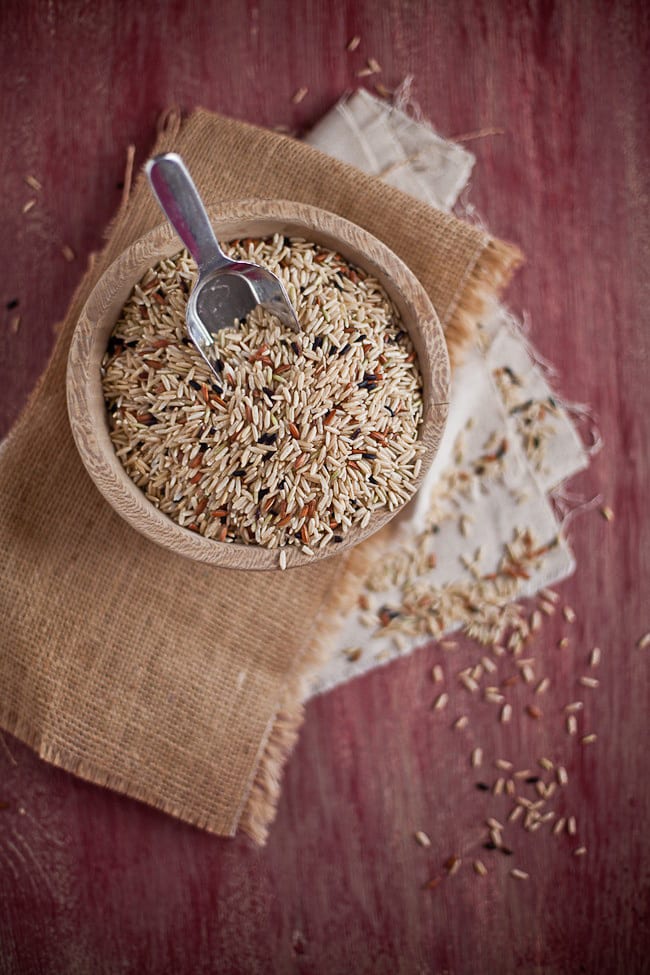 Rice is not our daily diet but once in a while, I like to jazz it up with some egg or chicken, green vegetables and asian sauces to boost the flavor.
This Asian fried rice happened one afternoon when the belly begged for Chinese cuisine. It's also typically how I often like to use the left over rice from the previous night. Sometimes just with veggies, sometimes with herbs and on certain days, with pan-fried chicken strips.
Making fried rice is extremely easy and there is no limit to what one can add along with it. The key thing is to make sure that the rice is cold before you add it to the wok or else, it will get mushy and that is why it is always best to cook the rice the night before or at least let it cool for few hours!
I generally like to use only white rice while making fried rice, but since these days we both are into brown rice, I thought the variation might be nice. And it was!
If you don't have left over rice or don't have enough time to cool the rice, just serve the chicken and rice separately. Call it Asian stir-fried chicken with rice! It will taste good either way.
Asian Chicken Fried Rice
Ingredients
for the rice
1

cup

brown rice

2-½

cups

water
for the asian chicken
2

chicken breast

(thinly sliced)

1

egg

¼

cup

corn flour

1

medium onion

(thinly sliced)

couple handful of brussels sprouts

(thinly sliced)

2

bunch green onions

(thinly sliced)

3

garlic cloves

(grated)

1

inch

fresh ginger

(grated)

2

tablespoons

rice vinegar

2

tablespoons

soya sauce

1

tablespoons

brown sugar

2

teaspoons

chili flakes

(add less if you don't like too much spice)

4

tablespoons

oil

salt

pepper
Instructions
In a deep pan, mix rice with water, bring it a boil and then let it simmer for about 30 to 35 minutes. The water should be absorbed by then. Cover and let it rest for 5 minutes. Fluff it with the fork and let it cool completely before you use it to make the fried rice.

Beat egg in a bowl and in a separate bowl, sift the corn flour. Dip the chicken strips first in the egg bowl, then in the corn flour, tap off the excess flour and keep it in a plate.

Once all the chicken strips are coated with egg and flour, heat 2 tablespoons oil in a wok and fry the chicken strips until golden brown. Keep aside the fried-chicken once done.

Now in the same wok, add 2 tablespoons oil and bring it to medium heat.

Add ginger, garlic and sauté for about 2 minutes. Drop the sliced onion and sauté until its translucent.

Next, add brussel sprouts to the wok/pan. Season it with salt and pepper. Continue cooking for about 2 minutes and then add vinegar, soya sauce, some more salt and brown sugar. Give it a toss and add ¼ cup water and continue cooking until the brussel sprouts are soften.

Add chopped green onions and the fried-chicken strip that was kept aside to the wok/pan and give it a toss.

Add the cooked rice and keep tossing lightly until it's all mixed together.

Check for salt and add any if required. Squeeze some fresh lime juice, garnish with chopped green onions and serve warm.
Nutrition