Few months back, we bought our first waffle maker. We have always loved waffles but somehow it took us a long time to get one of those gadgets. I just try not to crowd the kitchen with appliances. But thanks to the waffle maker, our weekend breakfast got easy. Most weekends, I like to serve something that takes more time to prepare than usual. But then on some weekends, I just want to make a fancy breakfast without putting any effort at all. On these lazy mornings, I make this Almond Lemon Waffles with colorful berries and whipped cream.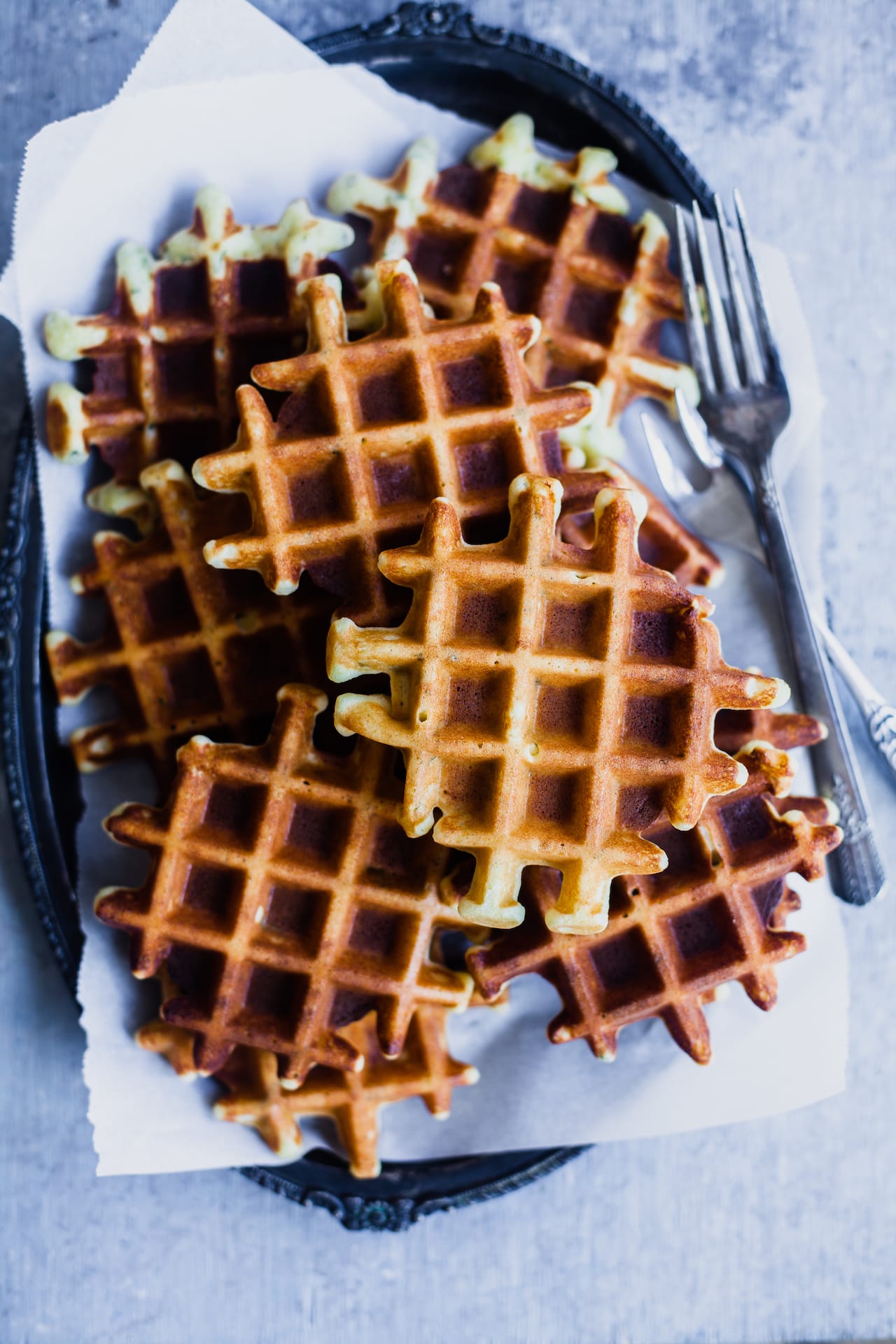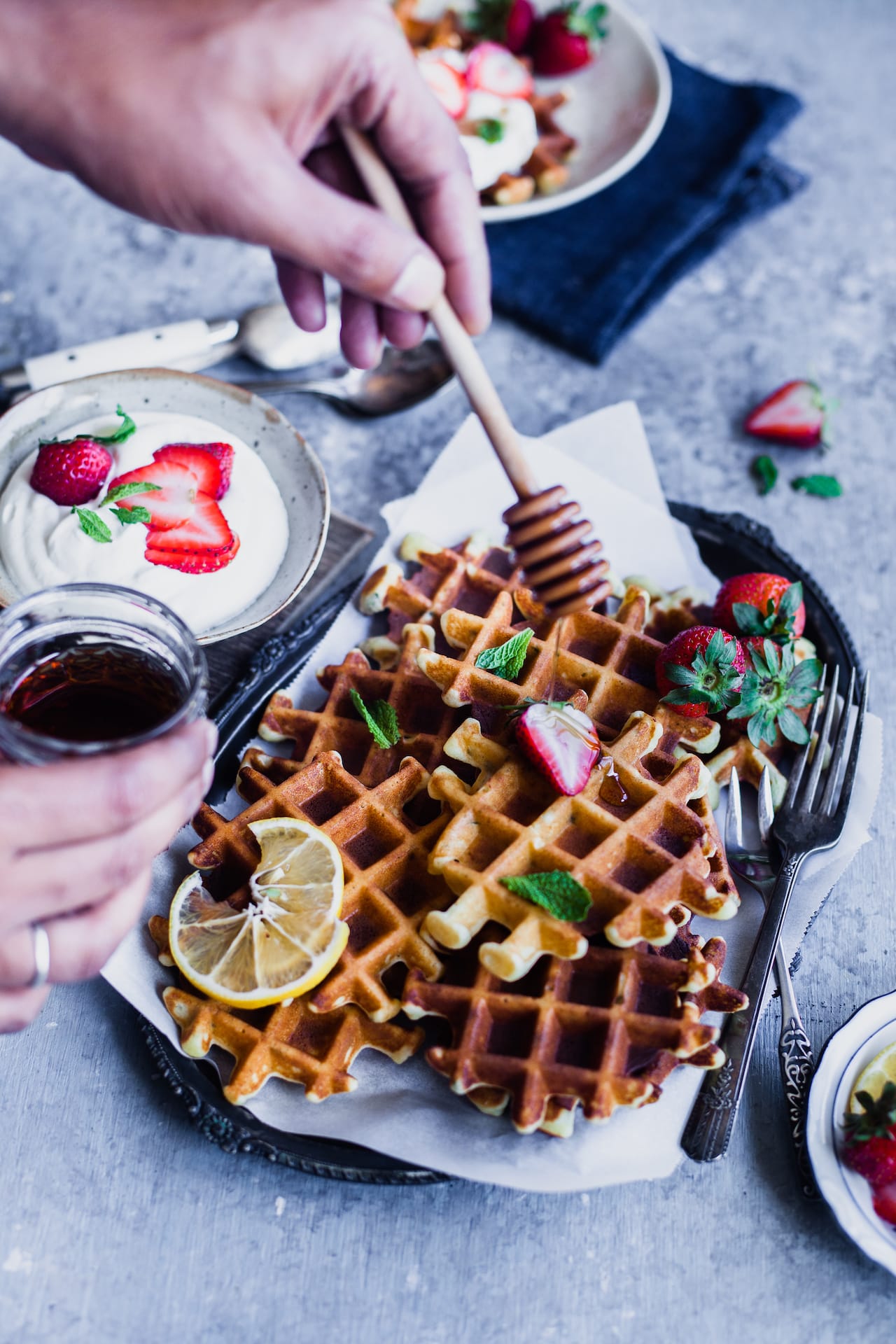 I like my waffles crispy and not overly loaded so I can enjoy the crusty bite. Arvind prefers it softer and drizzled with sauce, ice cream maybe (definitely not happening for breakfast) and of course, a generous dose of syrup. Avyan first counts the tiny squares and then makes sure that some amount of syrup is present in all the squares. So, you could imagine how exciting waffle breakfast gets for us. Occasionally, it also leads to a semi bath situation for Avyan. I care less or at least try to, it's weekend after all and a little mess should be allowed.
These Almond Lemon Waffles are not gluten free as I had to add some white flour to get the texture that I enjoy. You can definitely make it with just almond flour too. I have tried both the versions and while I liked both, I prefer the taste of this one more. I do have a few more exciting waffles recipes getting built up but this particular one is super easy and is here to stay for all those lazy mornings.
If you don't have a waffle maker, you can try this exact same batter to make fluffy pancakes too.
Almond Lemon Waffles
Ingredients
1

cup

almond flour

⅓

cup

all-purpose flour

4

tablespoons

melted butter

2

eggs separated

2

tablespoons

sugar

zest of 1 lemon

juice of half the lemon

(2 tablespoons)

pinch

of salt

½

cup

milk

fresh berries

whipped cream

fresh mint leaves
Instructions
In a pan, drop the both the flours, sugar, lemon zest and salt. Give it a whisk. Then, add the egg yolk, melted butter, lemon juice, milk and whisk until the batter comes together to form a smooth consistency.

In a separate bowl, drop the egg whites and whisk until it forms a firm peak.

Put the whisked egg white into the batter bowl and using a rubber spatula, gently fold the mixture.

Depending on the kind of waffle maker that you are using, this step will differ. Preheat your waffle maker and ladle the batter into each compartment without overflowing it. I use T-fal SW6100 waffle maker and it requires about ¼ cup of the batter for each compartment. Cover the waffle maker and cook until it's golden brown. Carefully take the waffles off the compartment and place them on a plate.

Serve the warm waffles topped with some fresh berries or fruits of your choice, fresh mint leaves and whipped cream or syrup.
Notes
The cooking time is not for single a single waffle, but for the entire lot.
Nutrition
Serving:
1
About 10 to 12 waffles