Smooth to the palate with a melt-in-mouth feel, Yogurt Honey Panna Cotta is perfect dessert for any occasion. Big party or small, family gathering or just a casual any-day dessert, it can manage to fit in quite comfortably while pleasing everybody. Yogurt Honey Panna Cotta is luscious at every spoonful with the perfumy honey and a mild tang from the yogurt. Top it with any vibrant shade fresh fruit or a fruit compote and it can become the showstopper at your next party.
How to make Yogurt Honey Panna Cotta?
It's quick, easy and so effortless. Of course, you need at least 4 hours the panna cotta to set.
I used gelatin, but you can use agar-agar instead to keep it vegetarian. Use the same portion that I have mentioned in the recipe below.
You can replace heavy cream with coconut cream or almond cream if you like.
I use thick Greek yogurt. If you can't find thick yogurt, strain any yogurt you have in a muslin cloth to take out as much water as possible. That will make sure that the Panna Cotta sets perfectly.
I used a little bit of golden honey at the end for garnish, but it is absolutely optional and can be completely avoided.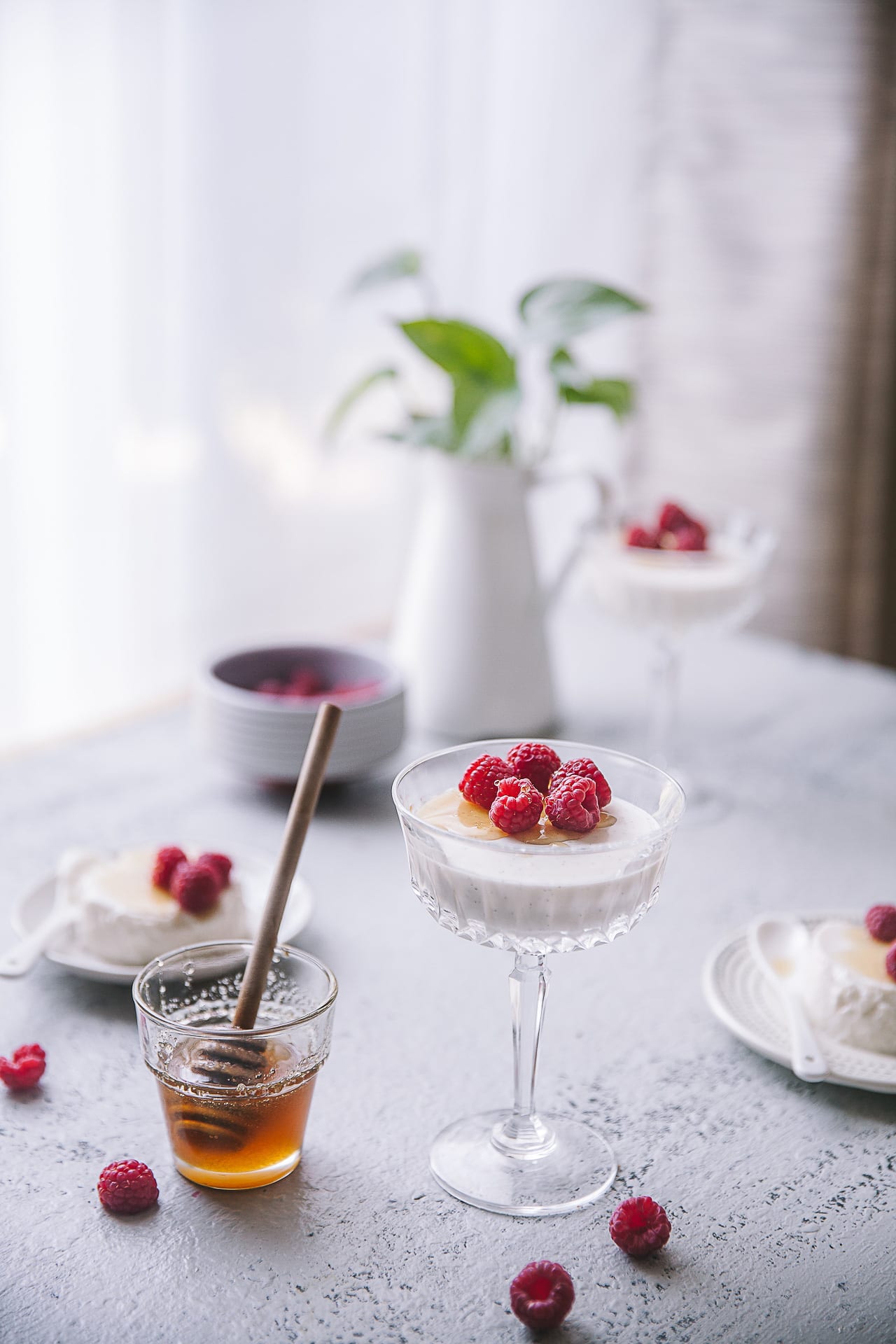 This post is done in collaboration with Mira Nova Foods.
I have prepared this Panna Cotta in collaboration with Mira Nova Foods . They introduced me to cream honey, something that I was quite unaware of. I always assumed honey to be liquid gold but when you add cream, it goes to next level of deliciousness. Their mission is "to infuse your life with healthy, unique, high-quality products from the internationally renowned mountains of Central Asia".
I used their At-Bashi honey to prepare the panna cotta. This particular cream honey is sourced from At-Bashi valley, which is located in the southeast part of Kyrgyzstan. It has a beautiful floral note, just not in terms of essence but taste too. It's rich, super creamy and can be used as your daily super-food sweetener choice.
Also drizzled a little bit of their Issyk-Kul honey on top of the panna cotta for the extra sweetness.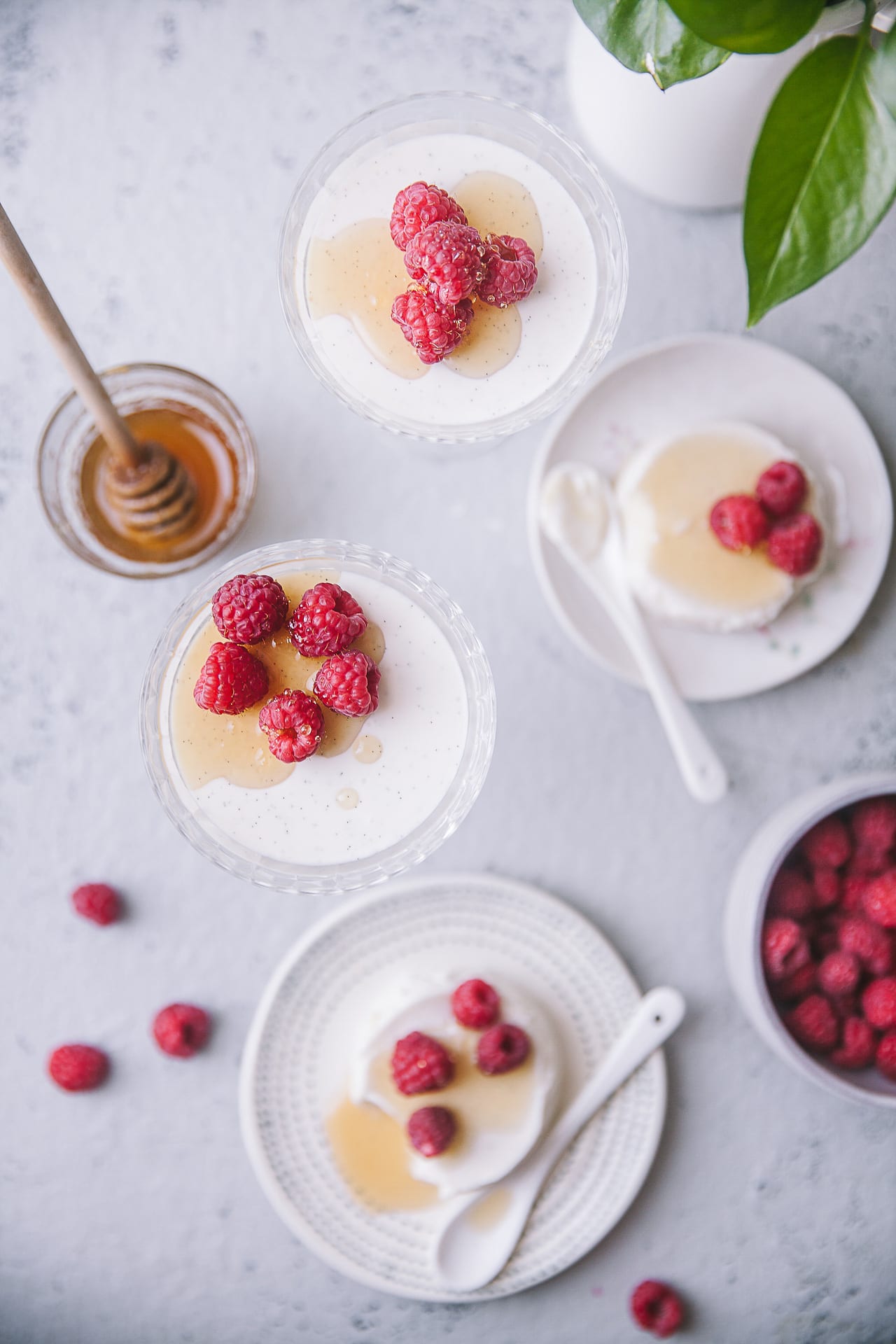 What are the other ways to use creamed honey?
Mix with cream cheese and spread on your morning toast
Use it in your bread dough or cake
Add a spoonful to your morning tea or smoothie
Mix it with mustard to make a delicious, savory sauce for your seafood, meat or vegetables
You don't need to go to a restaurant to enjoy Panna Cotta when you can make it at home! It's so easy that it might become your next favorite dessert!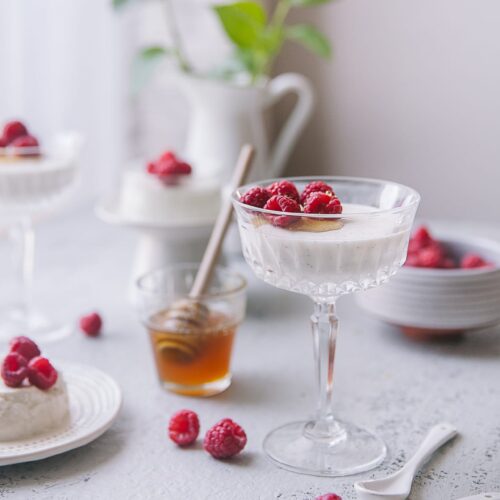 Yogurt Honey Panna Cotta
Ingredients
1

cup

heavy cream

1

tablespoon

plus ¼ cup honey

1

vanilla bean

½

cup

plain greek yogurt

1

and ½ teaspoon gelatin powder
for the toppings
fresh raspberries

honey to drizzle on top
Instructions
In a heavy bottom saucepan, pour the heavy cream along with 1 tablespoon of honey. Split the vanilla beans in half and with the back of your knife, scrape out the vanilla bean caviar. Add it to the pan along with the empty vanilla pod. Whisk the heavy cream and bring it to medium heat. Don't boil it but just let it simmer for 1 minute as you keep whisking. Then, switch off the heat and cover the pan. Leave it aside for 5 minutes. This will infuse the cream with vanilla flavor.

Take a bowl and pour ¼ cup of cold water along with the gelatin powder. Whisk and keep aside for 5 minutes. The gelatin will dissolve in the water and bloom.

After the gelatin blooms, place the heavy cream back on medium heat and add the gelatin to the pan. Whisk for 5 minutes at medium heat. This will dissolve the gelatin evenly into the cream.

In a separate mixing bowl, whisk the yogurt with ¼ cup of honey until it combines to form a smooth texture. Strain the heavy cream into the yogurt mixture and whisk to mix everything once again.

Divide it into 4 ramekin containers or any bowls of your choice. Cover the bowls with a clear wrap and place in the refrigerator for 4 hours to set.

To unmold, place the dishes carefully in boiling water just for a few seconds and then, run a knife along the edges of the bowl. Place a plate on top of the bowl and flip. You might have to shake the bowl a little for the panna cotta to come out. Alternatively, you could also serve it, as is, in the bowl, topped with fresh fruits and extra drizzle of honey.
Nutrition