If you enjoy granola but still rely on the store-bought ones, you could make that change this year and start by making your own Super Simple Fruit and Nut Granola! Once you make it, you will realize how much healthier it is than the sugar loaded store bought ones! Plus, its super easy to prepare too.
Super Simple Granola with fresh fruits is a healthy breakfast:
Our weekday breakfasts are often very simple with just toast eggs and either cereal or oatmeal. When we get bored of oatmeal, I make a big batch of granola and we make that a regular for few weeks.
It is definitely a great snack too, especially when you are craving for something sweet but want to stay away from guilty indulgence.
The store bought granolas are always loaded with more sugar. The best part of making granola at home is that you can customize it your own way, add just as much sweetener you prefer.
Add your choice of fruits, nuts or seeds. All it needs is little imagination to make it your own way.
What does a basic granola need?
Whole grain: e.g. Rolled Oats, Quinoa Flakes, Barley or Rye Flakes! For this recipe I used plain rolled oats.
Nuts and Seeds: e.g. Almond, Cashew, Walnut, Sesame Seeds, Chia Seeds, Melon Seeds or Sunflower Seeds.
Fat to bind it together: e.g. Coconut Oil, Olive Oil, Canola Oil, Melted Butter or Ghee.
Sweetener: e.g. Maple Syrup, Honey, Molasses or Melted Jaggery.
Toppings: e.g. Dried Fruits, Coconut Flakes, Chocolate Chips, Cocoa Nibs, Crystalized Ginger or Candied Orange Peel
You could also add spices like cinnamon, all spice or pumpkin spice mix too.
Just get the measurements right and then, make it your own way as per your taste buds or craving!
Serve granola with milk or top it on plain yogurt! Add it to your chia pudding or make a fancy colorful parfait. Either way, it's a delicious healthy food to kick start your day. So, try this Super Simple Fruit and Nut Granola and let me know what you think of it.
Here are few other breakfast ideas: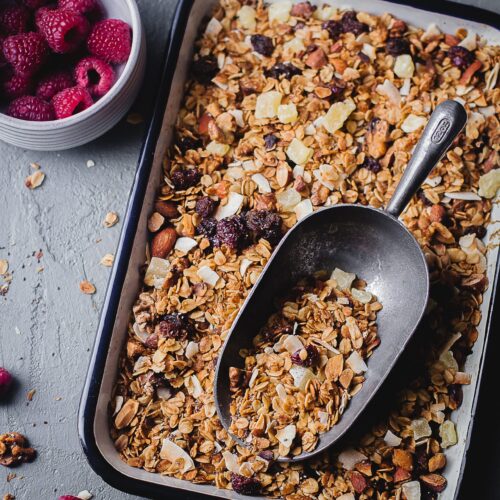 Super Simple Fruit and Nut Granola
Ingredients
6

cups

plain rolled oats

½

cup

chia seeds

½

cup

almonds

(roughly chopped)

1

cup

walnut

(roughly chopped)

1

cup

olive oil

1

cup

maple syrup

¼

cup

dried pineapple

¼

cup

raisins

¼

cup

cranberries

¼

cup

roasted coconut flakes
Instructions
Preheat the oven to 350 F.

Take a big mixing bowl and add rolled oats, chia seeds, chopped almond and chopped walnut. Mix it together. Pour the oil first and then, using a measuring cup, pour the maple syrup (the oil will grease the cup and the sticky maple syrup will flow off easily).

Mix everything and layer it on a big cookie sheet. Bake it for 40 minutes in the middle rack, tossing every 15 minutes, for even coloring and roasting. If you are making a big portion, you could do it in batches.

Once done, let it cool down completely before you add the dried fruits and other toppings.

Store it in an air tight jar.
Nutrition