Even in the days when my life was less about food and more about meetings or projects, dinner was always an important part of the day. Eating out was always an option but enjoying a comforting warm meal at the end of a busy day was relaxing. Even though I was not a big foodie, cooking had always been a fun activity for me; it was like a stress buster that helped me empty my mind and get ready for the next day.
I was not very creative with cooking but I knew how to flavor a dish with spices. My most common meal for weeknights was Pulav or Pilaf.  Flavored rice works as a great vehicle for any vegetable, meat or fish. Although brown rice would also work great, it's always best to use long grain basmati white rice and cook with whole spices for the best aroma.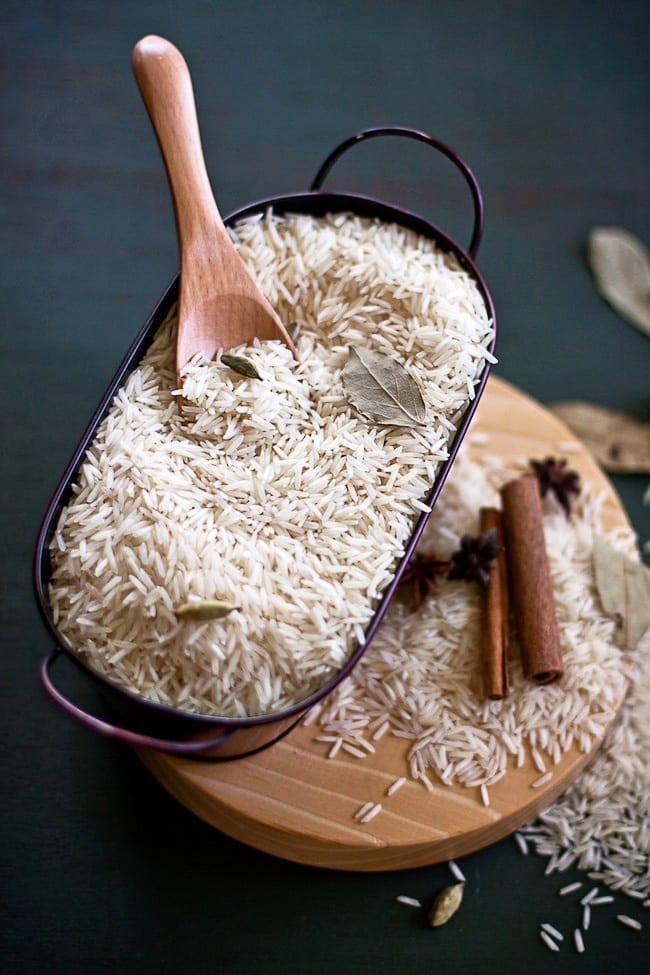 Few weeks back, Leanne Vogel, the author of the blog Healthful Pursuit had approached some of us requesting to keep her blog active while she was busy packing, moving and unpacking. She is adorable, friendly, approachable and has a priceless smile! She is a yogi, talks about healthy, nutritional food, loves travelling and she eats gluten free.
Recently she took a trip to India, an adventurous one I must say! Check out all the posts she wrote about her trip. She is a brave girl and she loves spicy Indian food. So, I thought why not share with her something that is hearty, flavorful, filled with aromatic spices and quick. Good for me, she loved the idea of shrimp pulav and gave a big 'yes' to it 🙂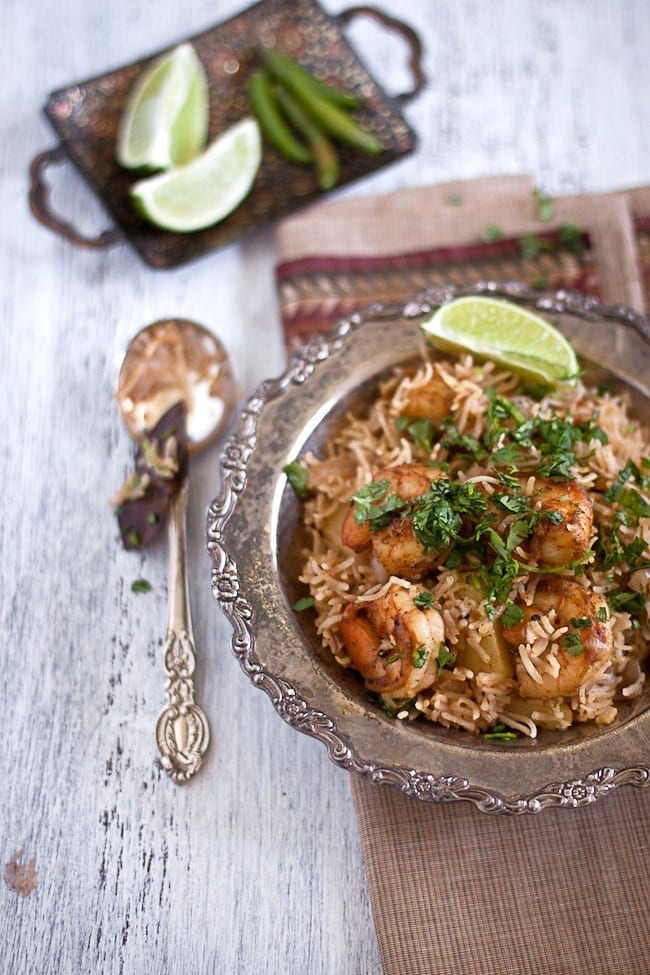 My husband is not a picky eater but when it comes to seafood, he will eat only certain types of seafood and it has to be prepared in certain ways. Hence, I used cooked shrimp cause that's what he mostly prefers. It can definitely be replaced with fresh shrimp or prawn.
While cooking with shrimp, be careful not to overcook it or else, it tastes chewy and rough. I sautéed the shrimp separately with spices, cooked the rice separately and just when rice was almost done, I mixed the shrimp with it very lightly. Then, I covered it and let it rest for about 15 minutes for the rice to get cooked completely.
The ingredient list and the direction list might make it sound like a lengthy task but trust me, it's not. I also feel that such dishes taste more flavorful the next day. So make a lot and enjoy some leftovers the day after or make it in advance for those lazy weekend nights.
Check out the recipe at Leanne's blog and thank you Leanne for asking. It's always a pleasure to cook for a friend.
Shrimp Pulav
Yield:
4 people as main course
Ingredients
1-1/2 white basmati rice, long grained
couple handful of shrimp, cleaned with head and tail removed
2 medium size potatoes, sliced lengthwise about 1.5 cm thick
1 medium size tomato, thinly sliced
1 red onion, thinly sliced
couple cloves of garlic, finely chopped
1- inch ginger, finely chopped
1/4 cup finely chopped fresh cilantro
1/2 cup finely chopped fresh mint
2 tablespoons ghee, clarified butter
3 cups of water
List of spices
1 cinnamon stick
2 star anise
2 to 3 tej pataa, dried bay leaves
2 to 3 green cardamom, smashed lightly so that the seeds and pods separate
2 teaspoons garam masala powder
1 teaspoon chili powder
salt
Instructions
Put the clean shrimp in a mixing bowl, season with some salt, add 1 teaspoon garam masala powder and let it marinate for about 15 minutes.
Wash the rice and soak it in water for about 15 minutes.
Use a deep saucepan that has a tight fitting lid and heat 1 teaspoon ghee in medium heat.
Add cinnamon stick, star anise, cardamom and bay leaves. Let it infuse the ghee for about a minute.
Now, add the marinated shrimp to the pan and sauté for about 5 minutes.
Take it out from the pan and keep it aside to be used later.
In the same pan, pour 1 more teaspoon of ghee and add ginger, garlic and sauté them.
After about a minute, add the onions and cook until they're golden brown in color.
Then, add the potatoes, season with salt and cook for about 2 minutes.
Add the tomatoes, 1 teaspoon garam masala powder, chili powder and sauté for about 2 more minutes.
Drain the rice, add it to the pan and give it a stir.
Season it with salt, add the chopped mint and sauté for couple more minutes.
Next, add water, give it a mix and bring the heat to high. Once the water starts boiling, bring the heat down to medium and let it simmer until the water is almost absorbed. This should take about 15 minutes.
Add the sautéed shrimp to the pan, lightly mix it with the rice, stop the heat and cover the pan with the lid.
After about 10 minutes, fluff the rice using a fork.
Add chopped cilantro and serve it warm with some cold yogurt or salad on the side.
Notes
Dried nuts like cashew or almonds would works as a great garnish on this simple meal.
You can make this in advance, and re-heat it in the microwave for couple of seconds before serving.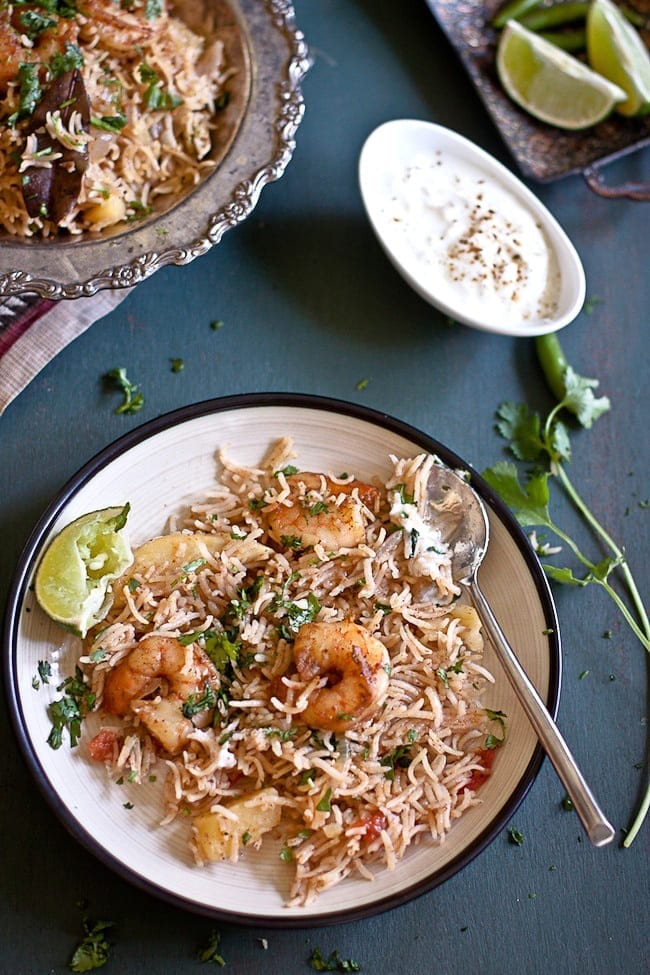 Did you enjoy this Shrimp Pulav - Guest Post at Healthful Pursuit? Share your creation by tagging
@playfulcooking
on Instagram with the #playfulcooking and I will re-share in my story!