Fudgy with the perfect crispy crackly top stunned with gorgeous fresh raspberries, this Raspberry Brownies is the best brownie you ever tasted! Easy to put together and bake to perfection even if you never baked brownies before. It's absolutely addictive and you cannot stop at just one. This Raspberry Brownis also a great dessert to bake with kids!
I couldn't have showed up on Valentine's Day without some chocolaty pleasure. The combination of chocolate and raspberry, it's absolutely divine in my opinion. I have paired these two several times before and it's always a tasty indulgence. This time, I made the brownies especially for my little fella and his classmates. They have the Valentine's Day celebration in school. I wish I could attend too! Can you imagine, how much cuteness overload it will get with all the little kids singing, "Happy Valentines Day"!
What Ingredients goes in the Raspberry Brownies
Chocolate: It has to have chocolate and you cannot really replace that with cocoa powder, then it would turn into a cake-like texture instead of fudgy. I used milk chocolate but mix it up with milk and dark if you like.
Raspberries: Fresh raspberries gives a beautiful refreshing sweet bite to the brownie. You can surely use any other variety of berries you like.
Butter : Butter makes everything better! And a good brownie needs good butter, melted and mixed to the batter. While I often use oil for cake but for brownies, you need butter for the best texture.
Sugar :  I used white sugar but you can surely use brown sugar instead if you prefer.
Baking Powder and salt : A pinch of salt in dessert is always a must. And a little bit of baking powder helps to volumeize it
All purpose flour and Eggs: I love a good fudgy brownie so I add 4 eggs and I do go with all purpose flour. You can surely try eggless by adding mashed banana or apple sauce, but keep in mind it will alter the taste.
How to make Brownies
It's a quick mix in one bowl kinda recipe.
Melt the butter and chocolate.
Whisk the egg with sugar, add the melted chocolate and melted butter. Mix all the dry ingredients and then pour the wet ingredients and whisk it up.
Stud with the fresh raspberries on top.
Pour in a 9 by 9 inch baking pan and bake.
Now, how easy was that!
What other toppings on add-in you can go for?
Assorted Nuts
Chocolate Chips
Coconut chips or shredded coconut
Mini marshmallow
I baked it for Avyan's first Valentines Day Party in his PreSchool!
It's been three weeks since Avyan started preschool. He has never been away from me so we were not sure what to expect. When we took him for enrollment, he instantly got himself settled in one of the colorful chairs with the other kids. It did take us by surprise and I kept my fingers crossed. We stayed there for a while to see his reaction. He was absolutely enjoying it with all the toys and so many kids! So, we went ahead and enrolled him.
The first day of preschool was pretty smooth, but the next two weeks was not easy. Although he walked out of the door carrying his lunch bag quite responsibly, there were always a few moments of tears when Arvind dropped him at school. Thankfully, we never got a call back and as it turned out, he was fine once he got settled.
I was worried it will take at least a couple of months for him to settle. But surprisingly, from the third week, things got suddenly stable. No more tears and Avyan started to enjoy the entire routine. Now, he looks forward to going to school. And I look forward to my three days of freedom.
KEY NOTES while baking the Brownies:
Do not over beat the batter or else the texture will turn out like cake. So use a hand whisk instead of stand mixer to avoid over mixing.
Don't over bake either. It's ok to leave the center little gooey because it will continue baking in the hot pan as it cools down slowly. Use a baking paper. It will be easy to pull the brownie out of the pan.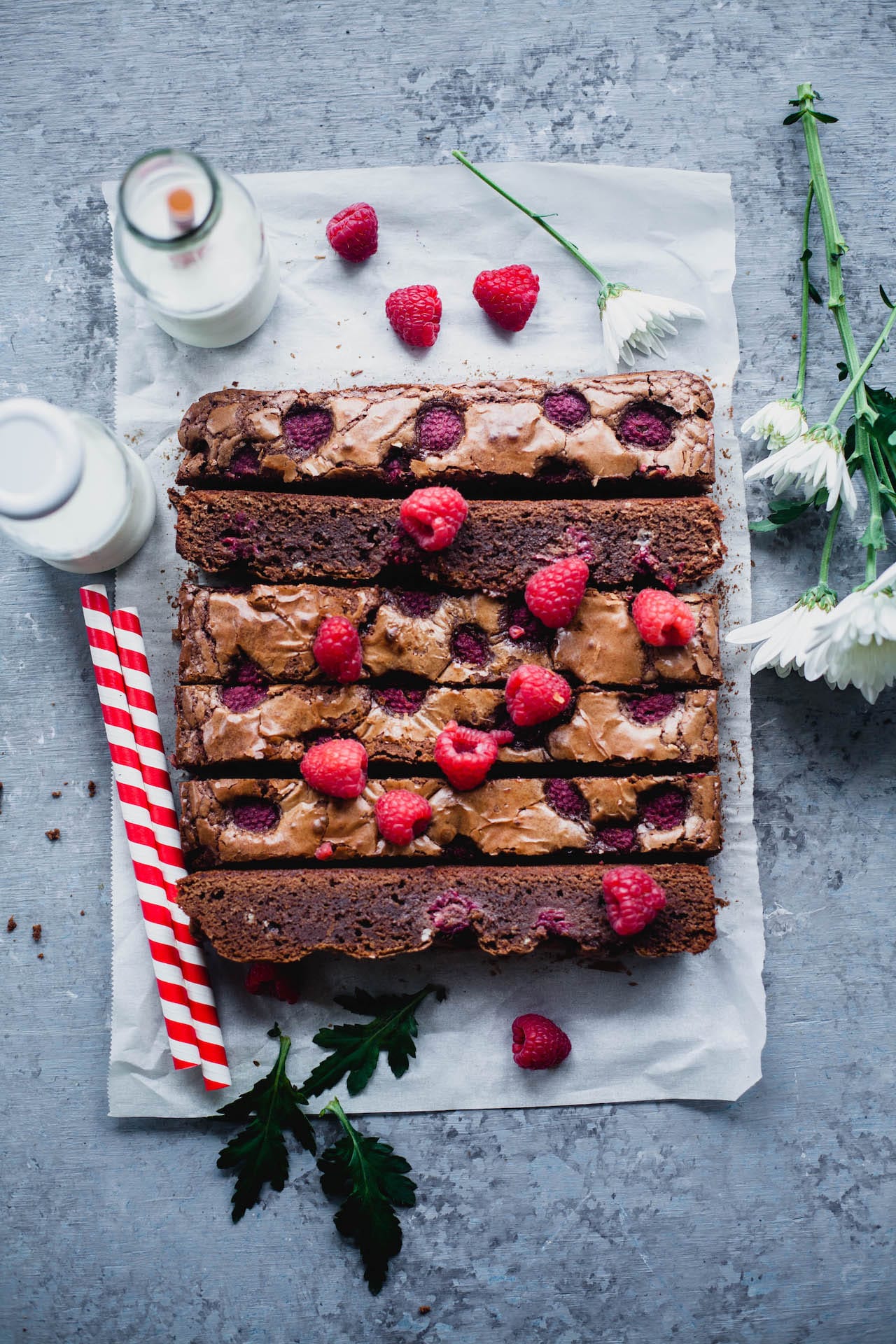 These raspberry brownies were throughly enjoyed by his class mates and his teacher. The box came back empty and I couldn't have been happier. It's a perfect easy dessert to make any day, irrespective of what the occasion is.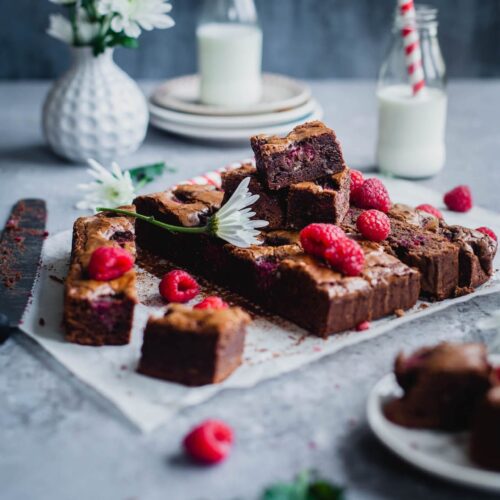 Raspberry Brownies
Ingredients
11-

oz

milk chocolate chips

(melted)

1

cup

raspberries

½

cup

butter

(melted)

1

cup

all-purpose flour

½

teaspoon

baking powder

pinch

of salt

4

eggs

1

cup

sugar
Instructions
Pre-heat the oven to 350F and line a square brownie pan with parchment paper. I used a 9 by 9 pan.

In a mixing bowl, whisk egg with sugar. Then, pour melted butter, melted chocolate and give it a whisk.

In a separate bowl, mix flour, salt and baking powder.

Add the dry ingredients to the egg mixture and mix them until it comes to form a smooth batter.

Pour the batter to the pan and top it with raspberries. Bake it for about 25 to 30 minutes until the top of the brownie is dry, shows mild crackle and the center is set.

Cool completely at room temperature before you slice it.
Nutrition
Serving:
9
by 9 brownie pan