I have been on a quinoa rush lately. The crunchy bite, good source of protein and fiber, zero guilt feeling - all good. Quinoa Tabouleh with cilantro and feta cheese might not be the route to a traditional Tabouleh but it's pretty close. It's refreshing and absolutely spring like!
Yes, spring is here with a clear blue sky, pretty blossoms and long hours of daylight. Oh! How I love longer daylight. It gives me so much time in hand and the best part, I don't have to rush though with my camera. I can photo shoot even at 5 in the evening. Love it!
I am sure most of you have your own versions of this salad. And probably no one needs another Tabouleh recipe to learn from. But when the day shines bright and the food speaks to me so beautifully, I find it hard to control myself. I shoot non-stop and overload the post with photos.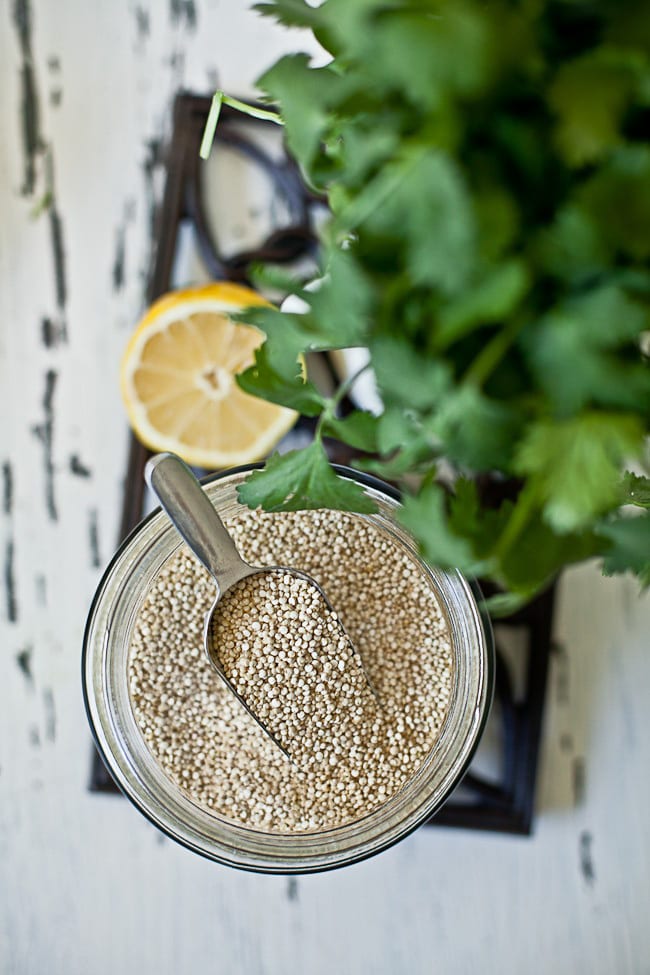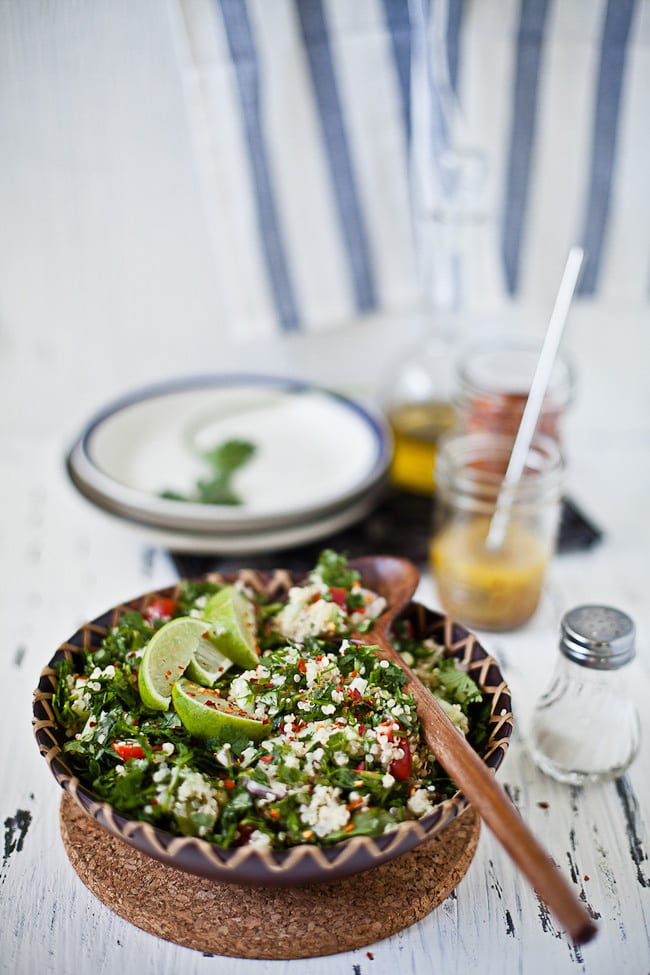 How to make Quinoa Tabouleh
Salad such as Tabouleh helps you validate your knife skills. Everything has to be very finely chopped. Don't use a food processor as it will only blend it and make it mushy. There can't be any shortcuts. You have to trust your favorite sharp knife for it. Take time, choose your pace, switch off the music, didn't bother to instagram or tweet in between. Just make sure you don't chop your fingers instead. You can't rush through making these salads unless you are a pro at chopping things super fine.
Ok, I am not trying you scare you here. I am no pro in chopping but with a little concentration you can easily pull it off!
Go with the flow as you add the vegetables!
I don't follow a strict measurement for this salad. Some days, I add more cucumber and some days, more tomatoes. Occasionally I like to throw in some dried fruits and other times, I like it plain folded in pita bread. It's all about what you are craving that day and what is available in your refrigerator. The key here is to make sure everything that goes in the bowl, has precisely the same bite size.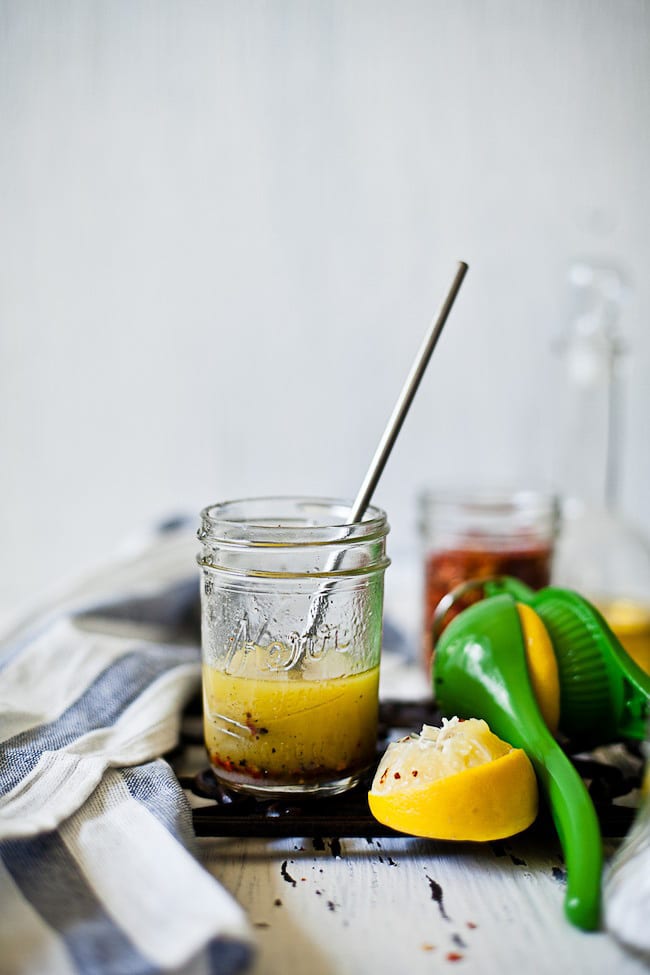 The simple lemon dressing!
Although the salad can be served as soon as it's ready, I personally feel it tastes better when it's given some time to rest. It allows the dressing to spread evenly and flavors to blend. Just before serving, I like to sprinkle some crumbly feta cheese on top, which adds an interesting creamy zest at every spoonful.
Spring or not, this salad is a treat worth investing time on!
Quinoa Tabouleh
Ingredients
1

cup

quinoa

1

cucumber

(finely chopped)

½

medium red onion

(finely chopped)

1 to

mato

(seeded and finely chopped)

1

big bunch of cilantro

(finely chopped)
for the dressing
zest of 1 lemon

juice of 1 lemon

¼

cup

extra virgin olive oil

1

teaspoon

salt

freshly cracked black pepper

1

teaspoon

chili flakes

(optional)
Instructions
In a pan, mix quinoa with 1-½ cup water and bring it to a boil. Once done, reduce it to simmer and allow it to cook until water is absorbed. It should take about 15 to 20 minutes. Once done, take it off heat and let it rest for five more minutes. Later, fluff it using a fork.

For the dressing, pour everything in a bowl, glass or a jar and whisk until it's all mixed nicely.

In big bowl, add all the chopped veggies and cooked quinoa. Give a mix. Now pour the dressing and mix again. Cover and let it rest for an hour or so.

Just before serving, sprinkle some feta cheese on top and squeeze some fresh lime juice as well.
Notes
The prep time will depend on how fast you chop the veggies.
Although the salad can be served immediately, I would still suggest you to let it rest for an hour or so to allow the juices to spread evenly and blend the flavors.
The salad stays good for three to fours days, if refrigerated in an airtight container.
Nutrition