We all hate Monday mornings.. right? It's the day after Sunday, back to normal schedule, wake up early, meetings at work, deadlines to meet.. huh! i am not on that road anymore, but I remember how I used to bang my head in the pillow to wake up every Monday morning. Back in Bangalore, one of my best friend from work was my neighbor and we used to travel to work together, gossiping all the way… it was a fun but most Monday mornings, we had to motivate each other a lot 😀
This Monday morning was fun for me 🙂 Firstly, it was sunny.. no more rains. Thank God! Secondly, Arvind was at home .. yay! Well, actually he was not feeling too good and so, he took the day off. I thought that he should get something nice to eat. So, I decided to make something which is neither too heavy nor too light.. Bruschetta with Spinach and Pasta topping. I know Bruschetta is more like an appetizer, but I don't care for those rules. It was our perfect Monday brunch 🙂
I am sharing this dish with Hearth and Soul Hop by Alex, Italian Fest by Martha, Tuesday Night Supper by Christy, Tuesdays At The Table by Cole, this week's Presto Pasta night by Beth.
Bruschetta with Spinach Pasta Topping
Ingredients
5 slices of sandwich bread, each about 1 inch thick (I used a loaf of French bread and cut it to 1 inch think slices)
3 cloves garlic
2 cups green onions
1 tbs chilly flakes
1 1/2 cup grated cheese, I used pepper jack cheese
Approximately 4 cups of baby spinach, not chopped
1 cup mini Rotelle Wheel Pasta, You can use any other mini pasta
1/2 tbs dried oregano
salt
oil
Instructions
Peel the garlic, put them in an aluminum foil, cover it and let it bake at 375 F for about 20 minutes. This will make the garlic soft and easy to rub on the bread. Keep it aside
Place the sliced bread in a baking pan, drizzle some oil on top and bake for 15 minutes at 400 Once the bread is cool, rub the garlic properly on the bread.
In a deep pan, boil some water and add some salt and pasta. See how cute these pasta looks !!
In a pan, heat some oil and saute the chilly flakes, green onion and the spinach for about 5 minutes.
Add the boiled pasta and mix it thoroughly. Add a little salt, if required
Using a tong or a spoon, place the spinach pasta mixture on the garlic bread evenly
Add generous amount of cheese on top and sprinkle with a pinch of oregano on top of each bread
Bake at 350 for 5 minutes or till the cheese melts
Serve it hot ! Every bite is crispy, cheesy and yummy 🙂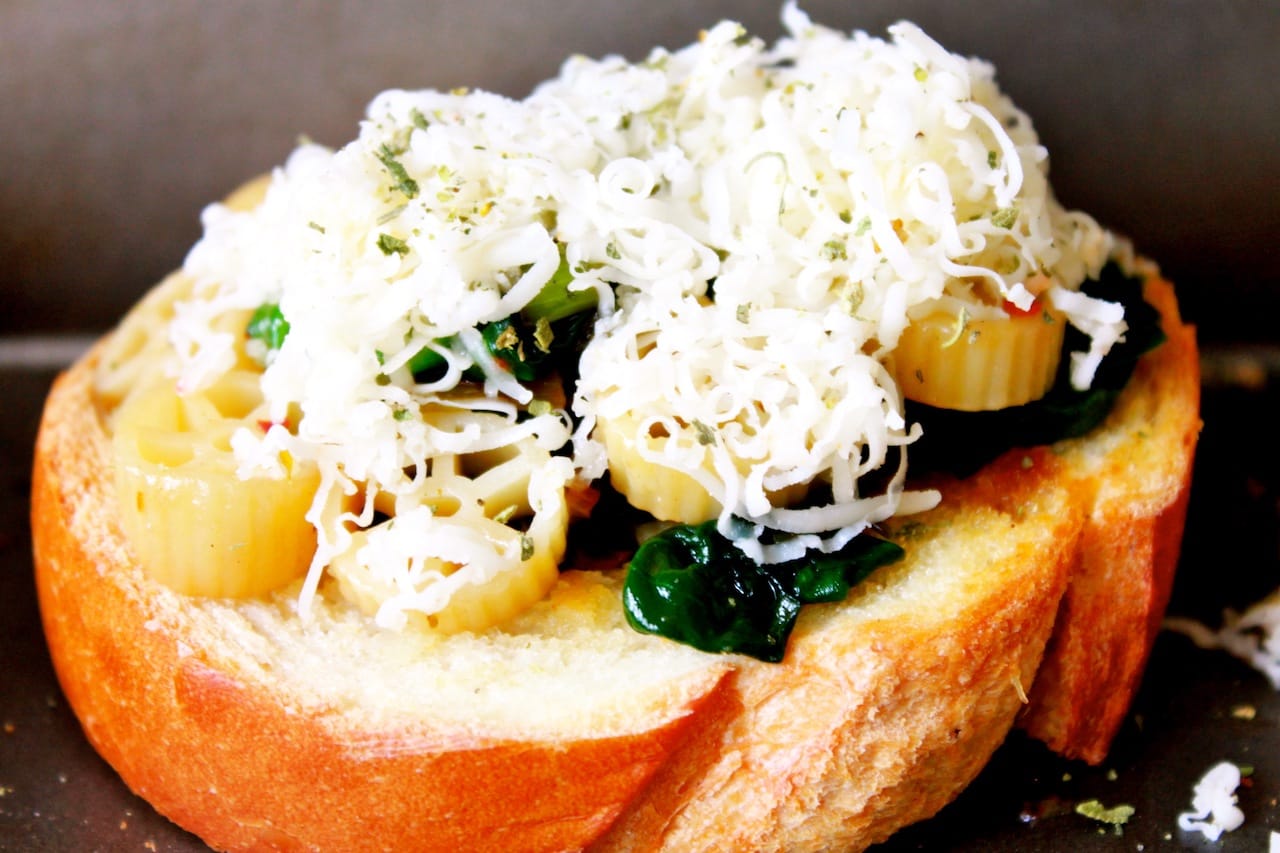 Also sharing this dish with Tasty Tuesday by Dr. Laura
Did you enjoy this Bruschetta with Spinach Pasta Topping? Share your creation by tagging
@playfulcooking
on Instagram with the #playfulcooking and I will re-share in my story!