How are you guys enjoying your Spring? Doesn't it feel nice to wake up on a bright, beautiful sunny morning. It's so nice to see all the colorful flowers blooming everywhere, making the world look colorful and fresh. I was getting very tired of the cold weather, rainy gloomy days and those jackets! It's time for summer outfits, shorts and flip flops.. aah! It makes me SO happy 🙂
I am really blessed that I did not have to stay in places with extreme weather. In India, I was staying in Bangalore, where the weather is pretty much steady through out the year. It's neither too humid nor too warm. Then in US, it's California! Although these days, due to global warming, it's no longer pleasant throughout the year. Yet, it's much better as compared to the extreme climate of other cities.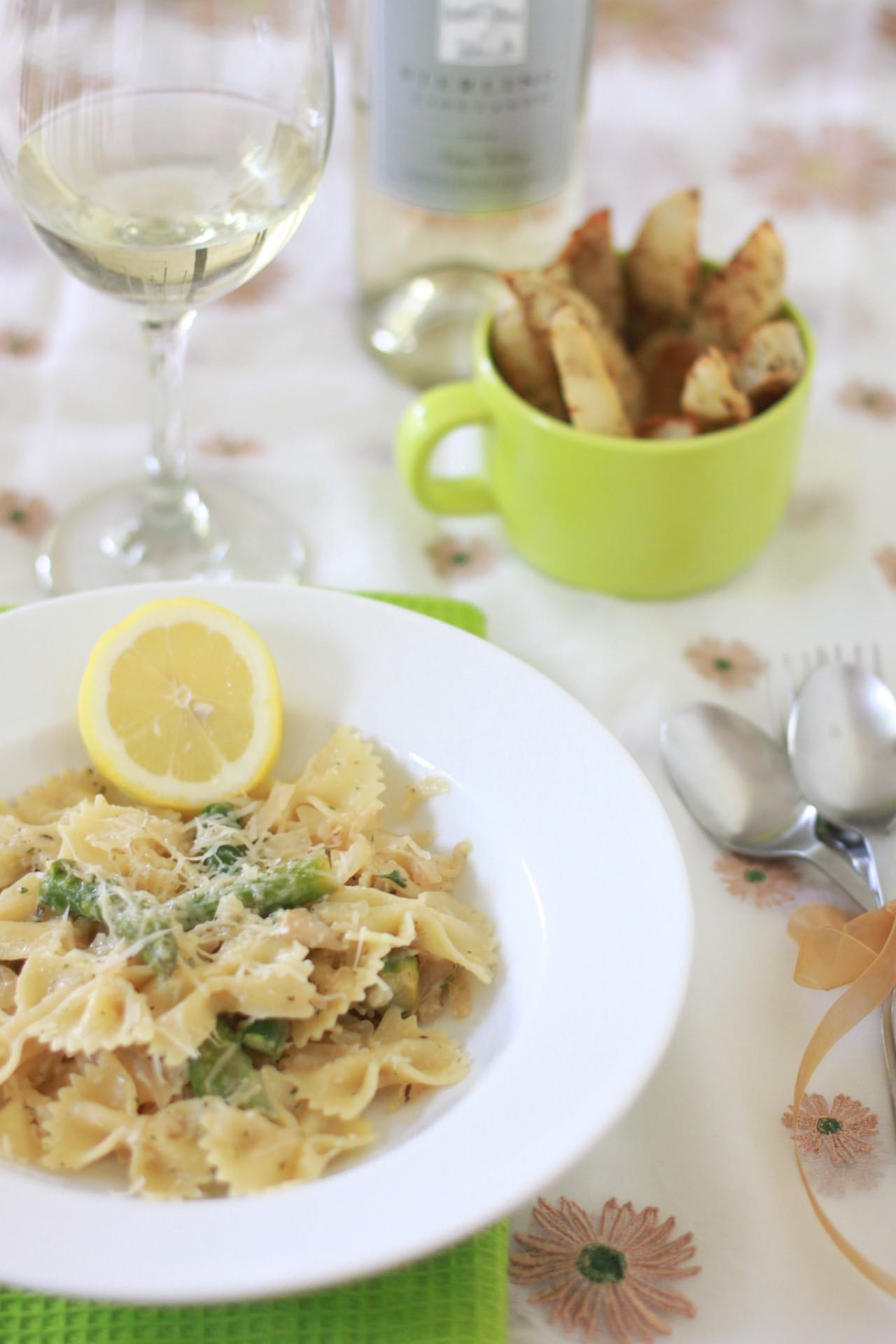 During this season, I like to eat light food – nothing too deep fried nor too oily. Also, I need to shed those calories which have been hiding beneath my jackets all through the winter 😉 As I was blog hopping, I came across this pasta dish from Confessions of a Bake-aholic and it looked so refreshing, light and healthy. I immediately knew that I would love it.
I gave it my own twist to adjust it with my pantry and our taste buds. I decided to use bowtie pasta instead of penne, no specific reason.. really! It took hardly 15 mins to make this dish. Since it was a lemon-flavored light pasta, I thought of baking some potato wedges in the oven. The combination was just perfect. The tangy light pasta with the mild spicy potato wedges was a perfect treat to our tummies 🙂
Ingredients for the pasta with asparagus
Ingredients
2 cups bow tie pasta
1/2 bunch asparagus, chopped into 1 inch pieces
1/2 medium onion, thinly sliced
1 tsp lemon zest
1 tbs fresh lemon juice
2 cloves garlic, finely chopped
parmesan cheese for garnishing
salt
pepper
oil
Instructions
Boil the pasta in hot water with a handful of salt. It's important to season the pasta while boiling it. This should take about 8 to 10 mins.
In the mean-time, heat a pan with some oil.
Add the asparagus and cook for about 3 minutes. Once done, keep the cooked asparagus aside.
In the same pan, add garlic and onion and saute them till they are cooked.
Add lemon zest, lemon juice and cooked asparagus to the pan and turn off the heat.
Drain the boiled pasta and retain about 1 cup of the pasta water.
Now, add the pasta to the pan and mix it properly. If required, add a little bit of the pasta water. This will keep the pasta moist.
Garnish with some shaved or shredded parmesan cheese and serve with the baked potato wedges.
NOTE : Make the potato wedges before you cook the pasta and keep them warm in the oven.
Sharing this with Presto Pasta Night 211
Did you enjoy this Bowtie Pasta with Baked Potato Wedges? Share your creation by tagging
@playfulcooking
on Instagram with the #playfulcooking and I will re-share in my story!