It was such a pleasure to be a part of this food photography challenge which started way back in 2005 and is still running strong after so many years. No such event can ever be successful without enthusiastic participants. So, a big big Thank You to all the 65 bloggers for taking time out to send in your beautiful entries. Also, a huge Thank You to my lovely talented Judges who took time out of their busy schedules to help me decide the winners. It was not easy taks to choose just 6 winners out of so many beautiful food photos.
Before I announce the winners, let's learn these tips shared by the amazing judges. I am a huge fan of their work and their blog clearly shows the knowledge they have when it comes to food photography.
1. Learn to look at the light. What does it do, when is the light at its best and how can you bend the light to work for you? Try and take a dish and make the light shine on it from all angles so you can see what would work best. I find that light from the front is hardly ever a good lighting.
2. Do not shoot in direct sunlight unless it is at the end of the day and the light is not so harsh anymore.
3. Look at food photos and try to understand where the light is coming from. You learn a lot from looking at the beautiful photos you see around you.
4. Make use of reflectors; bouncing the light back onto your subject can – in a lot of cases – dramatically improve your photos, reducing dark shadows in areas you don't want to have them. Always make sure that your reflector is neutral in color. So white or silver. I hardly find gold working for food photos. Reflectors can be expensive but they can also be really cheap. If you use foam board, a piece of white paper of even a white napkin might do the trick. One of the advantages of working with daylight is that you immediately see what you're doing!
5. Shoot in raw. If you can and your camera has the ability; learn to use raw. It does work!
6. At the core of all photography lies subject, composition and lighting. If those three things are poor, no amount of post-processing work will fix it. It won't matter what your aperture, f/stop or ISO is if you don't have an interesting subject, good composition, and great lighting. Without these, a photo will lack impact.
7. Photographing food need your honesty. If you are honest, the styling and creativity that you are trying to frame would truly show your heart and art.
8. Try to run a bit loose in styling to make the picture look natural or not overly organized.
Whenever we participate in any challenge, we wish to be recognized and we wish to win. But we should never give up hope, we should keep trying and keep getting better. Thank you all once again for participating in this event.
"You're not obligated to win. You're obligated to keep trying. To the best you can do everyday."
– Jason Mraz
Overall First Winner :
Overall Second Winner:
Egle – zaidimu aikstele – Dark Chocolate Brownie Cake with Raspberry Goat Cheese Swirl
Camera and Lens: Nikon D80, 50mm f/1.4
Overall Third Winner: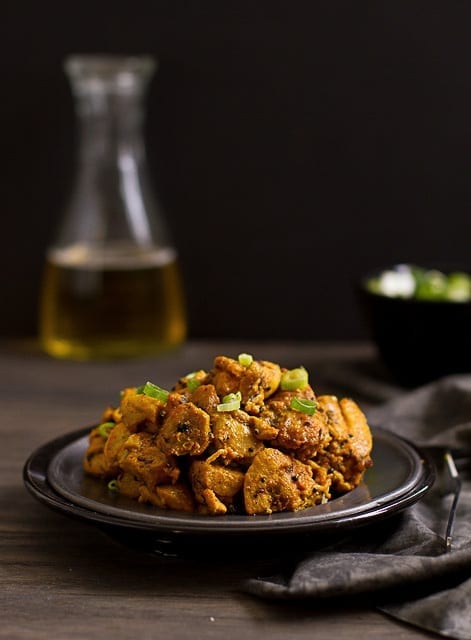 Tanvi Srivastava – Sinfully Spicy – Indian Black Pepper Chicken
Camera and Lens: Canon 7D with 50mm
Edibility Winner:
Originality Winner:
Vidya – Kurryleaves– Spicy Chicken Curry with Rice Dumpling (Kozhi Pidi)
Camera and Lens: Nikon D 3100, Lens 18-55
Aesthetics Winner: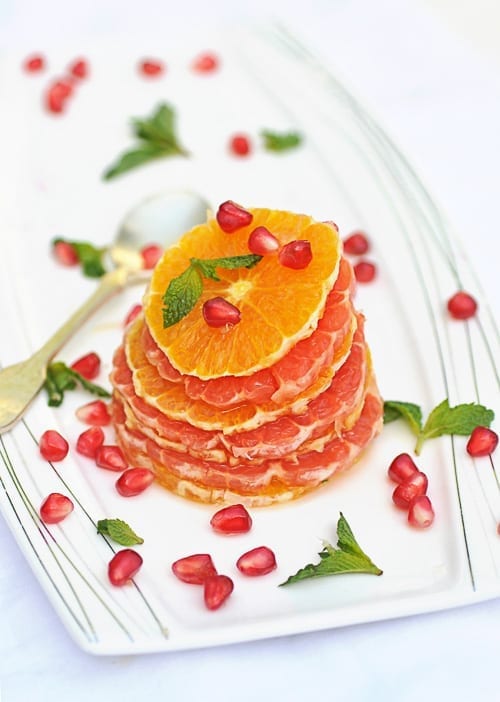 Host's Award:
As a host, I had the privilege to pick a photo that stood out but was not a winner in any of the categories. I loved the styling in this photo — the juicy papaya on the green leaf with the flowers at the back, gives a beautiful casual summer-y feeling.
Tika Hapsari Nilmada – Cemplang Cemplung – Papaya with squeezed lemon juice
Camera : Canon Rebel XS
Congrats to all the winners and many Thanks to Andrew of Spittoon Extra for letting me become a part of this event.