The sight of pitter-patter raindrops on the ground, washing away the windowpanes and drenching the plants is extremely welcoming, especially after the furious summer. I can sit by the window and watch rain for hours. Always loved it! The smell of wet mud and comforting meal that comes along with the season is soul satisfying. And with rainy days, there comes a craving for deep fried finger foods along with several cups of hot masala chai. It's a classic combination one can never get bored of.
Last month, in one of the posts, I mentioned about our visit to Foodhall, the gourmet store that has an abundance of multi cuisine products. Different kind of cheeses, grains, pastas and sauces that are otherwise not easily available out here! It was my happy place and we came back with boatload of stuff. Every month, the store follows a theme where they place a demo counter with theme related food and you can sample away several things as you fill your shopping bags from aisle to aisle. This month, the theme is monsoon delight.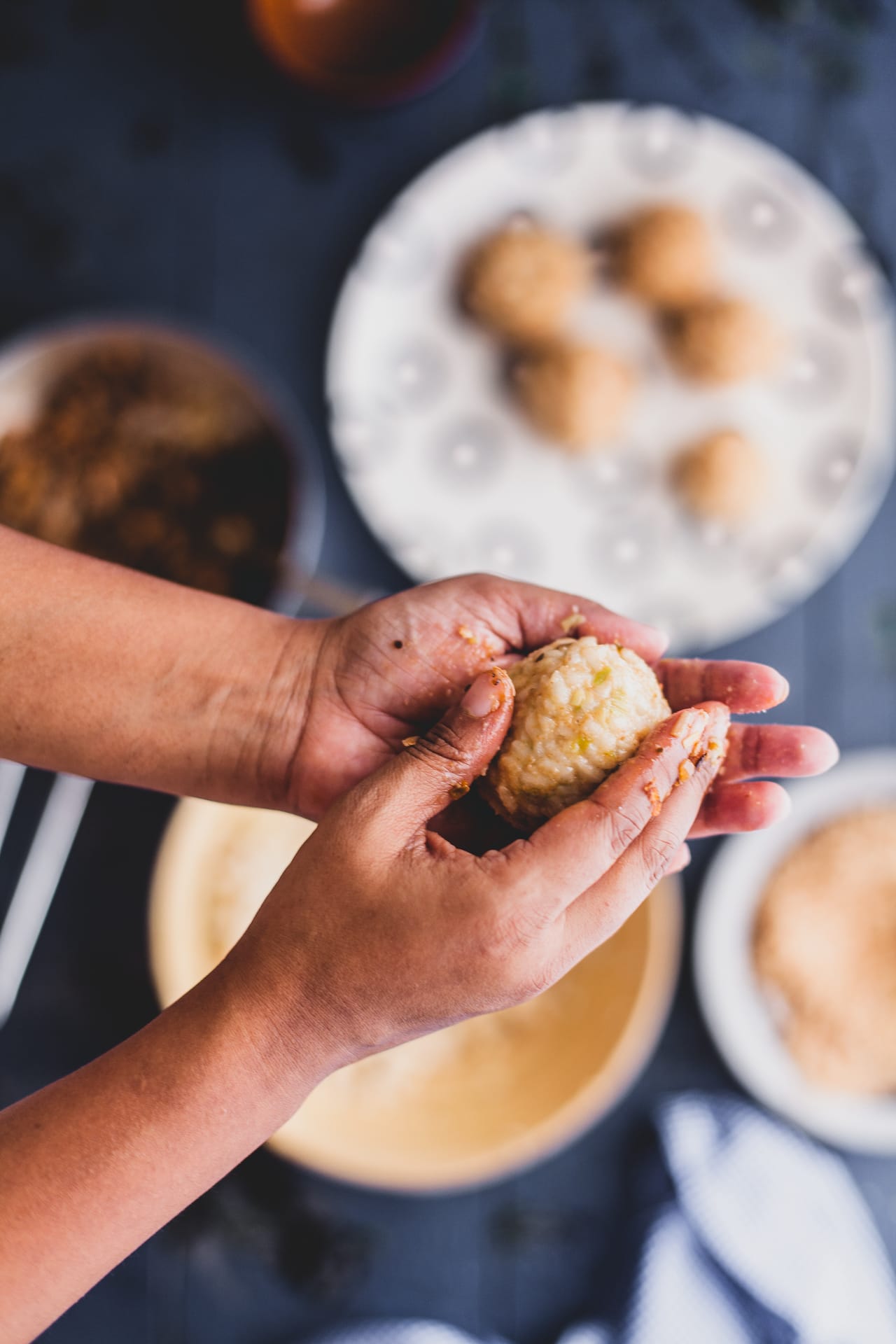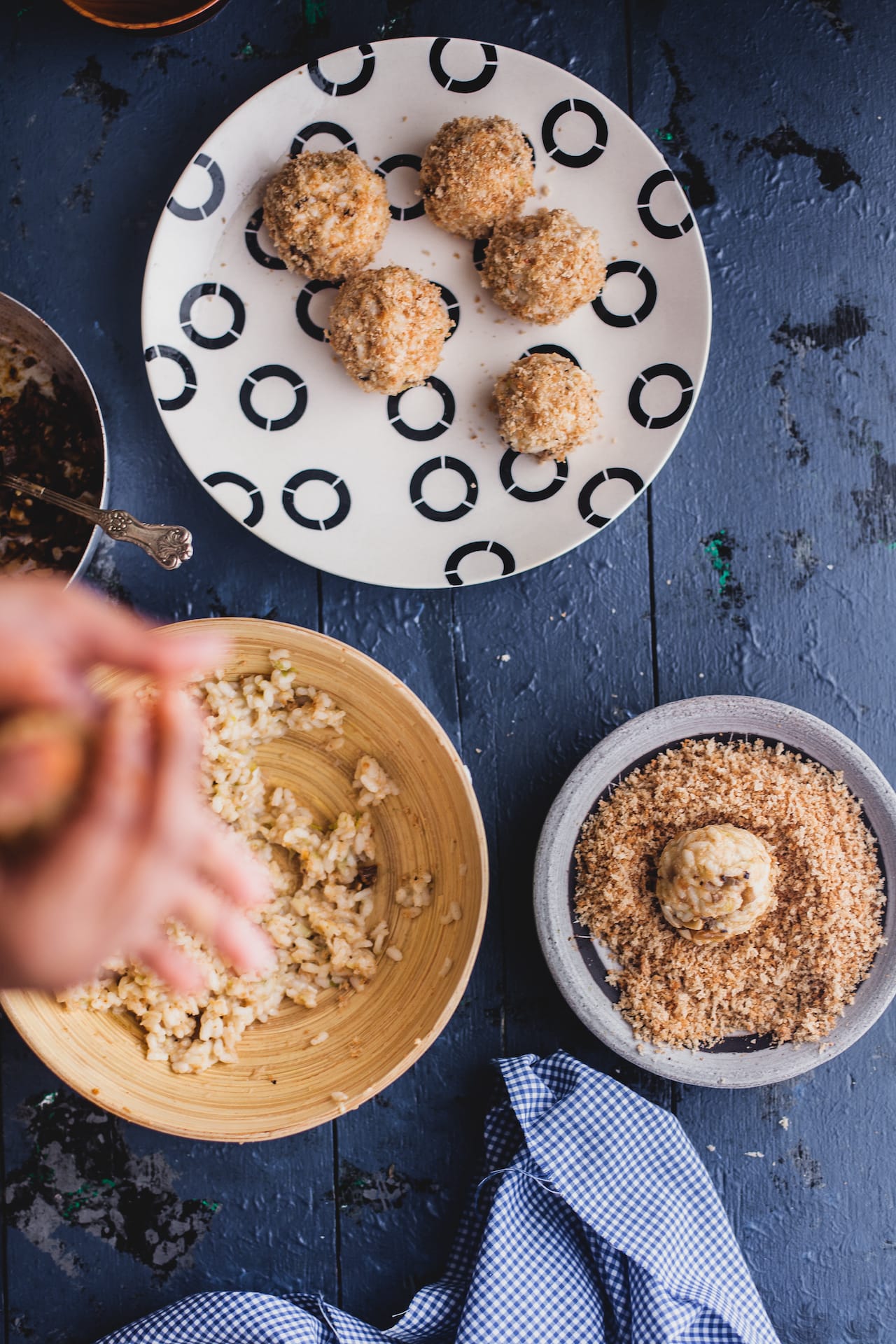 Keeping the theme in mind and their beautiful ingredients, I decided to try my hands with Mushroom Arancini (risotto balls stuffed with sautéed mushroom). Deep fried deliciousness! Over the period of time, I have got the hang of preparing creamy risotto. It's become one of my comfort foods but arancini did intimidate me at first. I still wanted to try it. With a little bit of effort and time, thankfully, these turned out just perfect. Crispy on the outside and creamy inside, packed with flavors, these risotto balls turned out quite a treat. Quite filling too. A meal on it's own.
Mushroom Arancini
Ingredients
for risotto:
1-

cup

risotto rice

4

cups

chicken/vegetable stock

1

cup

white wine

½

cup

grated Parmesan cheese

1

leek

(finely chopped)

2

garlic cloves

(grated)

1-

tablespoon

butter

2-

tablespoon

cream

salt
for sautéed mushrooms
2

cups

assorted mushrooms

(finely chopped)

3

garlic cloves

(grated)

1

medium onion

(finely chopped)

¼

cup

sun-dried tomatoes

(finely chopped (or 2 tablespoons sun-dried tomato pesto))

1

teaspoon

dried oregano

¼

cup

grated Parmesan cheese

1-

tablespoon

chili flakes

salt

oil
few other ingredients
1

egg

2

cups

of breadcrumbs

oil for deep-frying
Instructions
to prepare the risotto
Pour the stock in a saucepan and bring it to simmer. Keep it at a constant low heat.

In a big flat pan, add butter and a little bit of oil along with grated garlic. Stir and add chopped leaks. Then, season it with salt and pepper. Cook for a few minutes at medium heat until it softens.

Drop the risotto rice, stir and let it cook for a minute or two. Sprinkle a little bit of salt and pour wine. Give it a mix.

Once the wine is absorbed, pour a ladle of the warm stock and give it a stir. Let it cook in medium heat until the stock is absorbed and then, add another ladle of the stock. Repeat the steps until the rice is cooked to al dente. It should have a mild crunch but it shouldn't be raw. Finally, add Parmesan cheese and cream, give it one last mix and cook for one more minute. Keep it aside to cool down completely.
to prepare the sautéed mushrooms
Add oil and grated garlic in a hot pan. Scatter the chopped onions and cook until they're translucent. Now, add the mushrooms, season with salt and cook until the mushrooms are cooked though and softened. Add sun-dried tomato pesto or finely chopped sun-dried tomatoes. Stir and cook for a minute. Finally, add Parmesan cheese, chili flakes, dried oregano to it and give a final mix. Once done, keep it aside to cool down completely.
to prepare the mushroom arancini
Once the rice is cooled completely, crack 1 egg and add 1-cup breadcrumbs to it. Give it a mix.

Now, take 1½ tablespoon of risotto and flatten it in your palm. Drop a little bit of the mushroom mixture in the center and pinch on all the sides to form a ball. Rub in breadcrumbs and keep aside. Once all the risotto balls have been stuffed, keep it in refrigerator for about 30 minutes.

For deep-frying, add enough oil in a deep saucepan. Once the oil is hot enough, drop the risotto balls and let it fry until golden brown. It should take about three minutes.

Serve hot with your choice of dipping sauce.
Notes
If you find it hard to stuff the filling, then just make the risotto balls and let it rest in the refrigerator for about an hour. That will make it easy to flatten it, stuff and then pinch all the sides to form the arancini.
Nutrition
Serving:
1
about 16 to 17 arancini/risotto balls