I seriously didn't imagine taking such a long break. With so many recipes in the backlog, I was planning on sharing something with you much earlier. But then, days went by and with few items on my plate; I didn't realize that almost a month passed by. Some of you emailed me asking if my health was fine or if I moved back to India. Thank you for your emails! My health is absolutely fine and I am still in sunny California. With all the workload of organizing the new apartment and entertaining a few guests in between, I somehow lost my mojo to blog. I never thought that could ever happen, but it did. I have been told, such chapters come in every bloggers life and eventually, we all get back to zone. I am hoping for that to happen soon.
Until that materializes, I will share with you some of the recipes that have been sitting in the draft folder for a while now.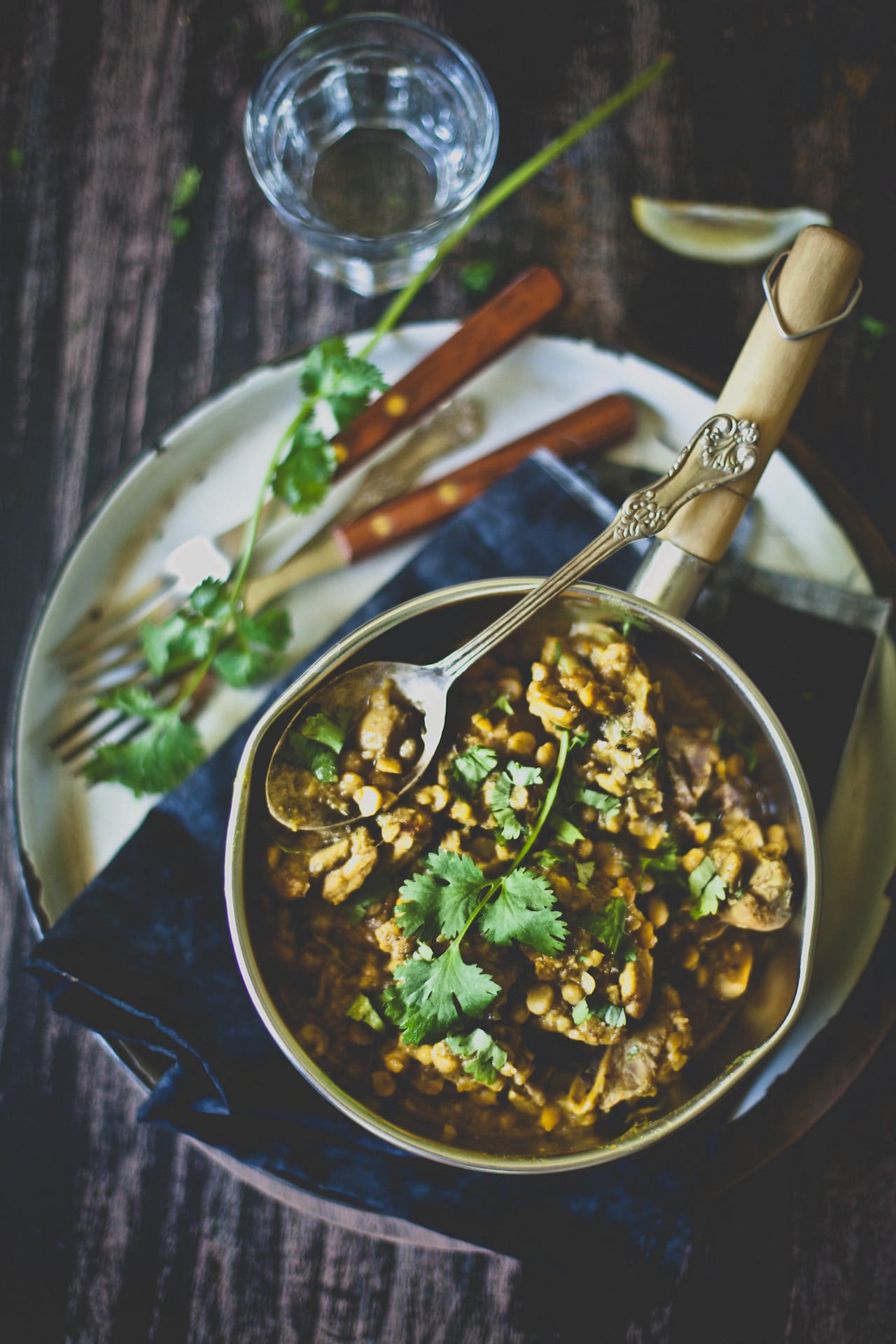 The other day, as I marinated the chicken with salt, pepper and few other spices, I started wondering if I could prepare it differently than how I have been always eating. So I googled! At first, there were the common results that I tried and tasted numerous times and then, I read 'Murg Dhansak' - chicken cooked with lentils. That's new and something I would have never thought of. After reading several recipes, the curiosity only doubled and my palate got tempted. So, I gave it a shot.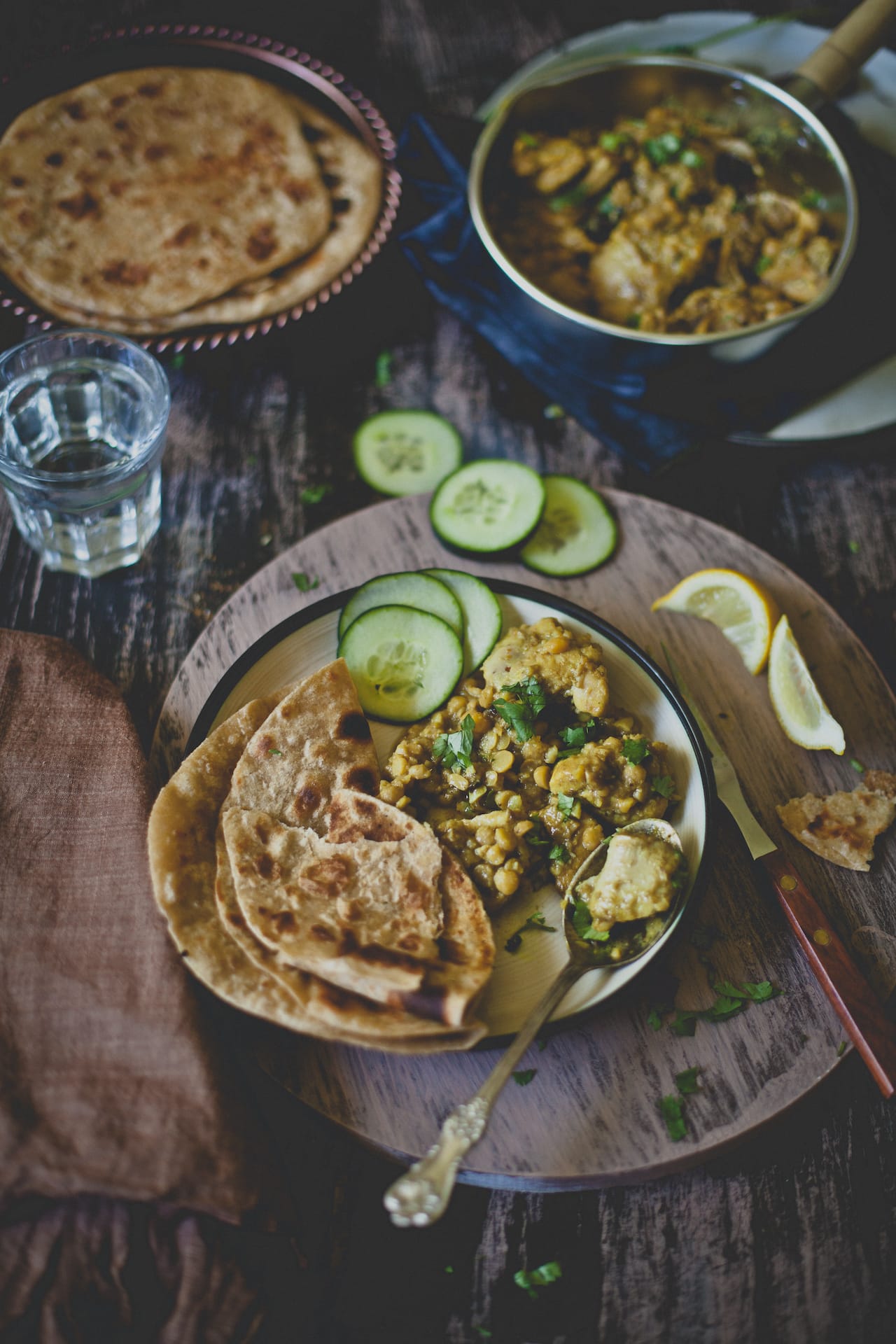 Dhansak is a popular Parsi dish, which is prepared with lentils (mostly red or yellow), vegetables and spices. The non-vegetarian version typical uses goat meat and the vegetarian version uses gourd or pumpkin. I decided to go with chicken.
Slow cooking is not really my thing, but with this specific curry, I didn't have much of a choice. At the end, it was certainly worth the effort. There was the flavor, the texture and a comfort feeling. It was a hearty mouthful dish. And just like many other chicken curries, this too tasted a lot better next day. Allowing it to rest overnight gives it enough time to fuse the flavors, making it more robust.
Murg Dhansak (Chicken Cooked with Lentils)
Ingredients
1

lb

chicken

(bone or boneless, skinned and cut in bite size)

1

medium onion

(finely chopped)

1

tablespoon

freshly grated ginger

3

garlic cloves

(grated)

1

teaspoon

cumin powder

1

teaspoon

coriander powder

4

green cardamoms

(crushed)

1

cinnamon stick

2

dry red chilies

2

dry bay leaves

1

teaspoon

turmeric powder

1

teaspoon

garam masala powder

1

cup

lentil of your choice

(soaked overnight)

1

teaspoon

chili powder

fresh coriander

(finely chopped for garnish)

oil

salt
Instructions
Marinate the chicken pieces with salt, ginger, garlic, cumin powder and coriander powder. Let it rest for minimum five hours or preferably overnight.

In a wok or deep saucepan, add 2 tablespoons oil, cinnamon sticks and crushed green cardamom. Let it infuse the oil for a few seconds. Now, add chopped onion, season with salt and allow it to cook until translucent. Next, drop the marinated chicken, add ½ teaspoon turmeric powder and give a stir. Allow it to cook at low heat for about 20 minutes.

In the meantime, heat 2 tablespoons oil in another deep saucepan and add dry chilies along with bay leaves. After a couple of seconds, drop the soaked lentil and season with salt. Add enough water to bring it to a boil and allow it to cook until it's soft. It should take about 15 to 20 minutes.

Once lentils are done, mash it partially with the back of the spoon and drop it to the pan containing chicken. Give it a good mix. Add garam masala powder and chili powder. Check for salt and add any, if required. Depending on how much gravy you want, add some water and let it cook for five more minutes.

Garnish with fresh cilantro and serve.
Nutrition