Did you guys read my story about Pasta? Since that day, I just haven't been able to stop eating Pasta. I have tried it already in Soup, Sandwich and now in Pasta Muffins! What can I say!! I am an Indian who is madly in love with Italian food and sometimes, I secretly wish that I was an Italian ... hush hush!!! The Italian language is super sexy and the way they move their hands when they talk. I especially love the fact that cheese and wine are the major part of their every day meal. Well, it's not like we Indians can't do that. I am sure there are Italians who are secretly wish that they were Indians and they could have such variety of culture and cuisines with different spices in their everyday meal.
OK, enough of admiring the grass on the other side that always looks a lot greener. Let's get down to business, I mean food 🙂 As usual, I was watching Giada's show on Food Network few days back and she was cooking for her kids. In fact, she was basically cooking with them like a training class. She prepared a lot of kid's food, shakes and cookies. One dish that caught my attention was Mac and Cheese muffins. Can you believe this? How creative was that! I immediately knew that I had to make them sometime soon.
Every week I participate in Presto Pasta Night and this week, the event is host by Ruth. She also the original host of the event. Initially, I was thinking of making a pasta with some chicken in Indian style and add a lot of spices. Then, I changed my mind and decided to make the pasta muffins. They came out perfectly cooked. They tasted awesome and they looked awesome. Yes, Giada made those for kids, but I gave my own twist to it and made it for big kids.. us 😉
If you want to refer to Giada's recipe, click here. The measurement I used will make approximately 15 pasta muffins. And, I would suggest to use cupcake papers as it would be easy to pull them out. I didn't use it this time, but felt the need for it.
Mini Rotelle Pasta Muffins
Ingredients
2

cups

mini Rotelle Wheel Pasta

1

cup

milk

1

tbs

butter

1

tbs

all purpose flour

1

medium tomato

(chopped)

2

cups

bread crumbs

couple handful of baby spinach

4 to 5

shiitake mushroom

(finely chopped)

7 to 8

asparagus

(cut into tiny pieces)

2

cups

grated cheese

(I used Mozzarella)

1

teaspoon

chilly power

1

teaspoon

dry oregeno

2

cloves

garlic

salt and pepper

oil
Instructions
In a pan, heat some oil and add garlic cloves. Please note that the garlic should not be chopped. We just want to induce the flavor of garlic in the oil. So, after two minutes, remove the garlic cloves from the oil.

Add mushroom and spinach to the pan and saute for a while. Then, add the tomatoes. Once it's cooked, keep it aside.

Boil the pasta with some salt.

In the same pan, heat butter and then, add the chilly powder, oregano, salt and pepper.

Next, add the flour to the pan and keep stirring to make sure that the flour does not get burnt.

Add 1 cup cheese and milk in the pan and mix them properly.

Now, add the cooked mushroom and spinach, which was kept aside, and mix all the ingredients thoroughly.

Add the boiled pasta to it and if required, add little pasta water.

Blanch the asparagus, which means boil it for sometime, until it's crispy. Strain them from hot water and drop them in a bowl with ice water.

Pre heat the oven to 375 F.

Grease the muffin pans with some oil and dust them with bread crumbs.

Using a spoon, fill the muffin molds with the mixture and add some cheese over it. Then, add asparagus on the top of it and finally, cover them with bread crumbs.

Drizzle some oil and bake it for 18 to 20 minutes.

Let it cool for 5 minutes. Then, remove them very carefully from the mold.

Serve it hot and enjoy every bite 🙂
Nutrition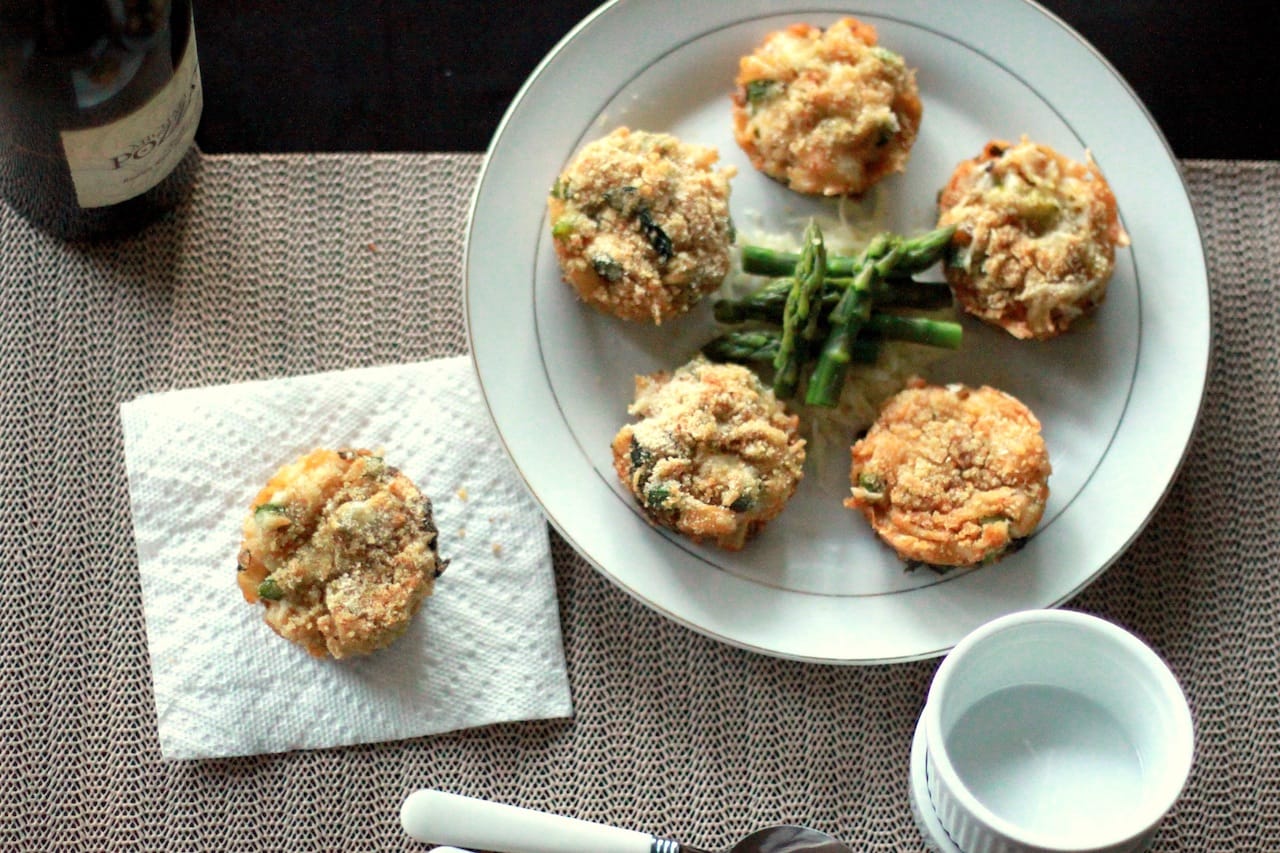 Sharing this dish with Friday Potluck by Erin and Show Me Your Muffin by Divya.