Grilling might not be the usual course on a chilly cold afternoon but if you have an electric indoor grill, why not turn it on and allow the warmth to spread across. I love the smell of grilled food and the comfort it brings along. Plus, it's one of those meals that we love to prepare together. He grills while I prepare the sauce and salad. And even before we realize, food is ready.
A few weeks back, when the temperature dropped down a lot in this sunny California area, we felt the need to grill some chicken. Surely the aroma of charcoal was missing but then there were other flavors that worked beautifully, balancing each other and creating a perfect meal. Preparing the malai chicken tikka and assembling it to a taco lunch was so easy and fuss free that it didn't even interrupt our lazy Sunday mood.
Malai chicken tikka is little bit different than the usual chicken tikka, which is more readily available in Indian restaurants. Malai means cream and hence, a mix of cream and yogurt is used in the marinade, which makes it more luscious. The orange hue is from saffron that not only contributes to the vibrant shade but also enhances the earthy flavor. Just remember not to go overboard with saffron, as it will make the dish bitter. A tiny pinch goes a long way.
An ideal accompaniment to any Indian grilled dish is the very famous cooling mint-cilantro yogurt chutney. It's bright in color, mildly spicy from green chili and fresh mint adds that much-needed refreshing taste. The best thing is that it comes together instantly in a blender with no effort at all.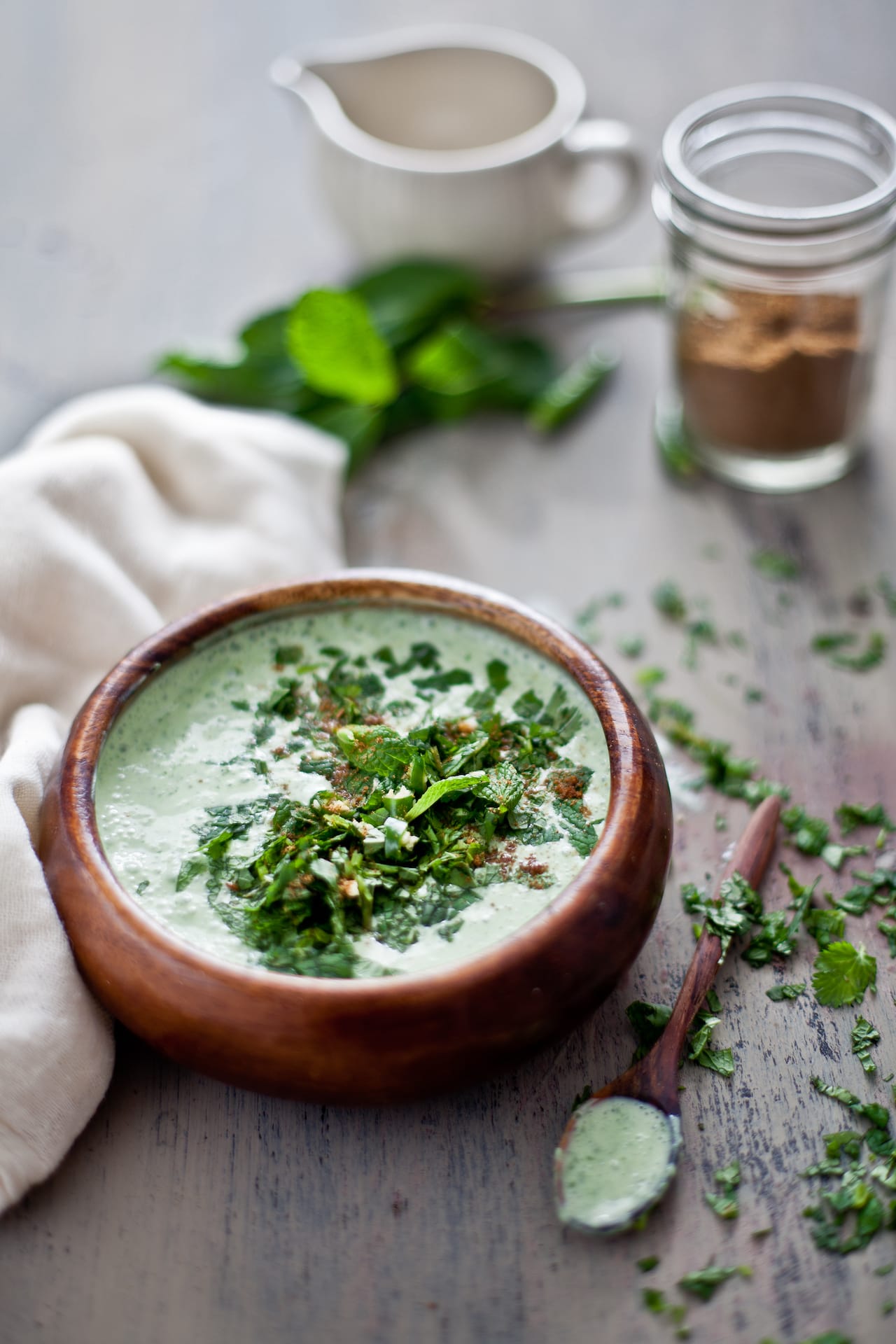 Instead of taking the traditional route, we wrapped the tikkas in multi grain tacos, topped it with a simple onion tomato salad and dolloped just enough yogurt chutney on top for that smack. Snuggled in the couch, with a movie on, feet tightly covered and a hot plate of malai chicken tikka tacos to fill our bellies. The lazy Sunday lunch couldn't get any better.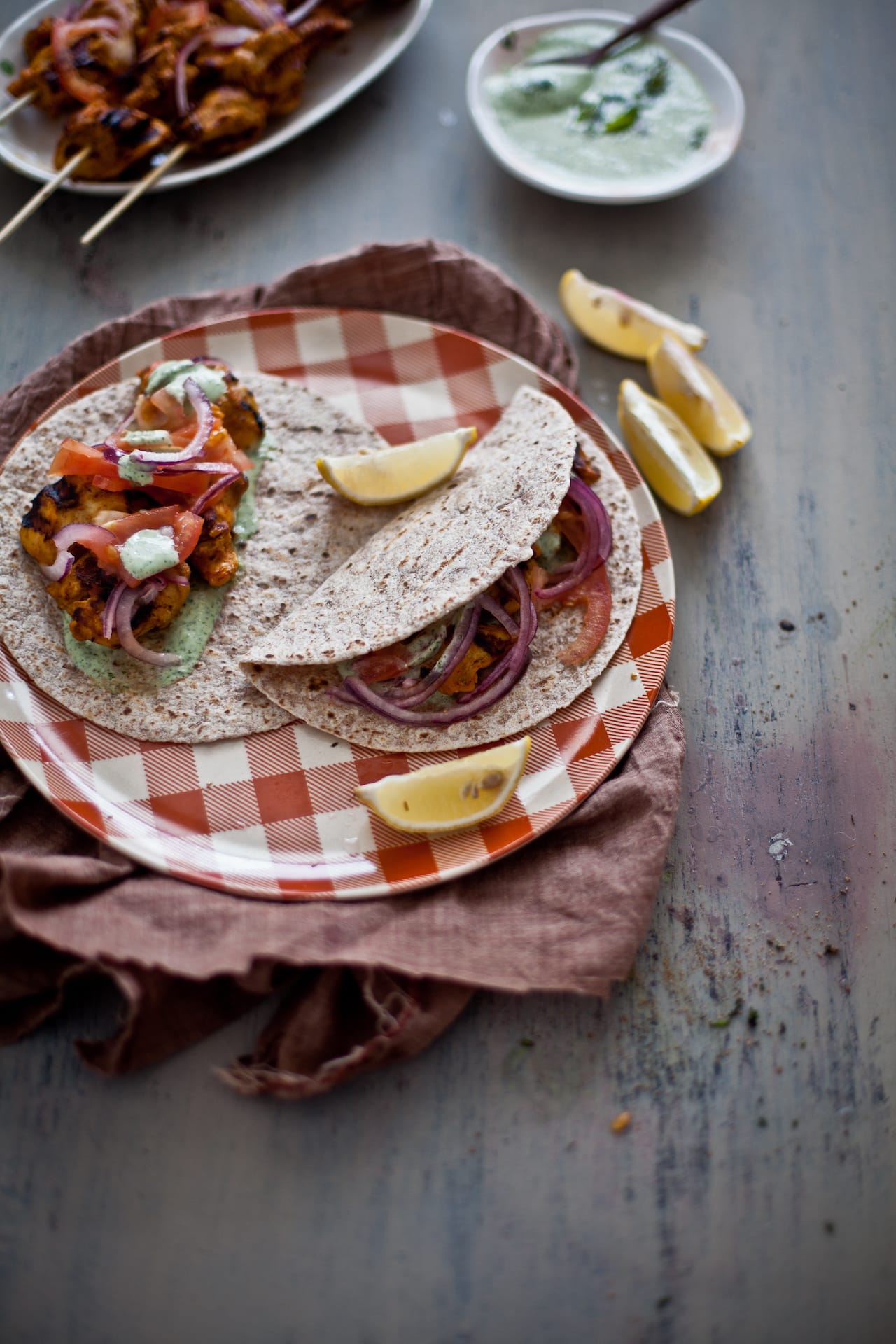 Malai Chicken Tikka Taco
Ingredients
for malai chicken tikka
1

lb

chicken breast

(cut into bite size)

⅓

cup

heavy cream

⅓

cup

yogurt

1

teaspoon

cumin powder

1

teaspoon

coriander powder

1

teaspoon

fennel powder

1

teaspoon

chili powder

½

teaspoon

garam masala powder

½

teaspoon

saffron

salt

ghee

(clarified butter *optional)
for onion tomato salad
1

medium red onion

(very thinly sliced)

½

cucumber

(peeled and thinly sliced)

juice of half lemon

salt
for mint-cilantro chutney
½

cup

fresh mint

½

cup

fresh cilantro

1

cup

plain yogurt

1

teaspoon

cumin powder

2

green chilies

salt
Instructions
Marinate the chicken pieces with the ingredients except for ghee/oil and let it rest for at least 5 hours, preferably overnight.

Turn on the grill to medium high and spray some oil on it. Meanwhile, arrange the chicken pieces onto the skewers and keep it ready. Once the grill is hot enough, place the skewers on it and allows it to cook for about 5 to 7 minutes on each side. Brush some ghee on it for extra flavor. Once done, place it on a plate and grill the tacos for about 1 minute on each side.

For the cucumber onion salad, just mix the ingredients in a bowl and give it a toss.

For mint-cilantro chutney, blend all the ingredients until it's smooth and vibrant green in color.

To prepare the taco, spread couple spoons of chutney first, top it with malai chicken tikka pieces, followed by the salad and finally few more dollops of the chutney.

Enjoy while it's still warm.
Notes
Please note that the total time mentioned above is including the chicken marinating time.
If you do not wish to grill, you can also bake chicken pieces in the oven at 350F for about 15 to 20 minutes.
Nutrition