Few weeks back, I joined the madness and shared my first instavideo after a long photo shoot. Once done, we sat for lunch and gobbled up what we prepared together (yes, it was one of those weekends). After a while, I checked my instafeed and turns out the video reached close to 700+ likes in like an hour (woot!) and a comment that said I reached the popular page. Wow, that's something! Of course, I was excited and thrilled but what followed after that was horrible. There were a series of nasty, rude and mean comments. I just don't understand what fun do people find in saying such awful stuffs! All that 'yay, in popular page' turned to 'bleh, I hate it'. The next few hours, I kept deleting and blocking users. Yeah, I figured it's pointless to react.
I guess, this is how two sides of a coin work.
Likewise, my still-no-rain hot sunny days have a fulfilling happy side to it. Summer produce and I cannot get enough of those in my diet.
A visit to the farmers market and we come back with bag loads of stone fruits, watermelons, berries, zucchini blossoms, mangoes, summer corns and lots of heirloom tomatoes. It can be overwhelming at times with such different varieties of summer produce. These tiny heirloom tomatoes that we bought last time were not only cute as buttons but also sweet as candy. And for someone like me who enjoys photographing food, I find it very hard to not make a blog post out of it! Also, since the next day was Sunday and we planned to stay at home, grilled lunch happened effortlessly.
Go simple but go flavorful was the idea. Yogurt and spice marinated grilled salmon is always delicious but the star of the meal was the grilled corn salad with roasted tomatoes. And the gorgeous red chili oil vinaigrette added to the flavor magic. We poured some chilled beer, got some crusty bread on the side and relished the meal we prepared together. Aren't weekends just so lovely!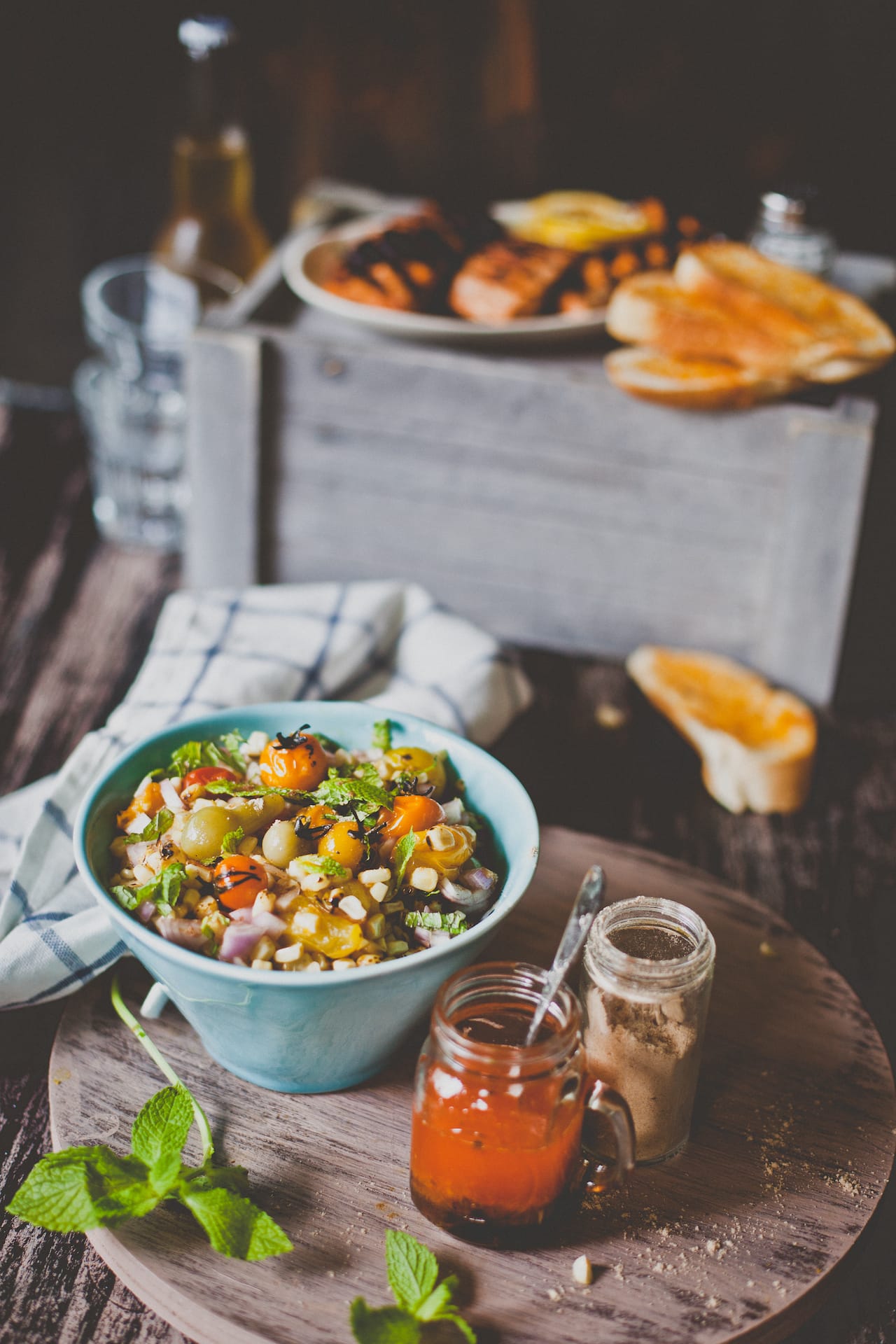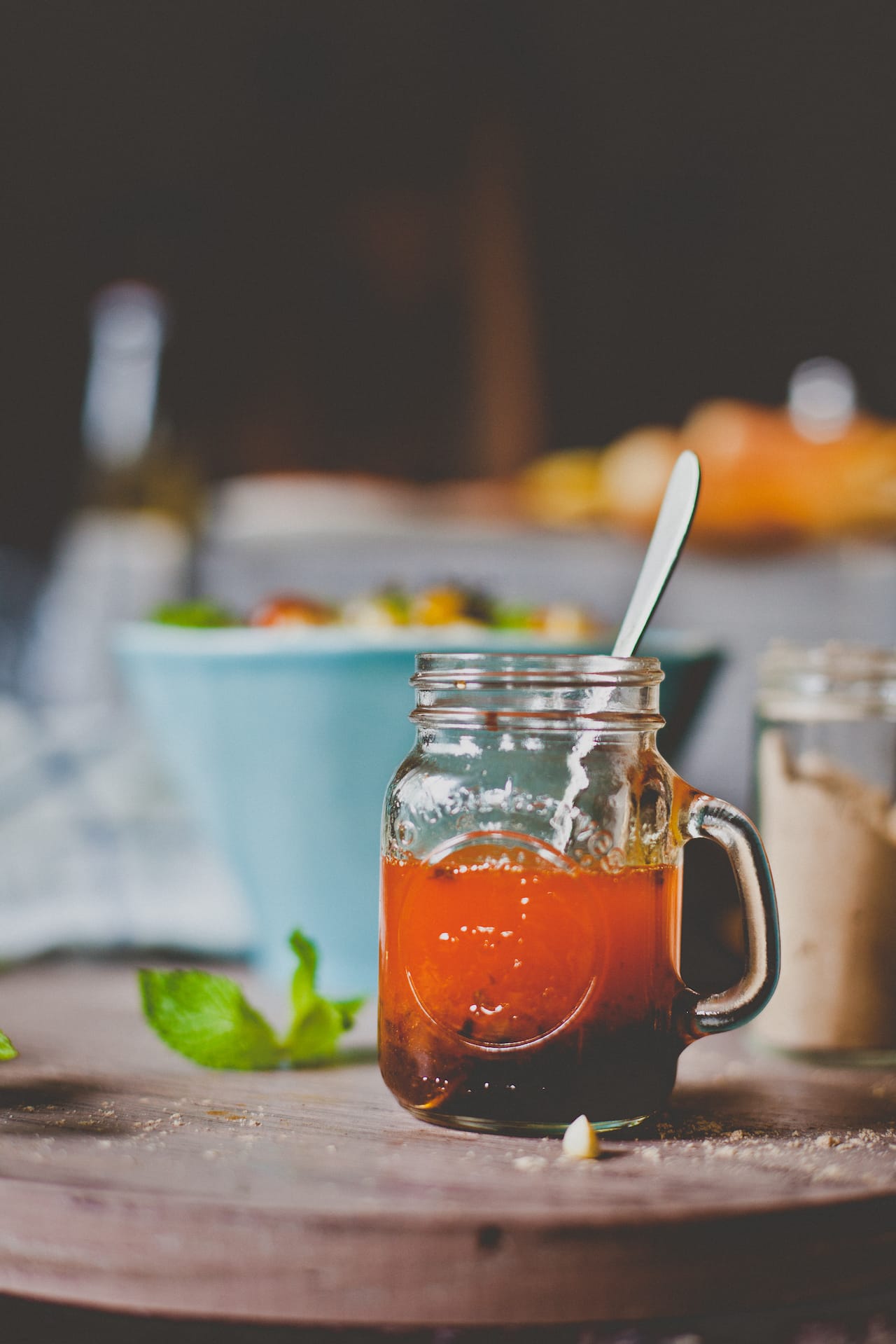 And if you are wondering what was that video which received a lot of love and hate, it was this corn salad and grilled salmon that I tried to put on a slice of bread. Here is the link if you are interested!
Grilled Salmon With Corn And Heirloom Tomato Salad
Ingredients
for chili oil lemon vinaigrette
zest of 1 lemon

juice of 1 lemon

1

cup

chili oil

1

teaspoon

sugar

½

teaspoon

salt

freshly cracked black pepper
for the corn salad
1

lb

cherry tomatoes

2

corns on the cob

2

shallots

(finely chopped)

1

cup

finely chopped fresh mint
for the grilled salmon
4

slices

of salmon fillet

2

tablespoons

yogurt

1

teaspoon

cumin powder

1

teaspoon

chili powder

salt
Instructions
for chili oil lemon vinaigrette
In a glass jar, pour all the ingredients and whisk until they're all mixed into a smooth vinaigrette.
for the corn salad
Rub a little bit of oil on the corn and grill it in medium high heat by turning it occasionally. This should take about 30 minutes. In the mean time, throw the tomatoes in a baking pan, drizzle with some oil and roast for about 35 minutes.

Once corn is grilled, remove the kernel by allowing it to stand on a wide bowl and using a sharp knife, slice downwards.

In the same bowl, add shallots, roasted tomatoes, fresh mint and vinaigrette. Give it a toss and it's done.
for the grilled salmon
Marinate the salmon with yogurt, cumin powder, chili powder and salt. Let it rest for an hour.

Once ready, grill it at medium heat for about 6 minutes on each side. Make sure after you place the salmon fillet on the grill, you do not move it or else, it will tear apart. Once it's cooked through, it will easily come off and you will get a perfect grill mark too.
Notes
Grill fish at the end as it would take the least amount of time and it will stay warm by the time everything is ready.
Nutrition