When it rains back to back, giving you that terrible cold and the medicine just wrecks your taste buds to the core, you need something with a smack! I always go for spicy, warm and comforting meals. Sometimes soup and sometimes, a hearty chicken stew. This garlic and pepper chicken came to our rescue with the warmth and spice, helped us to boost our palate and bring our tastes buds back on track.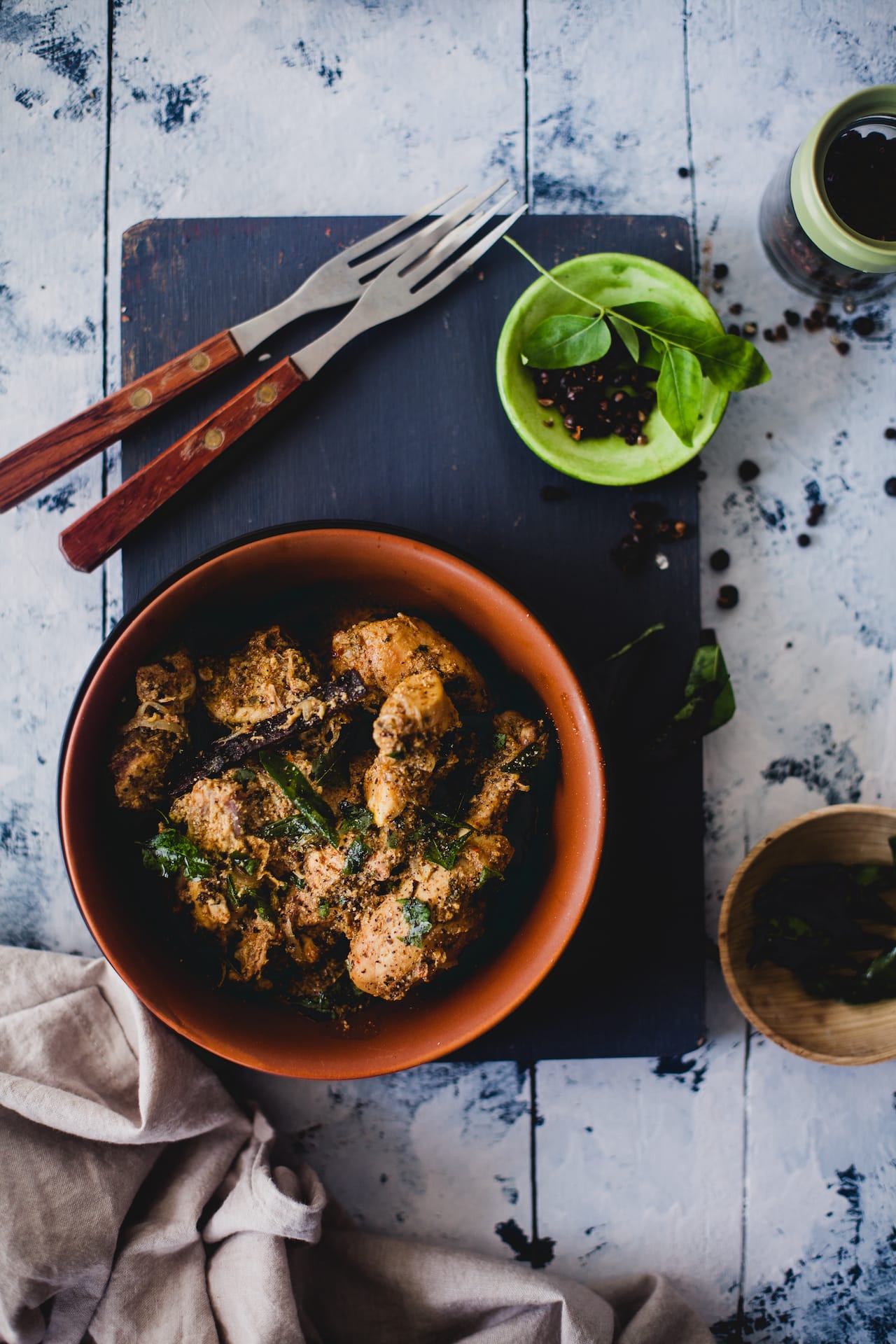 The most crowded section in my kitchen must be the spice counter. I can't seem to stop buying or making my own spices. I had to clear some of those, especially the different kind of peppers that I have been hoarding for a while now. I have always liked pepper chicken, the spice hits right at your throat. Although technically, pepper chicken is prepared with regular black peppers but this time, I mixed three different kinds of peppers. And a lot of garlic gave the dish that flavor intensity I wanted. The curry leaves went right at the end, fried and crushed. It gave that robust flavor and worked as a great garnish too.
Print Recipe
Garlic and Pepper Chicken
Ingredients
500

gram

chicken

1

tablespoon

mixed pepper

10

garlic cloves

2

dry red chilies

1

medium onion

thinly sliced

2

green cardamoms

4

cloves

1

cinnamon stick

½

teaspoon

turmeric powder

¼

cup

plain yogurt

handful of fresh curry leaves

salt

oil
Instructions
In a blender, drop the garlic cloves, pepper and red chili. Give it a mix and marinate the chicken pieces with the mixture along with yogurt, salt and turmeric. Allow it rest for at least 4 hours or overnight for best results.

In a pan, heat oil and drop the cardamoms, cloves and cinnamon stick. Once it starts sizzling, add the onion and sauté until translucent.

Drop the marinated chicken, give it a mix and let it cook in medium heat for about 20 minutes. Keep turning the chicken to ensure that it's cooked of both sides.

Once the chicken is cooked though, you could add more water to make gravy or leave it semi-dry.

In another pan, heat 1 tablespoon of oil and drop the curry leaves. It will splatter and crisp up. Crush some of the leaves and add to the chicken and leave few leaves whole to scatter on top as garnish.

Serve warm.
Nutrition