I had only sung the song "One a penny, two a penny…" until this year when I actually baked Hot Cross Buns to celebrate Easter! Kids can make you do things that you would probably otherwise wouldn't have done. We both are not very traditional BUT we like to introduce different cultures to Avyan in our best possible way. Most often, it is though the magic of food. These Eggless Hot Cross Buns are so good fresh out of the oven. Rub some butter or jam and wash it down with a cup of warm drink.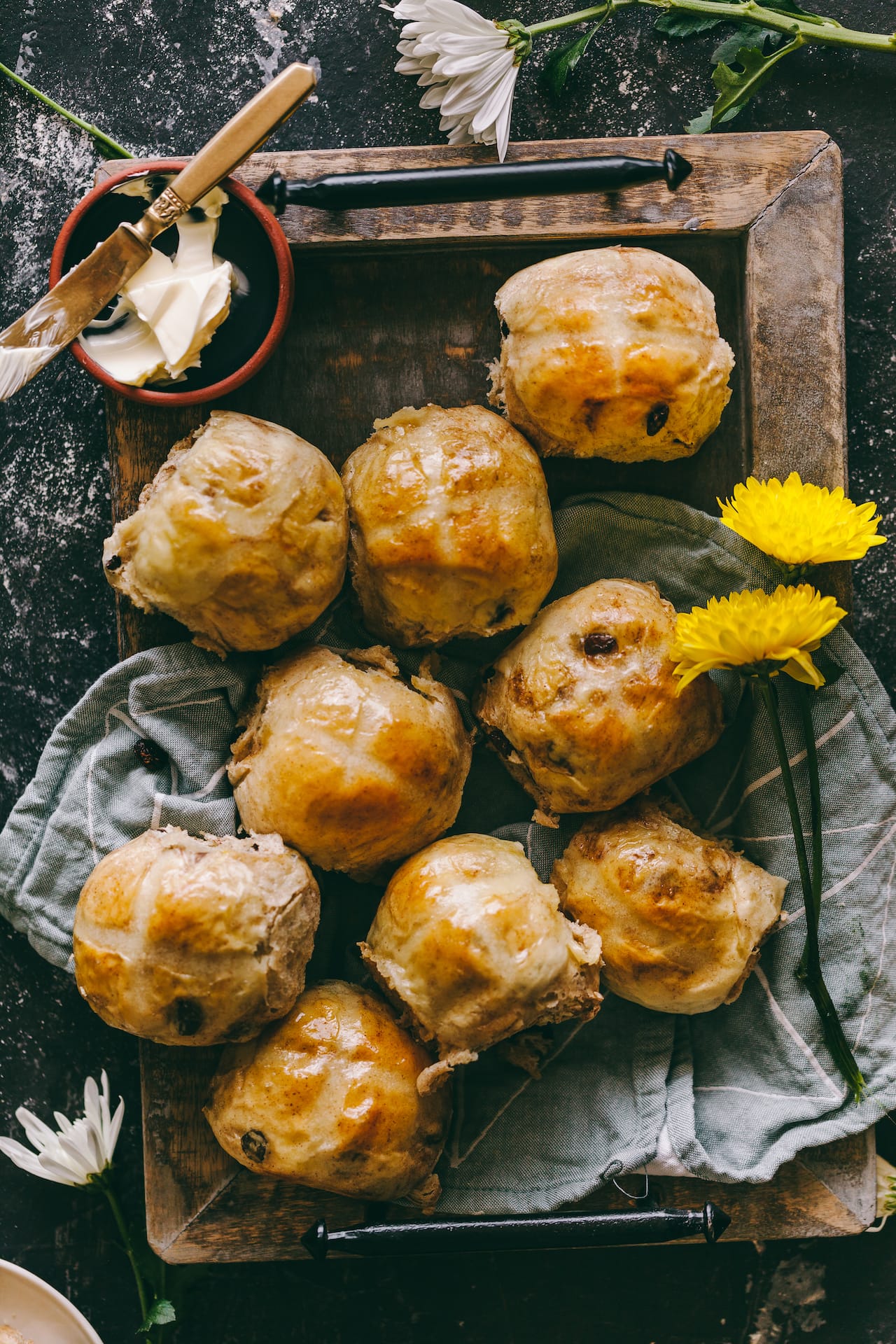 What are Hot Cross Buns?
This is a traditional yeast sweet bun prepared during Easter. It is spiced with cinnamon, allspice or nutmeg and speckled with raisins or currents. The buns have a cross mark on top.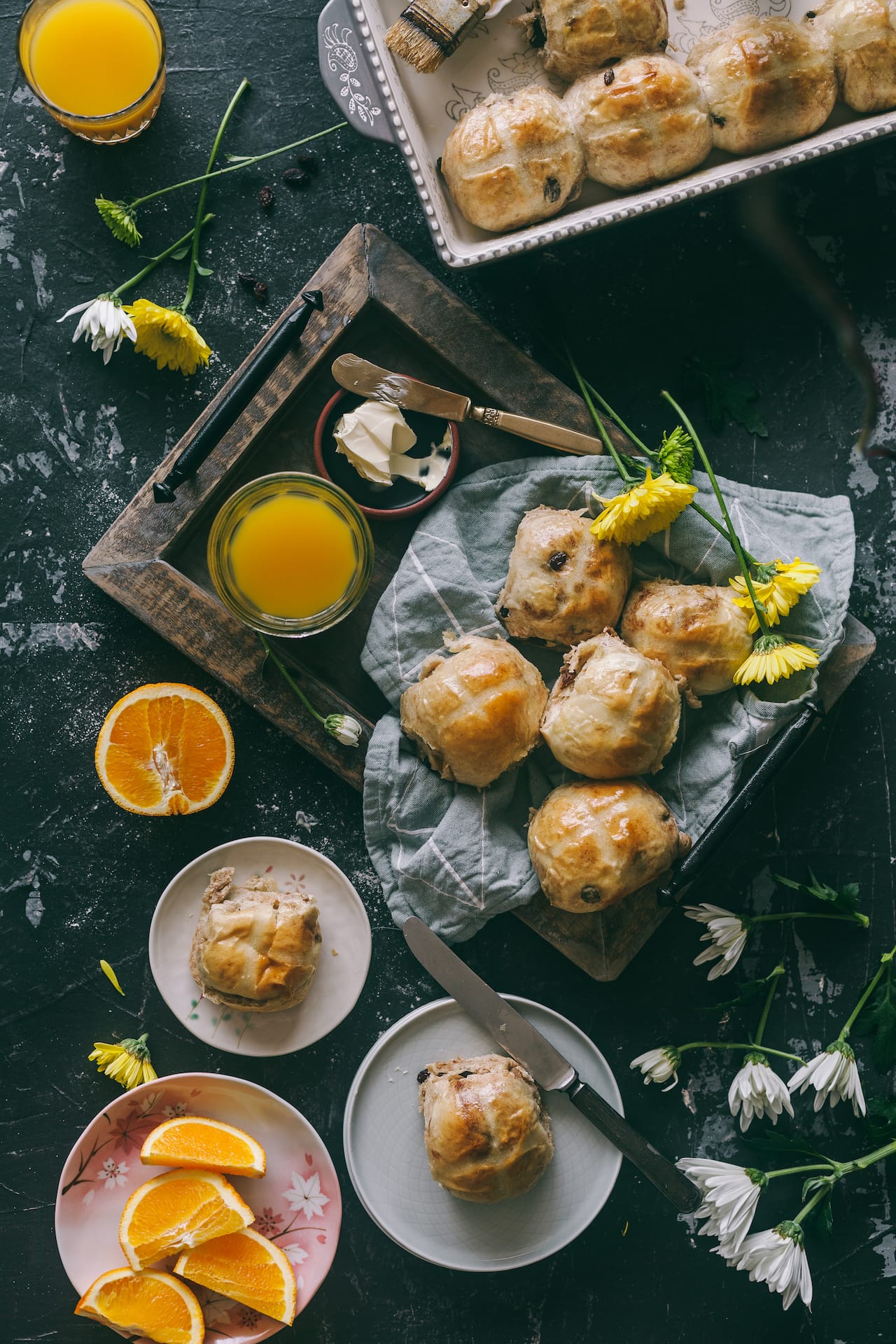 It's either added after baking with icing sugar or before baking with a mix of flour and water.
The origin of the bun goes way back to 12th century when an Anglican monk prepared these buns, marked cross in the honor of Good Friday. There are a lot of stories and superstitions around the making of these Hot Cross Buns.
The fact is that these buns are easy to bake, tastes delicious and doesn'tnecessarily need to be restricted to just Easter.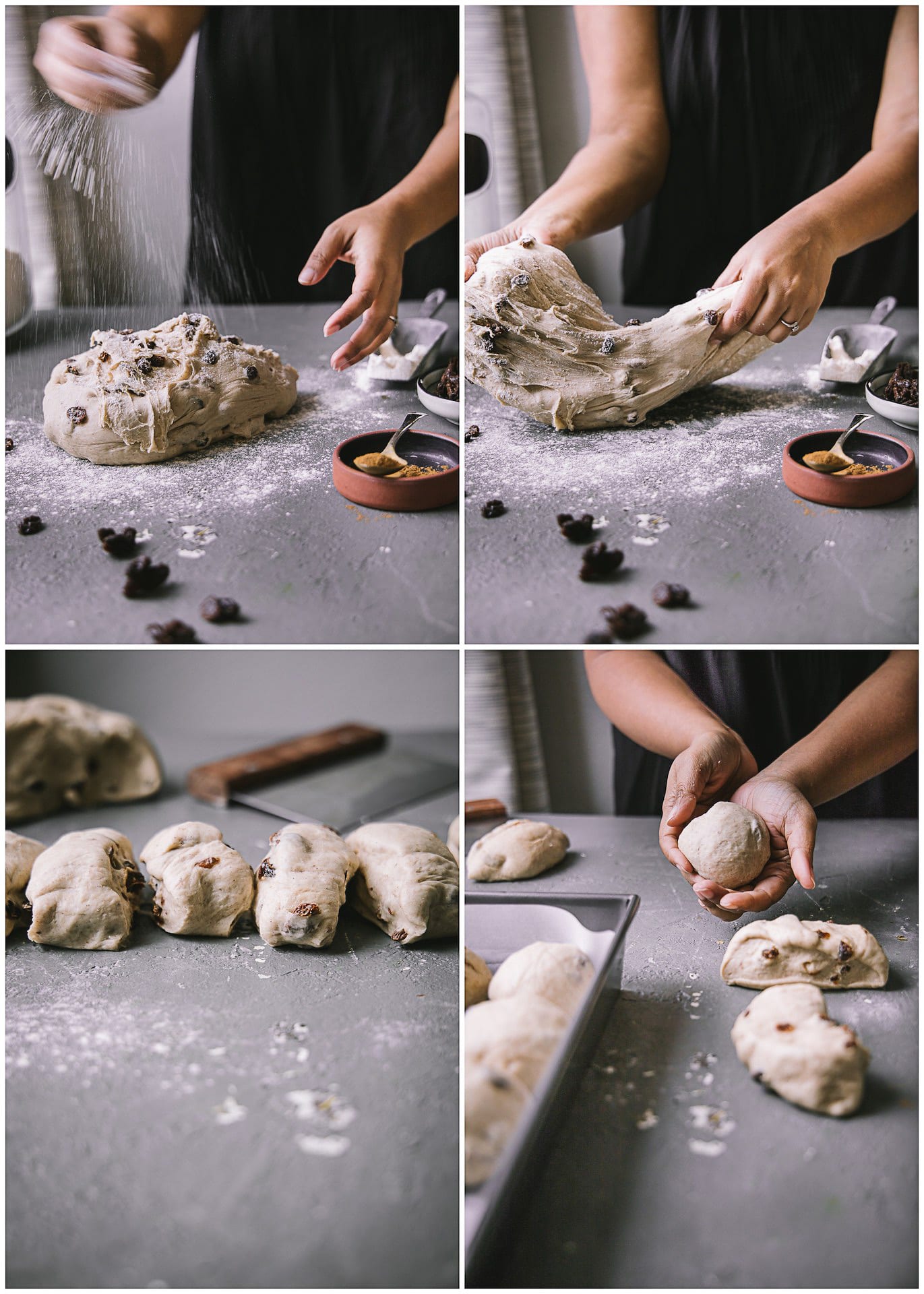 How to bake EGGLESS Hot Cross Buns?
Activate the yeast in warm milk and sugar. The milk should get foamy in 5 minutes of mixing the yeast. If it doesn't, discard and start again.
Prepare the sticky soft dough by using flour, cinnamon, sugar, raisins, butter and the yeast milk mixture. It is important to knead the dough for at least 10 to 12 minutes for the gluten to activate.
After the first rise of the dough, divide into 12 equal portions, shape them round buns and layer in a baking sheet.
After the second rice, brush the buns with milk and mark the cross by piping a thick mixture of flour and water.
Bake until golden brown.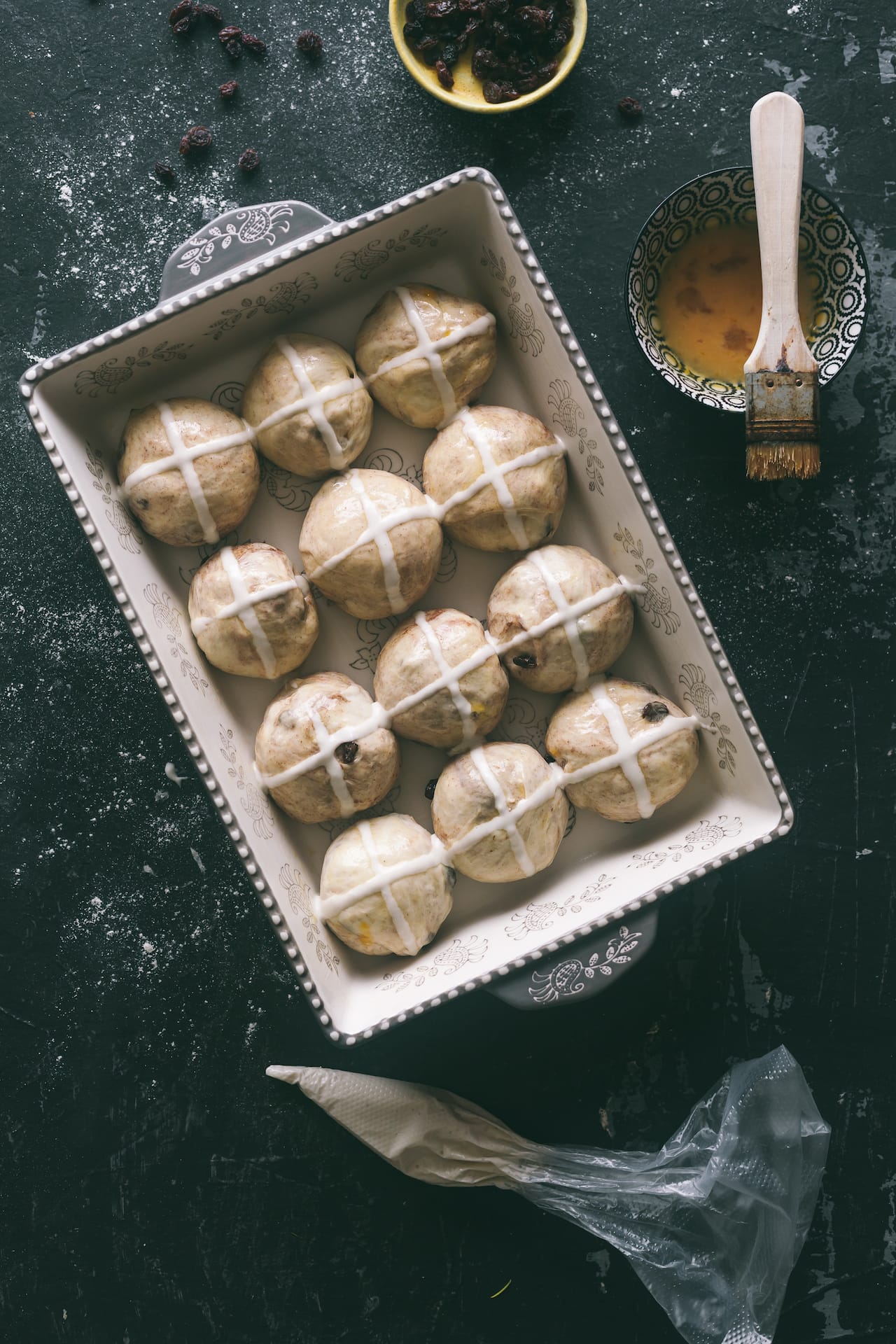 The cross mark on the Hot Cross Buns
Flour and water: Traditionally, the cross mark is piped on the buns before placing them in the hot oven for baking. It's just flour and water that's mixed to a pipeable consistency.
Icing: After baking, you can make a simple icing with powered sugar, water and orange or lemon flavor. Pipe it when it cools down after baking.
Alternatively, you can also brush the icing on the baked buns for extra sweetness.
Storing these eggless Buns!
These sweet, pillowy hot cross buns taste best when served fresh. If you have to store it, use an airtight jar and keep them at room temperature.
You can enjoy them at room temperature, like any other bread, but I like to warm them for a few seconds in the microwave.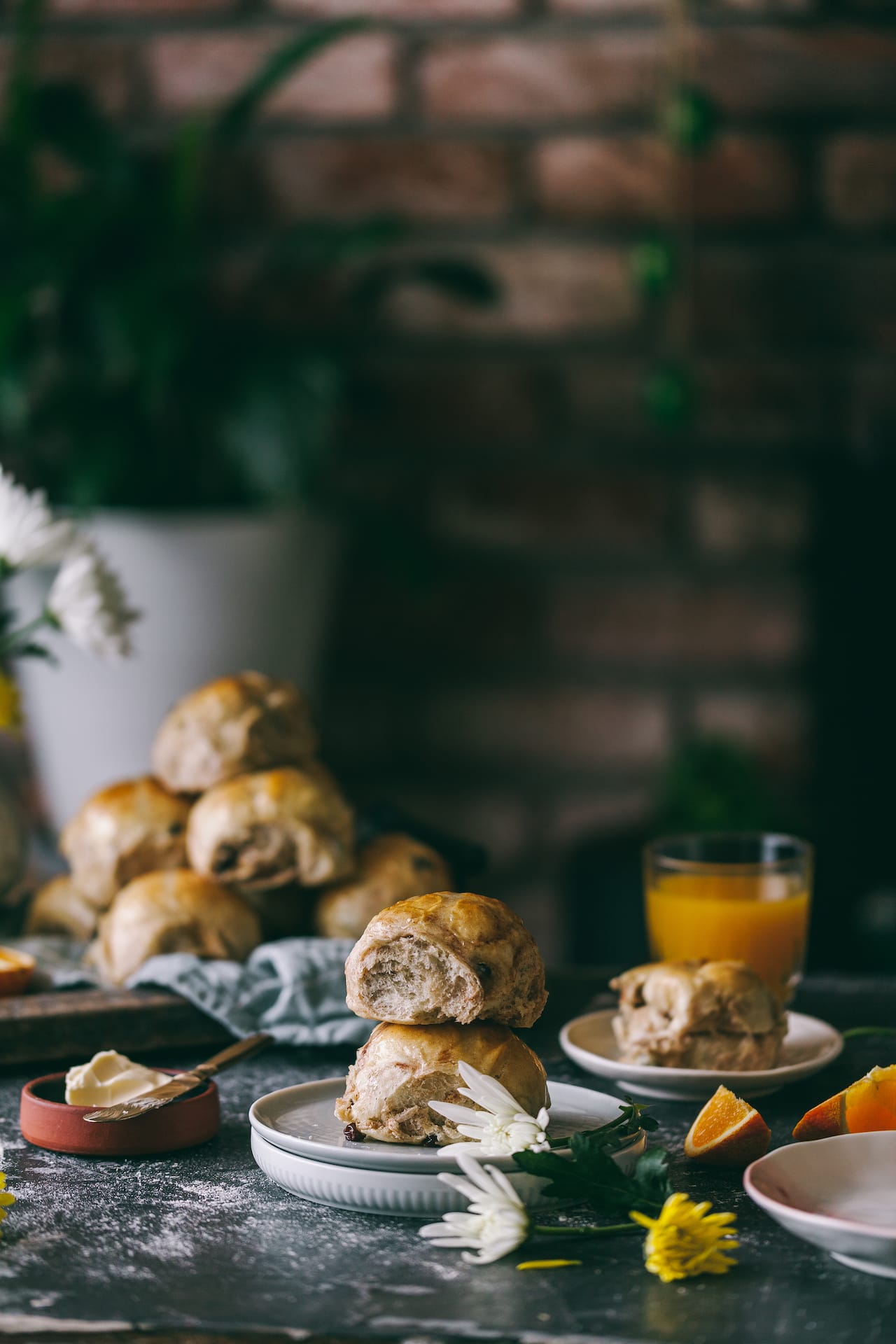 Irrespective of how you decide to add the crosses or completely avoid them, these Easter special Hot Cross Buns are delightful, sweet-spiced buns that you need to try.
If you try these delicious soft sweet Eggless Hot Cross Buns, do let me know how you liked it by tagging me in Instagram @playfulcooking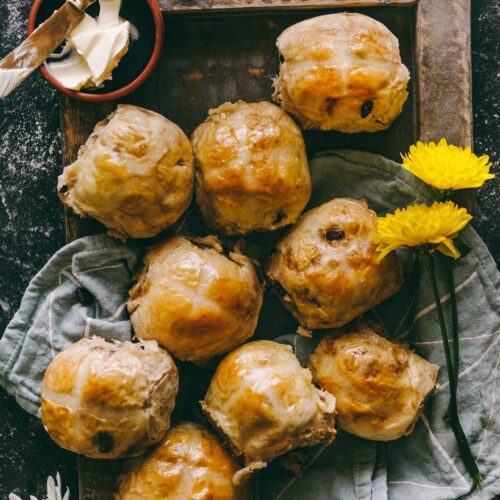 EGGLESS Hot Cross Buns!
Ingredients
1-

tablespoon

active dry yeast

1

tablespoon

plus ½ cup white sugar

1-

cup

warm milk

3

cups

all-purpose flour

1

teaspoon

cinnamon powder

½

teaspoon

all spice powder

½

teaspoon

salt

1-

cup

raisins

3

tablespoons

unsalted butter

(melted and cooled)
for the cross
¼

cup

all purpose flour

3

tablespoons

water
Instructions
In a measuring cup or mixing bowl, pour the warm milk and 1 tablespoon sugar. The milk should be just warm enough so that you can dip your finger comfortably. Add the yeast, mix a little and leave it aside for the yeast to activate (milk will foam up on the top).

Once the yeast is activated, prepare the dough. You could either use a stand mixer with dough hook or you could knead it with hand. Add the flour, salt, spices, raisins, melted butter and the yeast-milk mixture. Knead for 10 minutes.

Cover the dough with a clear wrap and let it rise until doubles in size. It should take about 2 hours (I prefer to keep it in the oven with the light on).

Once done, punch the dough down lightly and shape the dough to 12 round buns. Line a parchment paper on a cookie sheet and place the 12 buns about 1-inch apart. Spray some oil on them and cover the sheet for a second rise. In about 30 minutes, the mini balls should puff up.

Preheat the oven to 350 F

Mix the flour and water for the cross. Put it in a piping bag or a zip lock bag. Trim the edge for a tiny hole.

Brush some milk on the buns and pipe the cross.

Place them on the middle rack of the hot oven and bake for 25 minutes.

Serve warm.
Nutrition
Serving:
12
hot cross buns!