Samosa is my absolutely favorite teatime snack. That flaky crust and filled with spiced boiled potatoes, always so tempting. I don't even need a dipping sauce, just a cup of piping hot masala chai. With the festive season in full swing, we look for treats that can be made in advance and served right away when the guests arrive. Dry fruit samosa fits right in for such a situation. And I love it as much as the traditional samosa while pairing it with a cup of tea.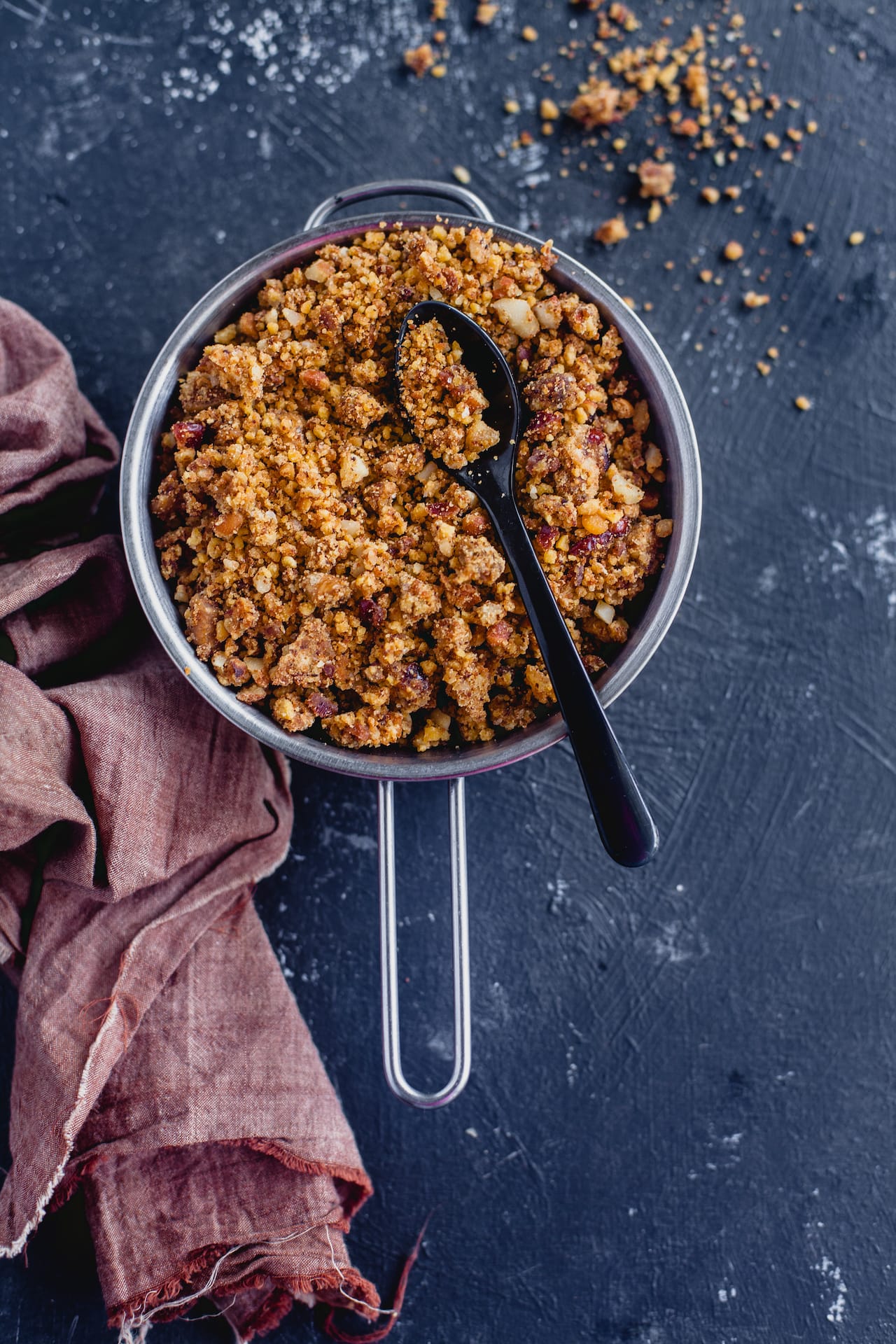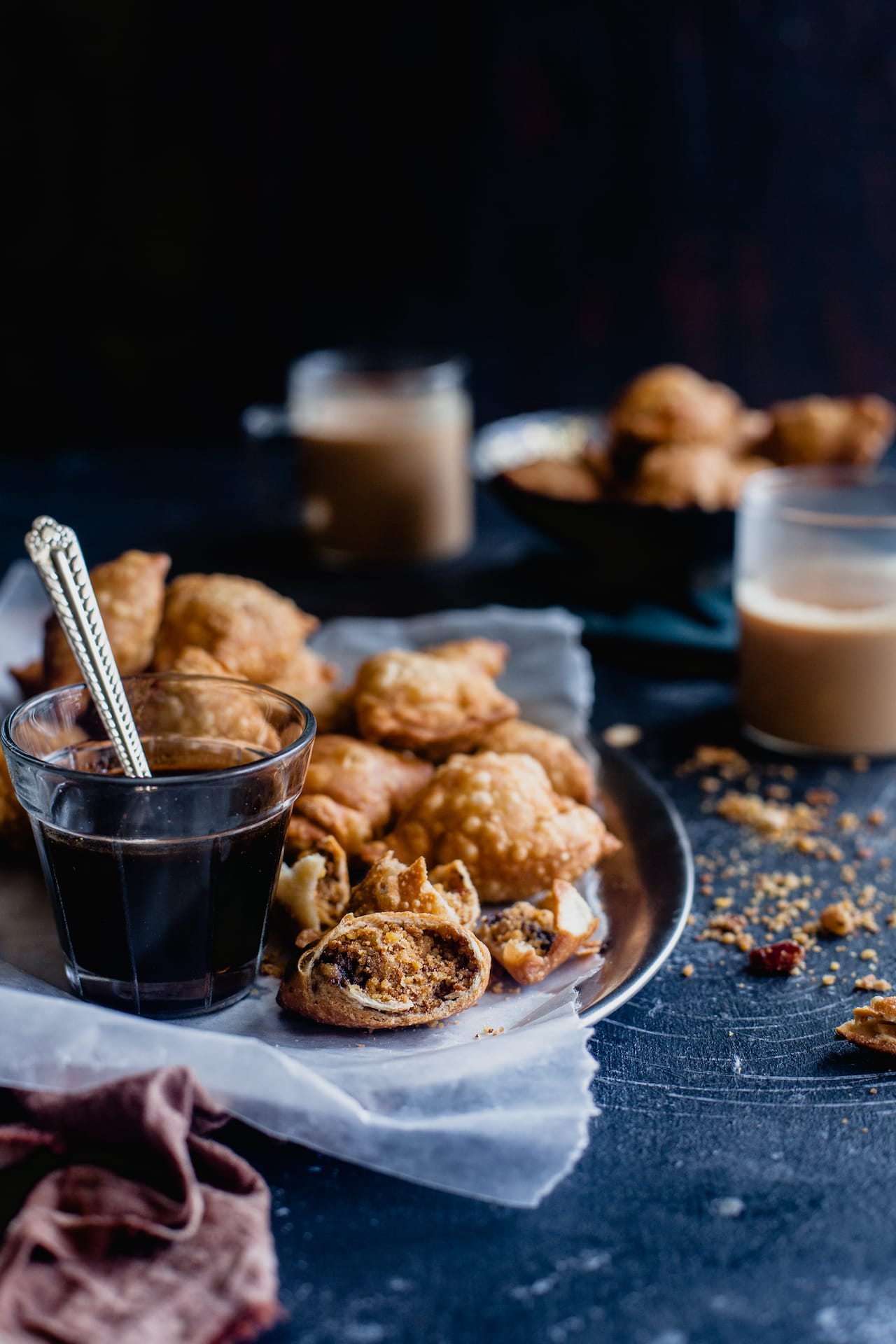 Every festive season brings a happy feeling and so many sweet memories! As a kid, Diwali was all about meeting the cousins. No school, no homework, no schedule and no bedtime. There was extra playtime, gifts were exchanged and of course, over indulgence on too many home made treats. Of course, you could buy boatload of snacks and make life easy but what's the fun in that! So, this Diwali, make these dry fruit samosas in advance. It will be worth all the effort!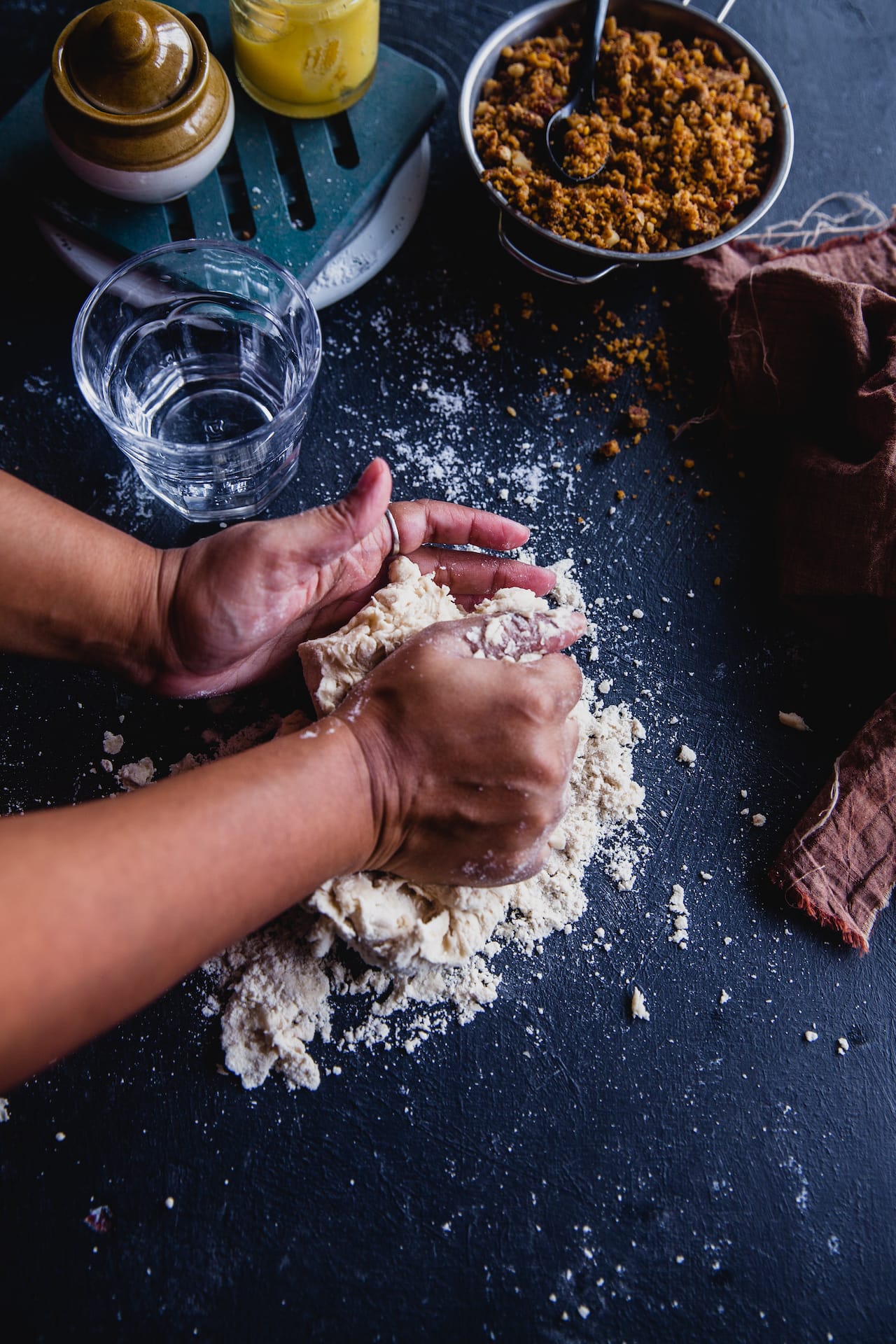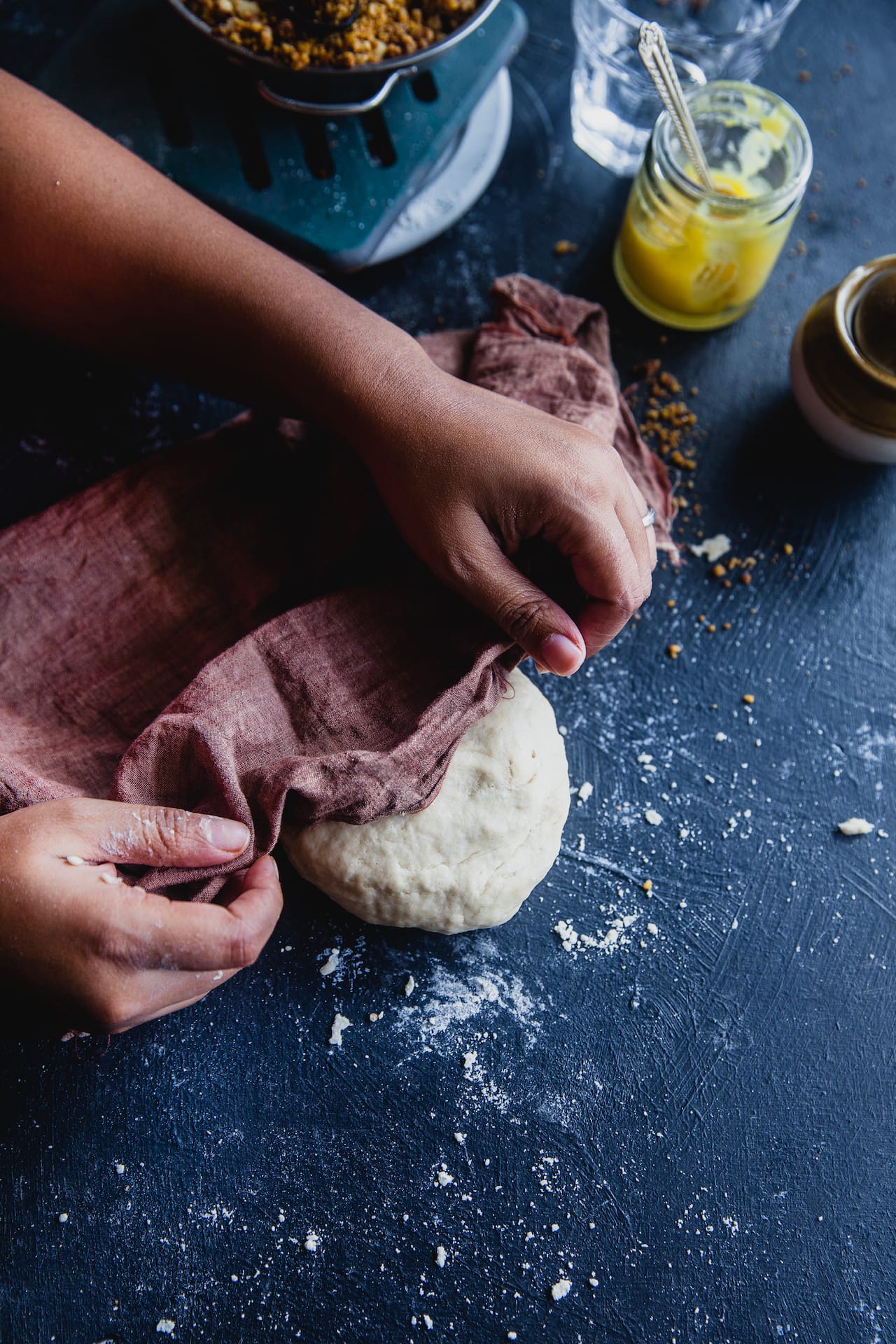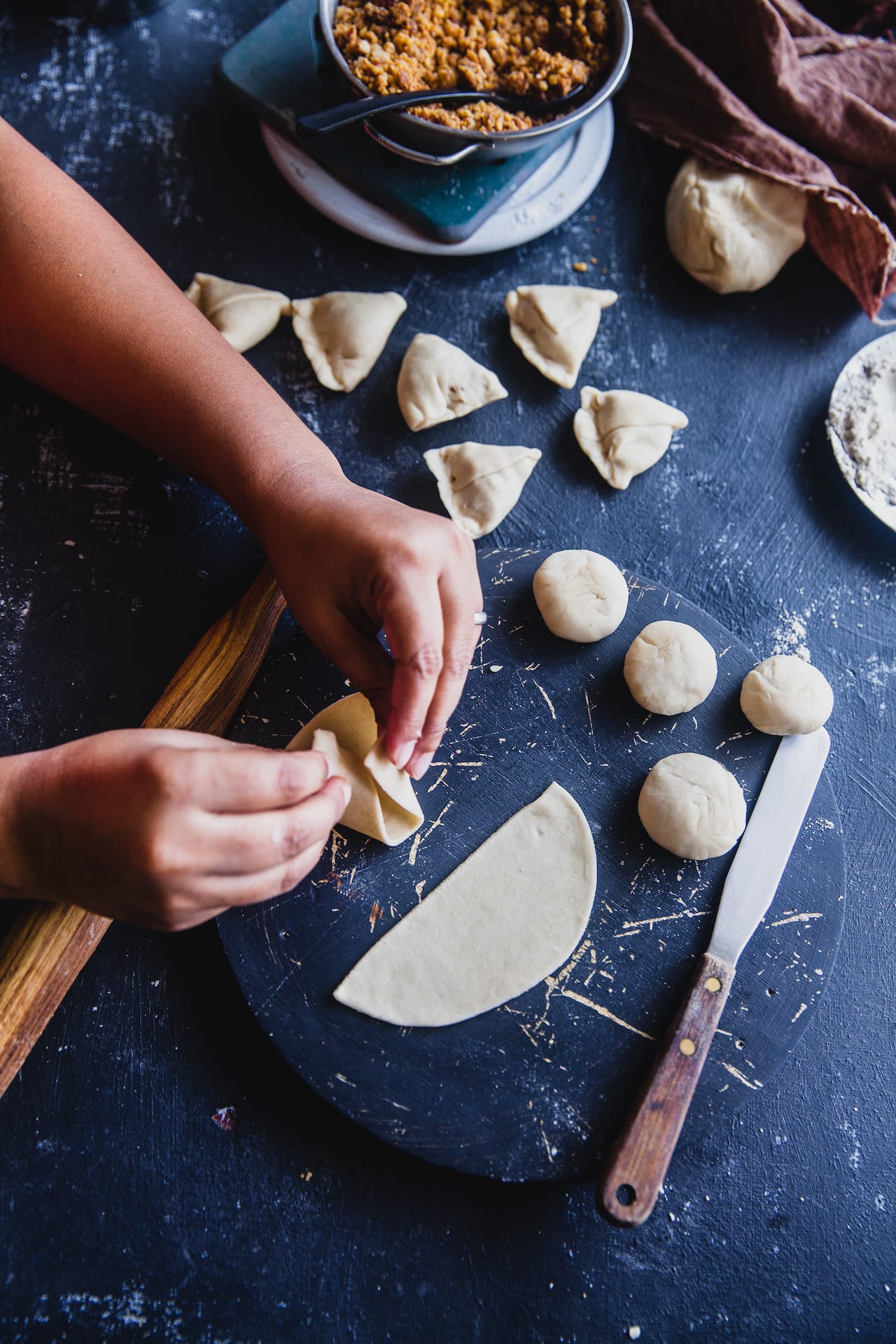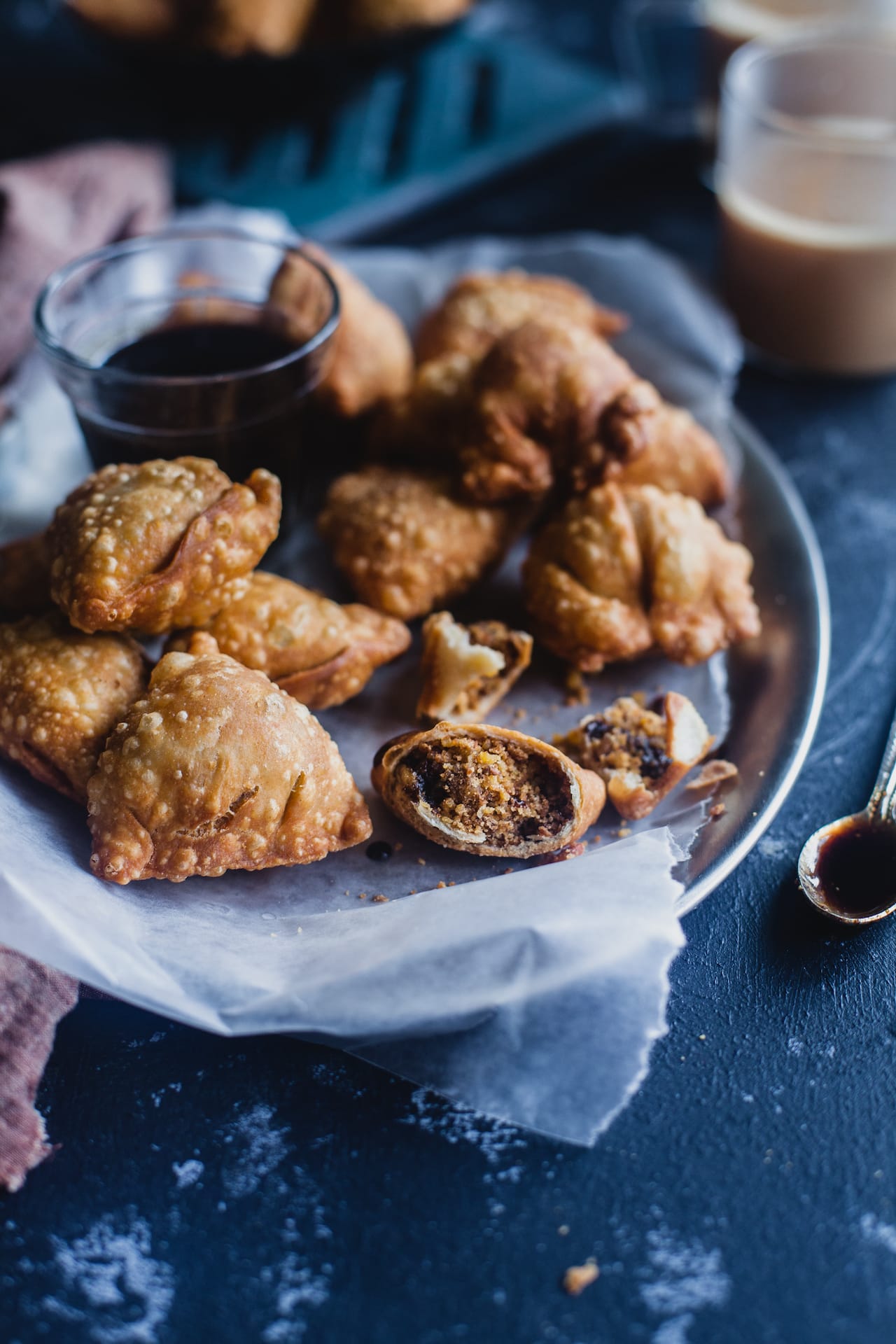 There are two key points that you have to remember while making this snack. Firstly, the filling should be fairly dry and not too moist or else, it won't last long in an airtight container. Secondly, you have to drop these samosas in low heat oil while frying and continue deep-frying in that low heat. This particular technique gives a super flaky crust to the fried samosas and it remains flaky, even after several days. If you fry the samosas in hot oil, the crust would be flaky when it's hot but eventually, it will turn soft.
Dry Fruit Samosa
Ingredients
for the filling:
1

cup

chana daal

(split Bengal gram lentil)

½

cup

assorted nuts and dry fruits of your choice

(finely chopped)

2

tablespoons

milk

2

tablespoons

honey

pinch

of cardamom powder

pinch

of salt

1

tablespoon

ghee

(clarified butter)
for the dough:
1

cup

maida

(all-purpose flour)

¼

cup

atta

(whole wheat flour)

pinch

of salt

2

tablespoons

ghee

water to make the dough
Instructions
Boil the lentil just until it's tender. If you are using a pressure cooker, 2 whistles should be enough. Once done, allow it to cool down and then, blend it to a smooth puree.

Heat 1 tablespoon of ghee in a non-stick pan and drop the pureed lentil. Cook in low heat for a couple of minutes and then add honey along with cardamom powder. Give it a mix and continue cooking until the lentil turns mildly brown in shade.

Then, add the chopped nuts, milk and continue cooking until it comes together into a golden brown crumbly filling. Keep it aside to be used later.

To make the dough, sift the flour in a mixing bowl. Add salt, pour ghee and start mixing with your hand. Once the flour holds itself when held in your fist tightly, you can start pouring water little by little until it forms a dough. If the dough doesn't hold together, add more ghee. Allow the dough to rest for 30 minutes.

Once the dough and filling is ready, start shaping the samosas. Knead the dough once again and divide it into equally sized ping pong balls. Roll out the ball into a circle and slice it with a knife in the center. Take one semicircle in your hand and form a cone. Place it in your hand comfortably and fill about 1 teaspoon of the mixture. Pinch the end to seal it tightly and allow it to sit on the board to make a flat bottom. You can rub some water at the edges if it's not sealing properly. Shape all the samosas before you start frying.

In a big wok or deep pan, pour enough vegetable oil and bring it to a low heat. Then, drop the samosas and allow them to fry slowly. Do not overcrowd the pan and keep rotating it in between to brown it on all the sides. Once done, lift it from the oil and keep it in a kitchen towel, allowing it to drain any excess oil. Make sure you allow the oil to cool down before you fry the next batch.
Nutrition
Serving:
1
About 25 samosas