Is it just me or is the time really flying by? It's already May, almost halfway through the year. It feels like just yesterday when I was wishing 'Happy New Year' to everybody, making resolutions and planning for the year ahead. Since I am on a break from work, I really thought that this year was going to be a slow year for me. No work, no deliverables, no time constraints and yet, the time just flew by..
I used to tell my Mom that being a house wife is going to be pretty simple and it may be boring at times. But, I was so so wrong! It's like a full time job.. How many of you are with me on this ? But, I am loving every second of this job.. It's one job where I am my own Boss 😉 Wonder what hubby will say once he reads this 😛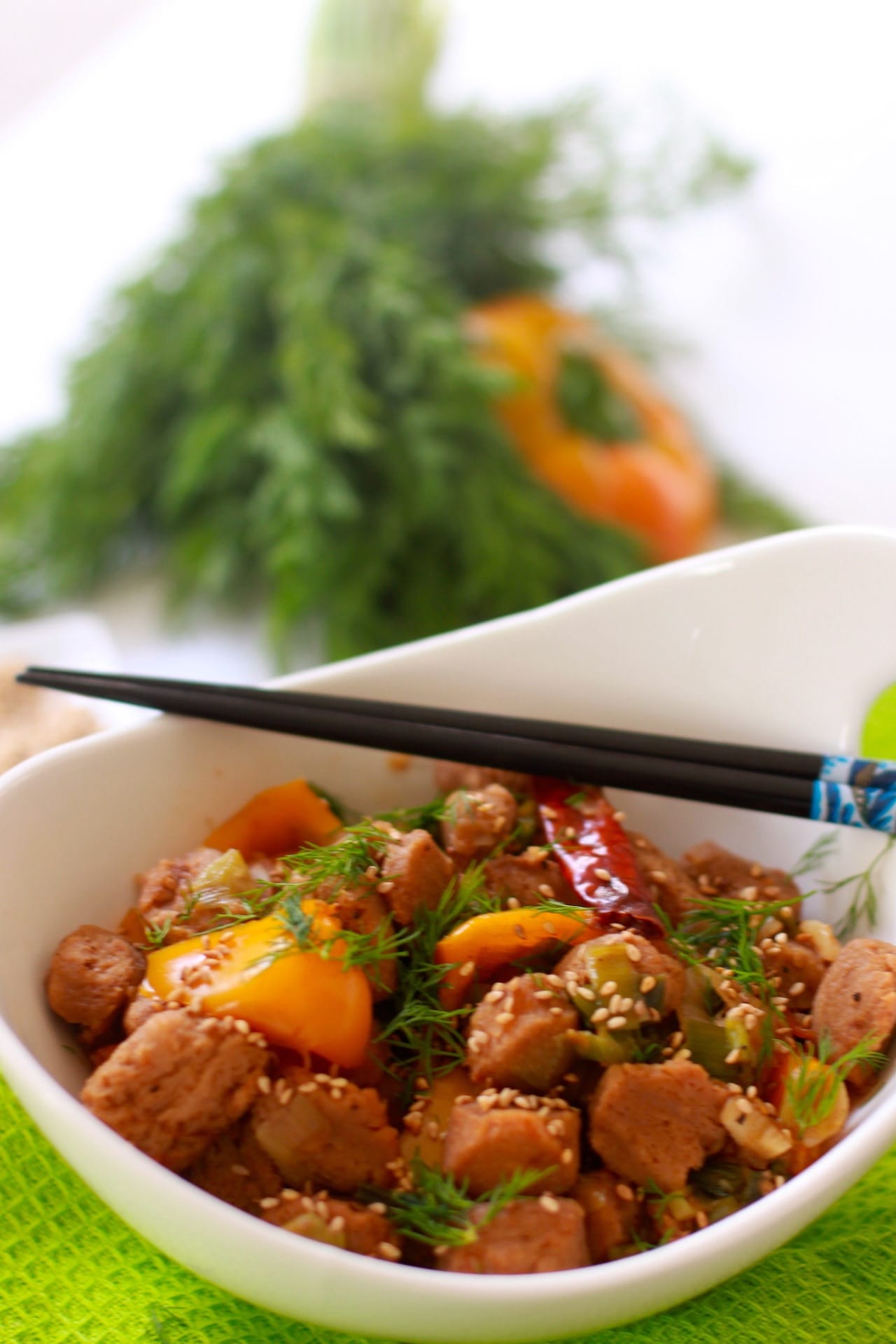 As the Boss, I decided to make Soya Chunk curry for lunch. Oh, I am sure Hubby would have agreed with me on this! Soya Chunk is one of our favorite item and I usually like to eat it a little spicy. I remember my mom making a dish with soya chunk which tastes like a spicy chicken dish and she would call it chicken curry for vegetarians. My mom is not a big fan of non-veg dishes. So, she used to make this dish very often. I tried that dish several times but nah.. it never turned out like her dish. I am still trying to make that dish and hopefully, I would be able to share that with you someday. Till then, enjoy this soya chunk dish 🙂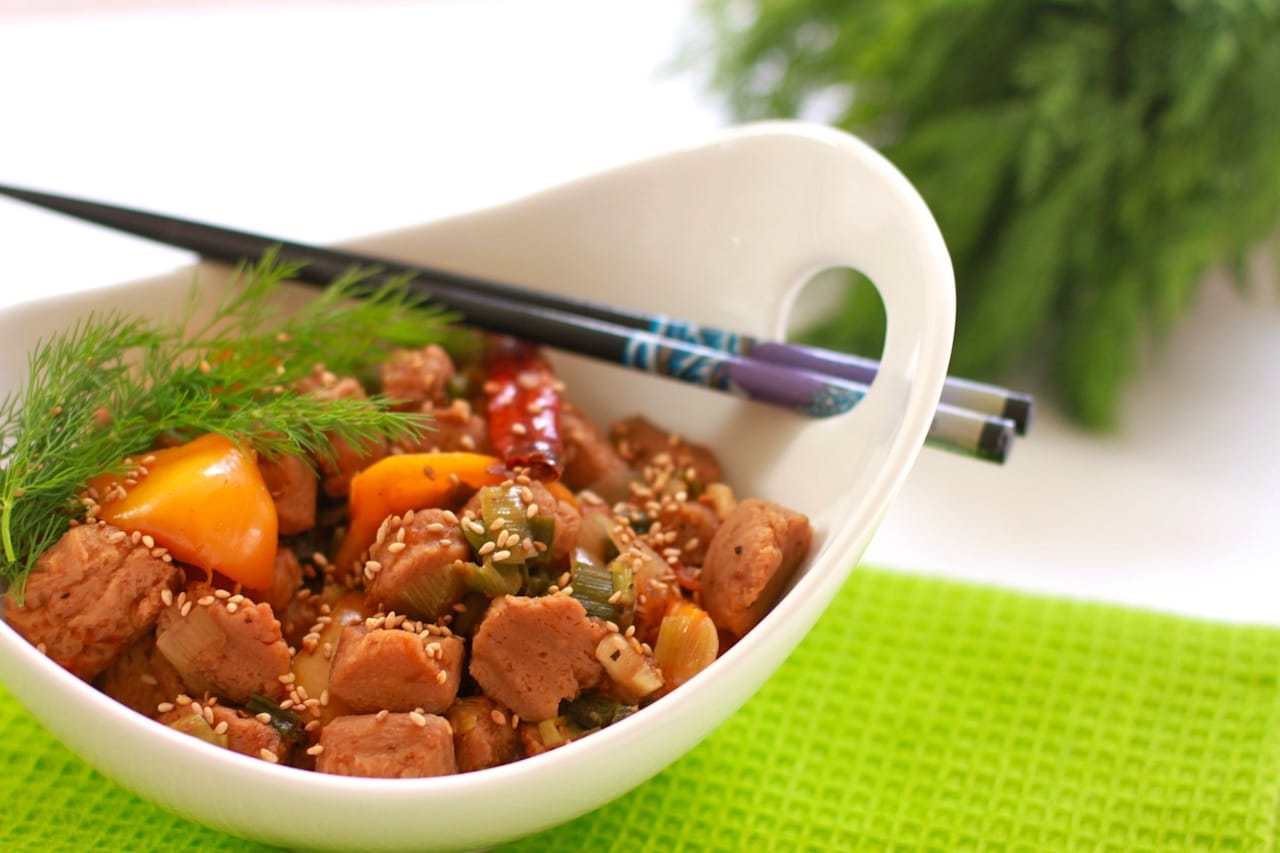 Soya Chunks are very commonly eaten in India in various different ways. They come in a box and the most commonly available brand is Nutrela. In-fact, the brand is so popular in India that people refer to them as Nutrela rather than soya chunks. You will get a weird stare from your shopkeeper if you mentioned soya chunk instead of nutrela. These chunks are TVP(Textured Vegetable Protein), which are made from textured soy flour in the form of nuggets or chunks. They are highly rich in protein and super easy to make. This recipe that I adapted is from Edible Garden. I just gave it a few twists of mine here and there.
Colorful Spicy Soya Chunks
Ingredients
2

cups

soya chunks

1

bunch green onion/scallions

(cut in ½ inch length)

½

medium onion

(finely chopped)

1

orange/red bell pepper

(cut in cube size)

1 to

mato

(finely chopped)

1

tbs

sesame seed

3

dry red chillies

1

tbs

ginger paste

1

tbs

garlic paste

2

green chillies

(finely chopped)

1

teaspoon

sambal oelek chili paste

2

tbs

dark soya sauce

1

tbs

fresh dill

salt

pepper

oil
Instructions
Boil 4 cups of water with some salt and soak the soya chunks in them for at-least 10 minutes. The chunks should become soft and tender. Keep them aside.

In a pan, heat 2 tbs oil and add garlic, ginger and dry red chillies.

After a couple of minutes, add chopped onion and season with salt and pepper. Cook till the onions are translucent.

Add tomato, soya sauce, chopped chillies and saute until the tomatoes are cooked and it turns into a thick sauce.

Next, add bell pepper, green onions and chili paste. Add a little bit more salt(if requireand cook for another 2 minutes.

Take the soya chunks out of the water, squeeze them to remove excess water and add it to the pan.

Mix everything properly and add 1 cup hot water.

Once all the water is soaked up, check for salt and add if required.

Finally, add fresh dill and garnish with the roasted sesame seed.
Nutrition