I am on an ice cream roll out here! By the time Arvind was finishing the last scoop of the Cherry Ice Cream, I got ready to whip another batch of a milder flavor this time. Did I fall in love with ice cream? Well, not yet, but I have definitely fallen in love with the idea of making ice cream at home. And while summer is still here, why not indulge a little bit more on the creamy yummy goodness.
On our last trip to Bangkok, Arvind relished a lot on coconut ice cream. It's very well known out there. From an elegant restaurant to a tiny shop on the street, from roadside stand to the food court in the shopping mall, its everywhere in Bangkok and you just can't miss it. It's served in a simple white bowl with no fancy topping. At times, they would just drizzle some buttery coconut milk on top and that's it, plain and humble. Yes, I tasted it and I liked it! The texture was very light and airy. It taste coconut-y of course but was not excessively sweet.
I wanted to recreate a similar texture with just a hint of vanilla in it.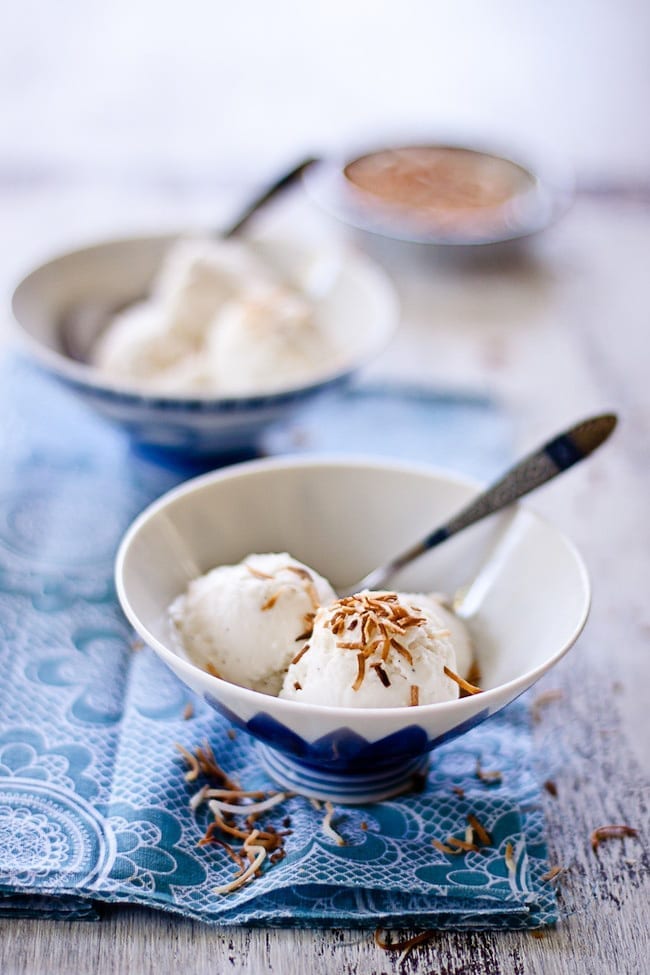 Did you know that Vanilla was once considered as an aphrodisiac and it was reserved only for royalty. Thank God, it's not the case anymore! Since this ice cream had only one flavor profile, I wanted it to be rich and pure and that is why I used vanilla beans instead of the extract. I am sure pure vanilla extract would work as well.
This time I didn't used condensed milk as I was worried that it might overpower the subtle sweetness of the coconut milk. Mascarpone, on the other hand, is more mild and creamy. The combination resulted in a smooth silky, not too dense, not too sweet, flavorful ice cream. Just what I was looking for.
Sometime less is more and Arvind kept reminding me the same when I asked if I could add some lemon zest for tang! He was watching me or should I say monitoring the ice cream, making sure I don't add anything extra. He wanted a plain and simple, coconut vanilla ice cream. Period.
I sprinkled some pan roasted coconut flakes on top while serving, which added a lovely crunchy bite.
Coconut Vanilla Ice Cream
Ingredients
2 cups coconut milk, kept at room temperature
2 cups mascarpone cheese, kept at room temperature
1/2 cup white sugar
1/4 cup grated coconut, I used dried flakes bought from store
seeds of 1 vanilla bean
2 tablespoons grated coconut, pan roasted (to be used while serving)
Instructions
In a bowl, whisk coconut milk, sugar and mascarpone together for about 10 minutes until it's smooth and creamy.
Slit the vanilla bean lengthwise right in the center and with the back of the knife scrape the seeds out.
Add it to the bowl and whisk again for about 5 minutes.
Cover and let it freeze for couple of hours.
Take it out and let it come to room temperature .
Add the grated coconut and whisk again for about 10 minutes.
Cover and let it freeze for 8 hours before you serve it.
While serving, drizzle some pan roasted coconut flakes on top.
Notes
Coconut milk and grated coconut is easily available in any Indian store or Asian aisle in any super market.
Before serving, let the ice cream rest at room temperature for 5 minutes to soften it a little.
Vanilla extract can be used instead of vanilla beans.
Once you use the vanilla seeds, keep the pod back in the air tight jar for later use.
This could be one of those ice creams that I actually liked and cared for a couple of more scoops.
Did you enjoy this Coconut Vanilla Ice Cream? Share your creation by tagging
@playfulcooking
on Instagram with the #playfulcooking and I will re-share in my story!