Creamy luscious, very  light on the tummy, this Chickpea Yogurt Soup is a perfect summer time meal. Break some rustic bread and dunk in or pair it with some grilled meat, this soup is delicious and will help you cool your tummy. The Chickpea Yogurt Soup is extremely easy to make and barely takes any time. It's like kadhi pakoda except without the pakoda/dumplings in it.
What is Kadhi - Chickpea Yogurt Soup?
It's a popular yogurt based gravy curry, very popular in the state of Gujarat and Punjab. You make the gravy with chickpea flour and yogurt, and add crispy dumplings to the gravy. Based on the region you are from, the kadhi will have its own version. You then serve the kadhi with rice, hence most often you will hear the term "kadhi chawal" being used where Kadhi is the curry and chawal is steamed white rice served along. It's a comforting hearty meal! The yogurt soup barely takes any time, it's the dumpling that might need some time, so if you want a light soup, you might want to try this light Chickpea Yogurt Soup.
What I have for you today is a slightly different version of the same curry. It's a thin soup minus the dumplings. It's refreshing and a perfect way to cool down when weather gets uncomfortably warm.
What Ingredient goes in the Chickpea Yogurt Soup
Yogurt: Use plain thick yogurt
Chickpea flour: You need just couple spoonful that adds flavor and thicken the soup.
Fresh ginger: The soup is very light and fresh ginger gives the perfect oomph of flavor
Asafoetida, Green chili, Curry leaves, Mustard seeds: These three flavoring components makes all the difference to the soup
Sugar, salt, turmeric powder: Little amount of sugar works beautifully to balance the tang and savory taste. Turmeric powder is a must for the vibrant yellow shade.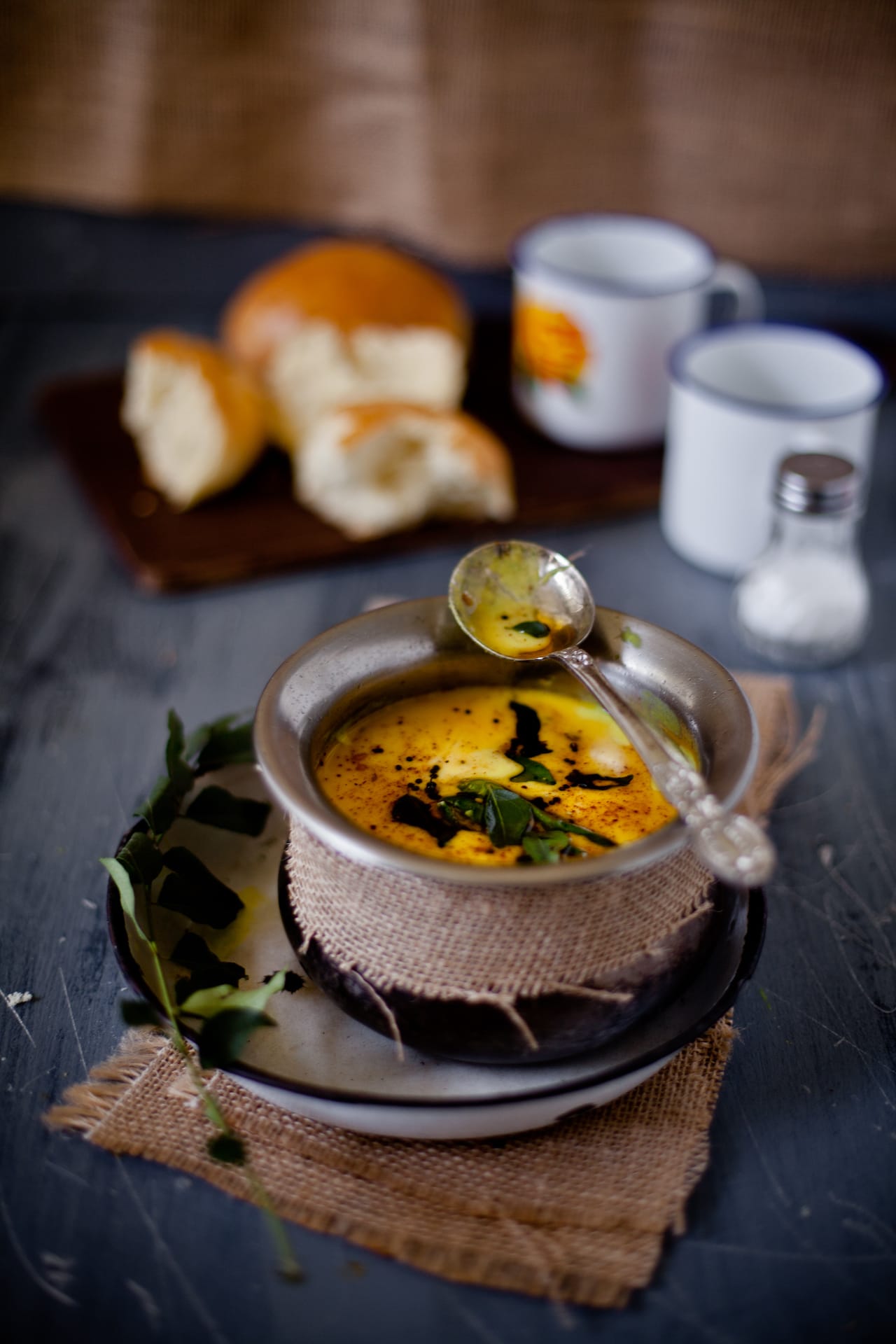 Some good ole memories!
Memories are mysterious. I sometime wish we had the power to retrieve whatever information we want from our brain and permanently delete the ones we dislike. It's difficult to recall a certain incident. No amount of tapping the brain or shutting the eyes tight would help. Then there are flashes; tiny casual ones that would float in front of my eyes, effortlessly, making me nostalgic and sometimes even mad. There are so many silly un-important incidents of my life that I recollect point by point.
Every time I prepare Kadhi, it takes me seven years back. I picture my old kitchen, I see the younger us (we had just started dating) and I picture me trying to prepare one of his favorite meals. We were at the stage of getting-to-know-each-other and he had mentioned kadhi several times, being his favorite dish. The way to a man's heart is through his stomach, right? True or not, I believed in that saying, and decided to impress him. It was such a disaster! The kadhi looked horrible and it was absolutely inedible.
Funny thing is that I don't really recall if we finally ate out or filled our tummy with instant noodles. Totally unimportant event of my life and yet it pops in my mind every time I prepare this dish. Well, it does make me laugh at times!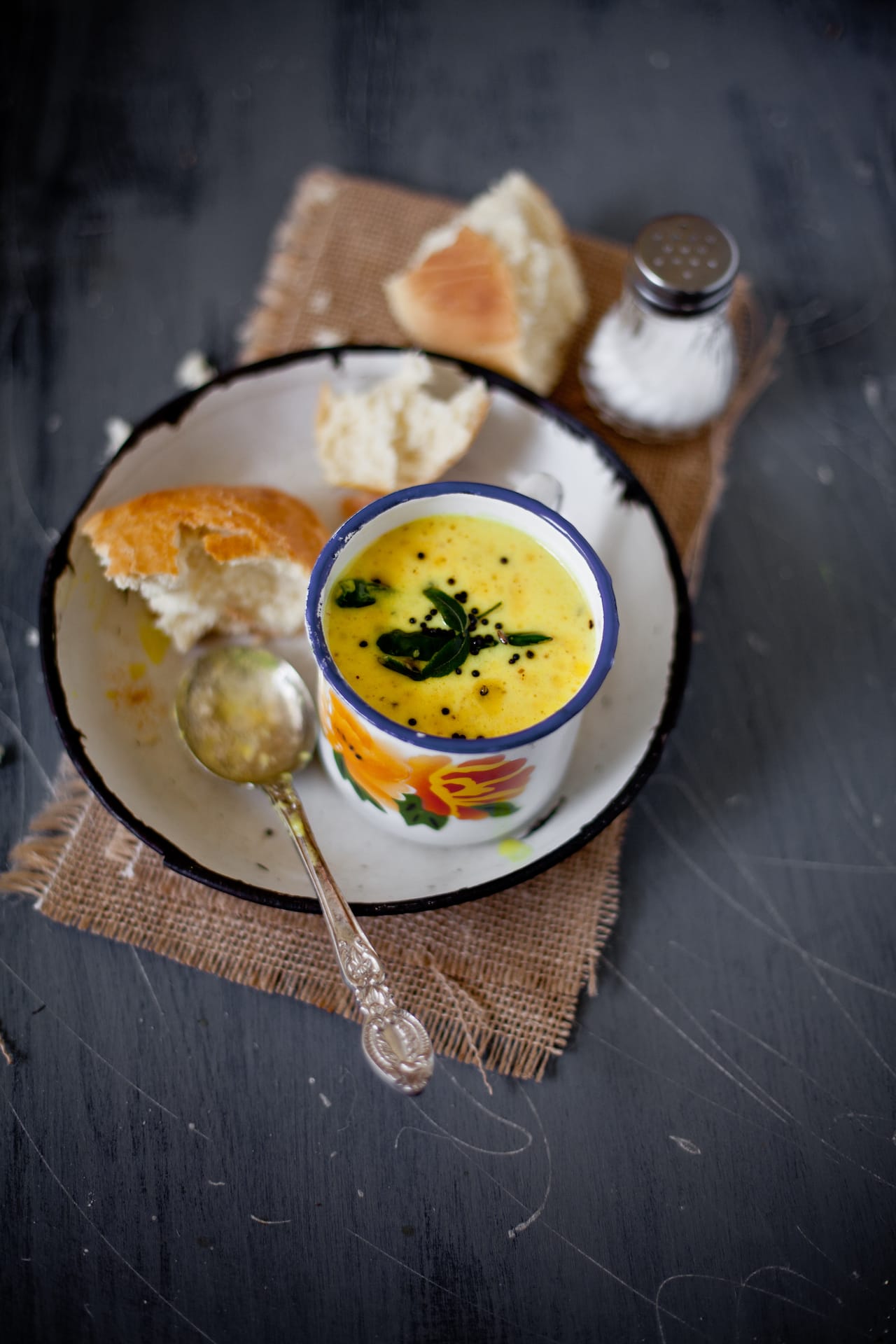 The abundance of yogurt in the soup makes it tangy and up-lifting. Turmeric powder paints the soup gorgeous yellow and the robust flavor comes from mustard seeds and curry leaves that are tampered in ghee before pouring in the kadhi soup. With few slices of crusty bread on the side, it makes a beautiful meal for the season.
Related Recipe :
Chickpea Yogurt Soup
Ingredients
1

cup

yogurt

2

cups

water

2

tablespoons

chickpea flour

1

teaspoon

sugar

1

teaspoon

turmeric powder

1

inch

ginger

(freshly grated)

1

teaspoon

ghee/clarified butter

1

teaspoon

hing/asafoetida

1

green chili

(finely chopped)

1

teaspoon

mustard seed

6 to 8

curry leaves

salt
Instructions
In a deep pan, whisk yogurt, water and chickpea flour to make a smooth batter making sure there are no lumps. Add salt, sugar and turmeric powder to it and bring it to a boil. Once done, lower the heat, add grated ginger and let it simmer for 10 minutes. If you wish to thicken the soup more, continue cooking for 5 more minutes. Keep stirring in between. Once done, switch off the heat and keep the pan aside.

Heat another small pan, pour ghee/clarified butter in it and bring it to medium heat. Add asafoetida, chopped green chili, mustard seeds and curry leaves. It will splatter, so be very careful. After a couple of seconds, switch off the heat and pour the hot ghee straight in the soup. It will sizzle. Give the soup a mix and serve it either warm or at room temperature.
Notes
Asafoetida is easily available in any Indian store but if you don't find it, add one clove grated garlic.
Curry leaves are also available in Indian stores. There is really no substitute that I can suggest for curry leaves as the flavor is very different from any other herb. However, you can use bay leaves or kaffir lime leaves for a flavor boost but it would still be different from curry leaves.
Nutrition