Happy New Year! Wishing you all a fantastic and fun filled 2018. I read somewhere that a cup of hot chocolate is like a hug from the inside. So, I couldn't think of anything better to start my blog chapter of 2018. This Chai Spiced Hot Chocolate is a luscious winter indulgence. A warm hug!
2018 is going to be an exciting year for me. My cookbook will be released around fall this year and I cannot wait to hold it in my hand. A dream will soon come to reality. I am so excited about the whole journey. After finishing the major chunk of the work that was writing the manuscript, there is a lot of work still left. But at the end, I know it will all be worth it. If you missed reading about the cookbook deal announcement, you can read this post. Now, back to the Chai Spiced Hot Chocolate.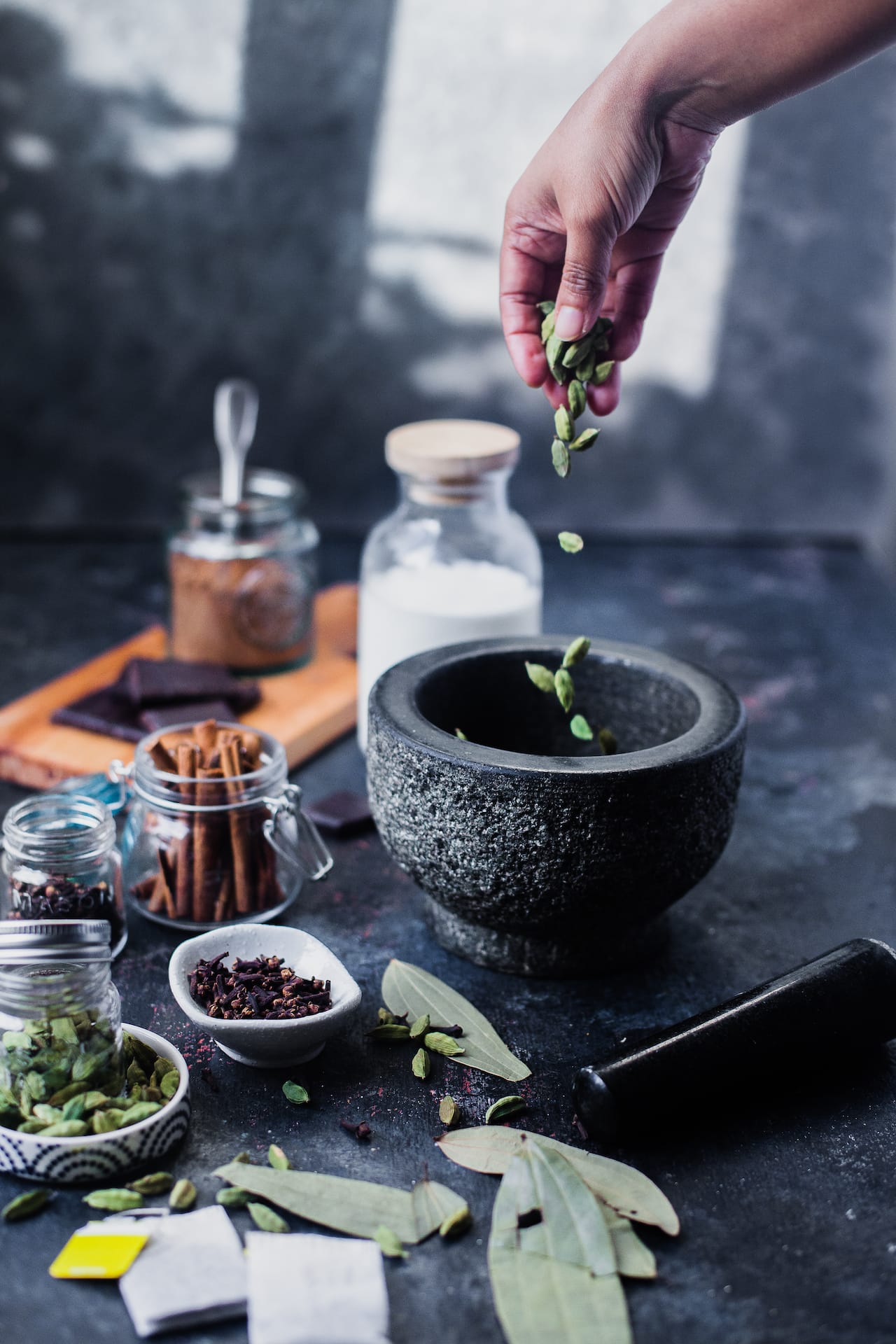 Long back, I had shared a simpler version of hot chocolate mix and I love that easy quick version. But, when the cold weather hits, standing by the stove and stirring a pot of milk as it simmers gives a certain amount of pleasure. The spices release the aroma that fills up your entire kitchen, giving that warm cozy feeling.
There are different combination of spices that can go in a milk tea (chai) as we Indians like to call it. The spices that I used over here are pretty much the same that I use for my morning masala chai. It's not overly spiced but very perfumy and makes your hot chocolate aromatic. You can however use your own blend of spice mix to give it your own little twist. A pinch of kosher salt at the end is not optional as it makes the entire flavor blend together very beautifully.
Stay warm and enjoy the charm of cold season by wrapping your hand around a warm cup of Chai Spiced Hot Chocolate.
Chai Spiced Hot Chocolate
Ingredients
2

bay leaves

8

cloves

8

green cardamom

2

cups

milk

2

cinnamon sticks

2

tablespoons

cocoa powder

2

black tea bags

¼

cup

of dark or milk chocolate

2

teaspoons

brown sugar

(adjust quantity based on sweet taste preference)

½

teaspoon

kosher salt
Instructions
Using a motor and pestle, pound the bay leaves, cloves and cardamom to a coarse texture.

Place a heavy bottom saucepan on medium heat and pour the milk followed by the spice mix and cinnamon sticks.

Give it a mix. Simmer the milk for 10 minutes, stirring frequently to avoid the milk from getting burnt at the bottom of the pan.

Sprinkle the cocoa powder and stir until the cocoa powder dissolves completely.

Drop the tea bags and simmer for 2 more minutes. Then, strain the infused cocoa milk into a different pan.

Place the strained milk back on medium heat and drop the chocolate. Stir until it dissolves. Add sugar and salt. Taste and add more sugar, if you would like it sweeter.

Pour the Chai Spiced Hot Chocolate in two mugs. Top it with marshmallow or whipped cream and shave some more chocolate on top.
Notes
The amount of sugar added needs to be adjusted based on the kind of chocolate you are using.
Nutrition