I always feel that after a vacation, I will be reluctant to enter the kitchen but it somehow turns out to be just the opposite. I only get more excited! It's been a couple of days since we came back from our dream-came-true trip and I have loads to share with you. Hopefully, I will soon be done editing the gazillion photos that we captured. Yes, gazillion! What can I say, we visited Paris and Rome, and it was our first time to these beautiful places. We just couldn't get enough of its beauty. I will share the travel post soon, I promise.
Today, let's enjoy the Carrot Ginger Mini Bundt cake.
It's been pouring all-day long and the weatherman said that it would remain the same for the next few days. For some weird reason, I am actually enjoying the rain and the cozy feeling that it's bringing along with it. I am also enjoying the smell of the cake and the simple flavors, which go so well with a cup of hot tea. Perfect for the season, I say.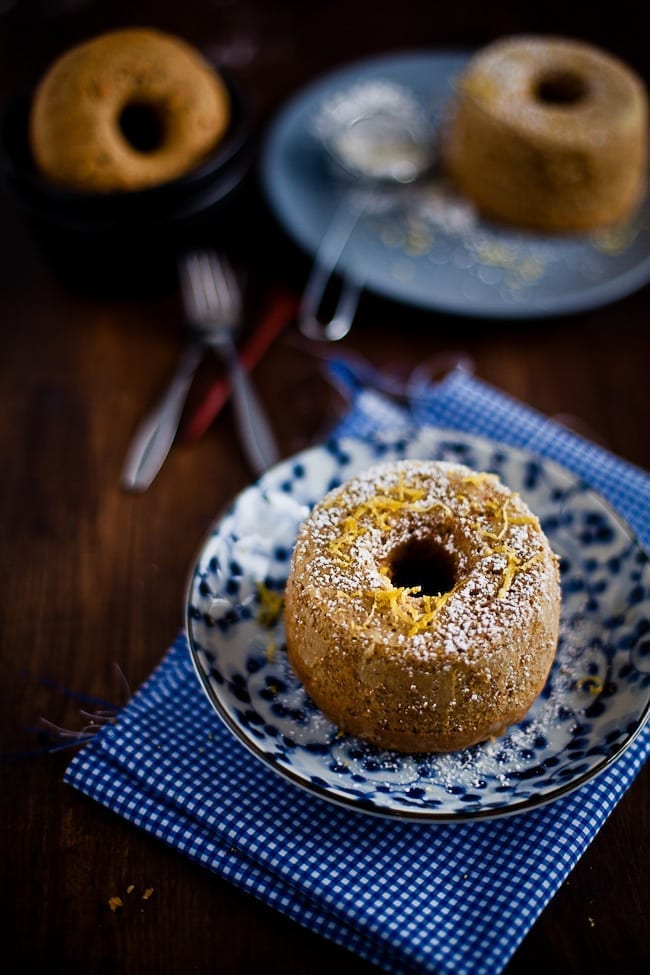 I personally feel that the combination of ginger and carrot always works! Be it in a savory soup or a sweet cake. I also added some lemon to it for a refreshing flavor. It's one of those easy, effortless baking recipes that can turn any gloomy day into a pretty happy one!
Carrot Ginger Mini Bundt Cake
Ingredients
1-½

cup

all purpose flour

(plus more to dust the baking pans)

1

teaspoon

cinnamon powder

½

teaspoon

baking soda

pinch

of salt

1

cup

sugar

¾

cup

olive oil

(plus more for greasing the baking pans)

2

eggs

3

medium size carrots

(finely grated)

2-

inch

ginger

(finely grated)

zest of one lemon

(plus more for garnish)

juice of half lemon

1

teaspoon

vanilla extract

2

tablespoons

icing sugar

(for garnish)
Instructions
Preheat the oven to 325F. Grease the baking pans with some oil and dust it with flour.

In a mixing bowl, whisk flour, cinnamon powder, baking soda and salt.

In a separate bowl, whisk oil, egg and sugar until it's smooth and pale yellow in color.

Add the dry ingredients in the mixing bowl to this bowl and mix it properly.

Add rest of the ingredients (carrot, ginger, lemon juice, lemon zest and vanilla extract) and whisk for about a minute.

Pour the batter in the baking pans. Fill it half way through. Bake it for about 30 minutes.

Before serving, sift some icing sugar on top and add some lemon zest.
Notes
The baking time might differ if you are using a bigger pan instead of the mini ones.
Nutrition
Serving:
4
mini bundt cake
I am sharing this with Lora @ Cake Duchess and Anuradha @ Baker Street for her event #BundtAMonth