This time of the year always takes me back to my days spent in Shillong, a tiny hill station in northeastern part of India. It was scenic, pollution free, pleasant and always much cooler than tropical India. That's where I was born and spent a reasonable amount of time; learning, making mistakes and growing up. Even though I moved away after my graduation and my parents moved away after Dad retired, I still like to call Shillong as my hometown.
We had a plum tree, pear tree and orange tree in our backyard. Actually, every other house in Shillong had an orange tree. I noticed the same thing when I moved to this part of California. It always makes the streets look so brighter and lets not forget the refreshing citrus aroma that it spreads around. Winter is cold in Shillong and after lunch, we all would sit outside, soak up the sun and munch on sweet juicy oranges. It was our favorite winter snack.
Unlike most schools in India, we had longer winter vacations because of the freezing temperature. More than half of the population is Christian and that made Christmas a very special festival in Shillong. We would wake up listening to Christmas carols playing in our landlord's house that was right above ours. Everyone dressed up beautifully and everyone was so happy. We didn't celebrate Christmas in a traditional way. There was no Christmas tree but there was always the smell of cake. Mom's vanilla cake was our traditional Christmas treat. Of course, later at night, we would visit our Landlord's house, gobble up all the delicious dishes and eat some more fruitcake.
It's been a really long time since I last visited Shillong but these memories always feel so fresh!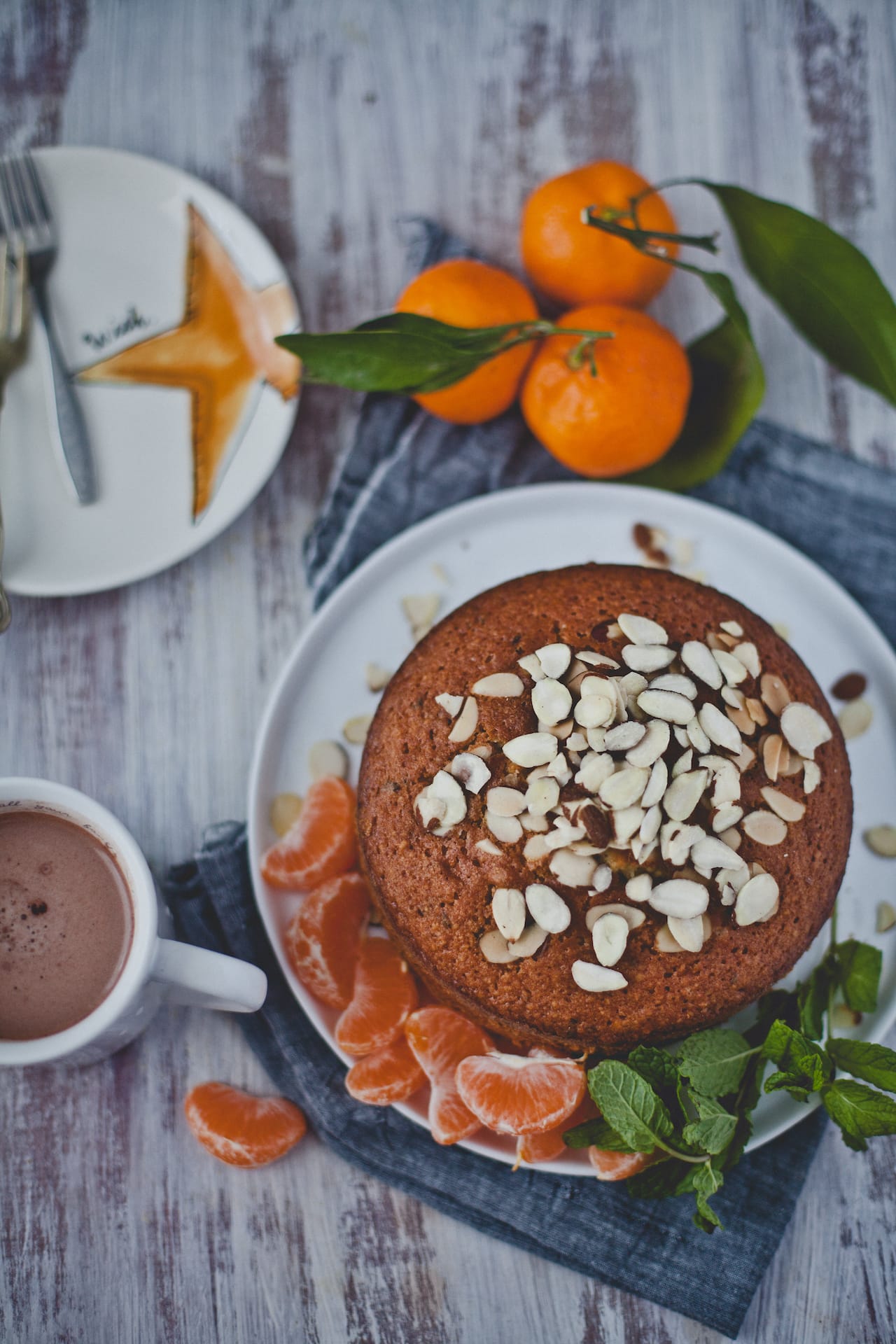 My brother baked a rich rum fruitcake this Christmas that he promises to bake for me once I visit home. I took a lighter path and baked an orange mint almond cake. The combination of citrus with mint makes the cake so flavorful and almond flour adds the nutty texture. And if you are like me, you won't mind some hot chocolate on the side to wash down the cake. Tea or coffee can wait, it's holiday season after all.
Orange Mint Almond Cake
Yield:
6 -inch round cake
Ingredients
2 eggs
1 cup sugar
3/4 cup olive oil
1 cup almond flour
1/2 cup all-purpose flour
1 teaspoon baking powder
1/8 teaspoon salt
zest of one orange
juice of one orange
1 teaspoon vanilla extract
1/4 cup finely chopped fresh mint
1/4 cup sliced almond for garnish
Instructions
Pre-heat the oven to 350F and grease a 6-inch round pan with oil. Dust a little flour on all sides of the baking pan and throw any excess flour away.
Whisk eggs and sugar until they're combined together. Add oil and whisk once again.
In a bowl, mix all-purpose flour with almond flour, baking powder and salt. Pour this mixture to the egg mixture and whisk until it's all mixed together. Add orange zest, juice, chopped fresh mint and vanilla extract. Whisk once again.
Pour batter in the pan and bake it for about 35 to 40 minutes or until the cake is baked through. Poke a knife in the center and if it comes out clean, the cake is done. Let it cool for 5 minutes before you take it out of the pan.
This year has been a mixed bag for us but then again, what's life without few a roller-coaster rides in between. I am looking forward to what's in store for the next year and wishing you all lots of joy, laughter and happiness!
Make 2014 the way you want it and live every moment with hope and smile!
Did you enjoy this Orange Mint Almond Cake? Share your creation by tagging
@playfulcooking
on Instagram with the #playfulcooking and I will re-share in my story!