Last year was a crazy year for us, and a very special one. A tiny person arrived in our life and turned it upside down. We became a family. Avyan took his first flight when he was just 4 months old when we moved back to India. We sold all our stuff and started from scratch with 6 suitcases packed with clothes and baby stuff, well, mostly baby stuff.
It was not an easy year for us. There were a lot of frustrating days, but others were filled with bliss and fun. A mixed bag it was. I have no clue what's in store for this year and I stopped making resolutions long back. Planning to just go with the flow and try to make the best out of it. I do know that with my boys next to me, any day is a happy day for me. I can deal with any thing that comes my way. So, bring it on 2015!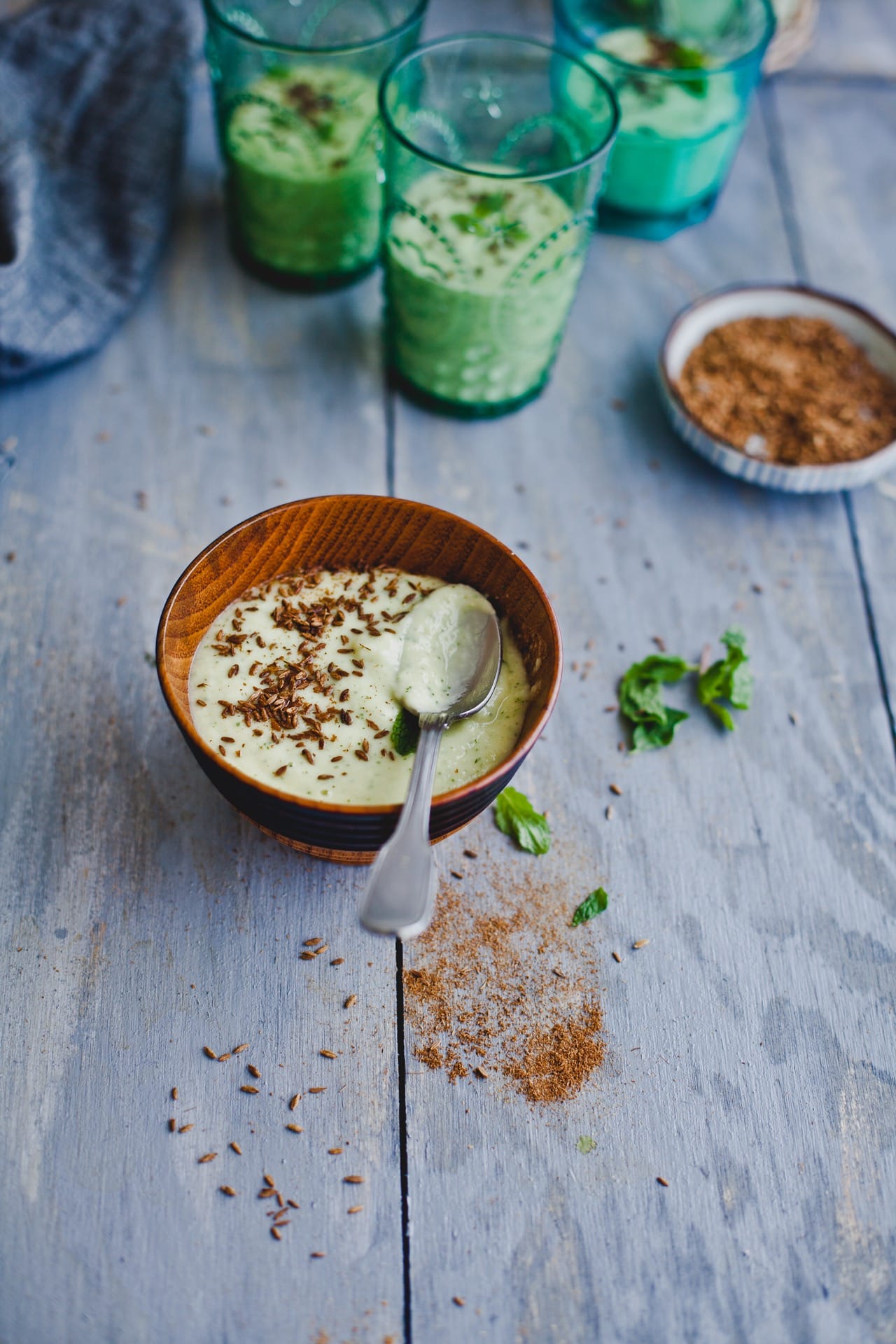 Come January and everybody gets enthusiastic to shed the holiday weight - juicing, cleansing, workout, etc etc. I am hopeless at it. I need both nutrition and indulgence, even if not in the same day. But both of them should be balanced in just the appropriate portions. This soup, for example, I can't gulp a lot of it. I am more of a hot soup person with few slices of bread to dunk-in. But a small bowl of this cold soup is perfect coolant on a sunny day.
Avocados are not easily available out here and it somehow looks a little different too. Most of the time, it's ginormous in size. Thankfully it's still just as creamy as it should be. The recipe of this soup came up without much plan. I had to finish a lonely avocado. On toast, it would have made a great breakfast but then this idea popped in my mind. And I went with it. With cucumber, little bit of yogurt and freshly grated ginger, the soup was almost complete but then a handful of fresh mint and few pinches of roughly crushed roasted cumin seeds gave it that spur. The roasted cumin is roughly crushed in an old fashion way, just to add a hint of texture in every spoonful of that velvety soup.
Ready in less than ten minutes, this soup could be a great start to your healthy diet.
Wishing you all a fun filled and successful new year!
Avocado Cucumber Cold Soup
Ingredients
1

avocado

1

cucumber

¼

cup

fresh mint

1

inch

ginger

(peeled and grated)

1-

tablespoon

fresh lemon juice

½

cup

plain yogurt

2

tablespoon

cumin seeds

(pan roasted and roughly crushed)

Salt to taste
Instructions
In a blender, add everything except the cumin seeds. Run the blender until it all comes together to a smooth consistency. Add more water or yogurt, depending on how thick or thin you would prefer the soup.

Add half of the crushed roasted cumin seeds and give it a mix with the spoon.

Serve in bowl or glass. Sprinkle the remaining cumin seeds on top and if you like, a few mint leaves too.
Nutrition