I finally got over my fear of working with phyllo dough with this Asparagus Prosciutto Phyllo Tart! Using the phyllo dough makes the tart so light and super flaky. I used left over cream cheese, topped with asparagus and prosciutto which is always a fool-proof pairing. Just like any other variety of tart, you do want to enjoy this Asparagus Prosciutto Phyllo Tart almost immediately after it's baked. Of course, try not to burn your tongue because it is too hard to resist!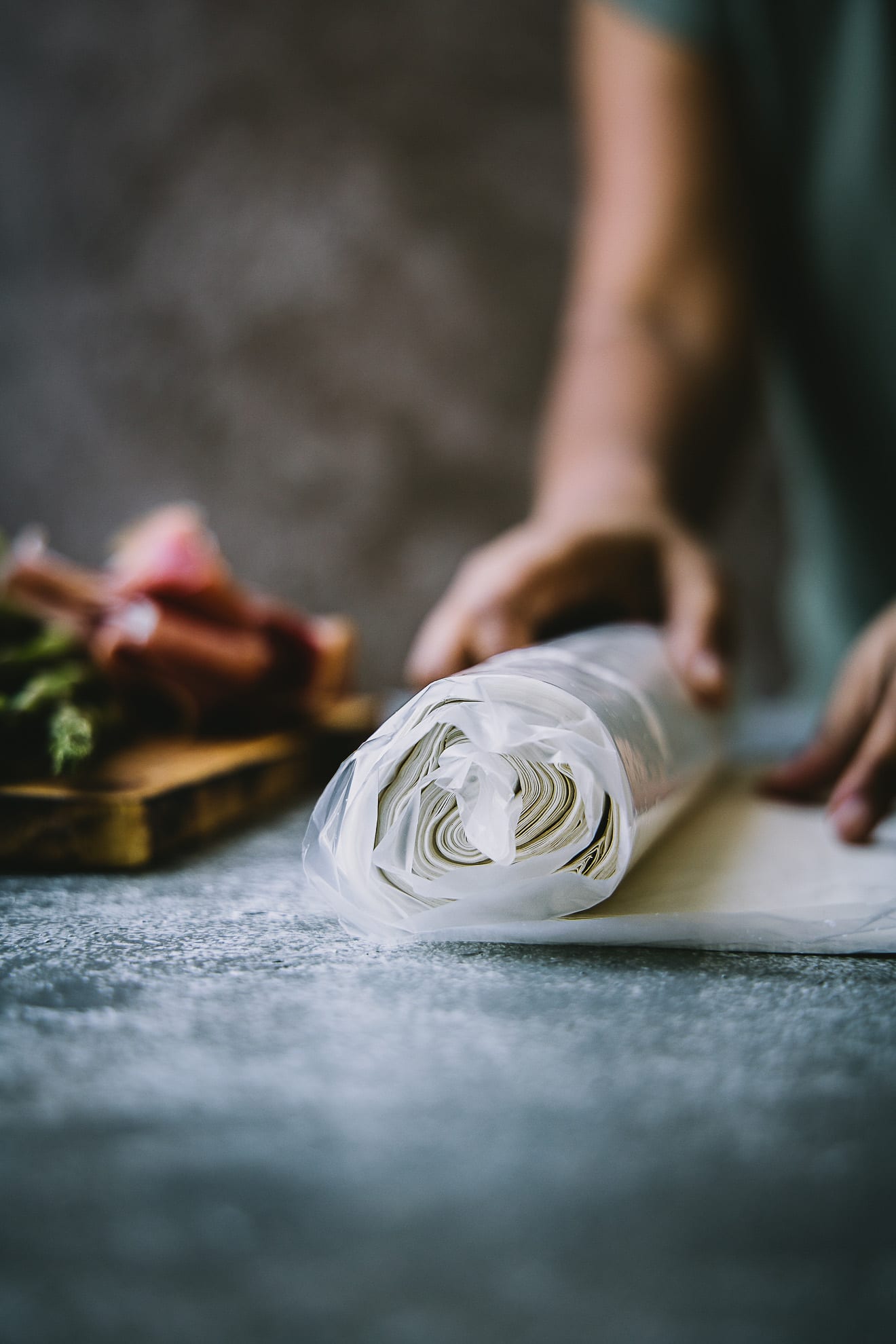 I had always been intimidated with the idea of using filo/ phyllo dough. It's so light and breaks apart easily. But as it turns out, with a little care, it was actually quite easy to build the tart. If you are like me, kick that worry and grab a packet right away. Just follow the tips below and you will be fine.
TIPS on how to work with Phyllo Dough!
Let the phyllo dough thaw in the refrigerator overnight. It will be much easier to separate the tissue thin sheets when thawed properly.
Phyllo dough dries out very quickly. So, keep a big damp kitchen towel handy to cover the phyllo dough as you work with the sheets, one at a time.
You need a soft pastry brush to brush the oil/melted butter on the sheet. If the pastry brush tips are too rough, it can break the sheets.
Most important tip is getting all the toppings ready before you open the thawed packet of phyllo dough.
Roll back the left-over sheets and store it in the freezer if you are not using it in the next couple of days.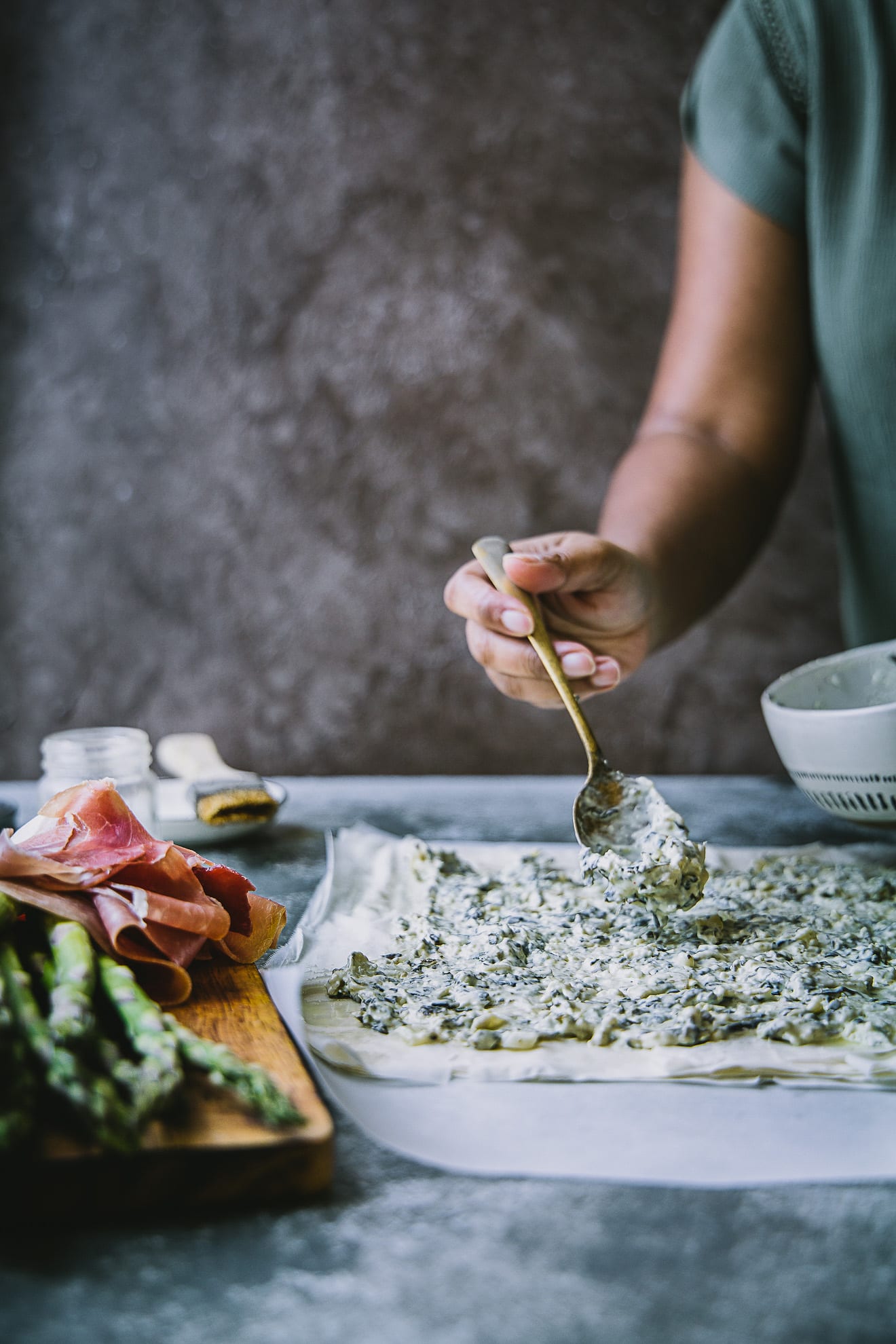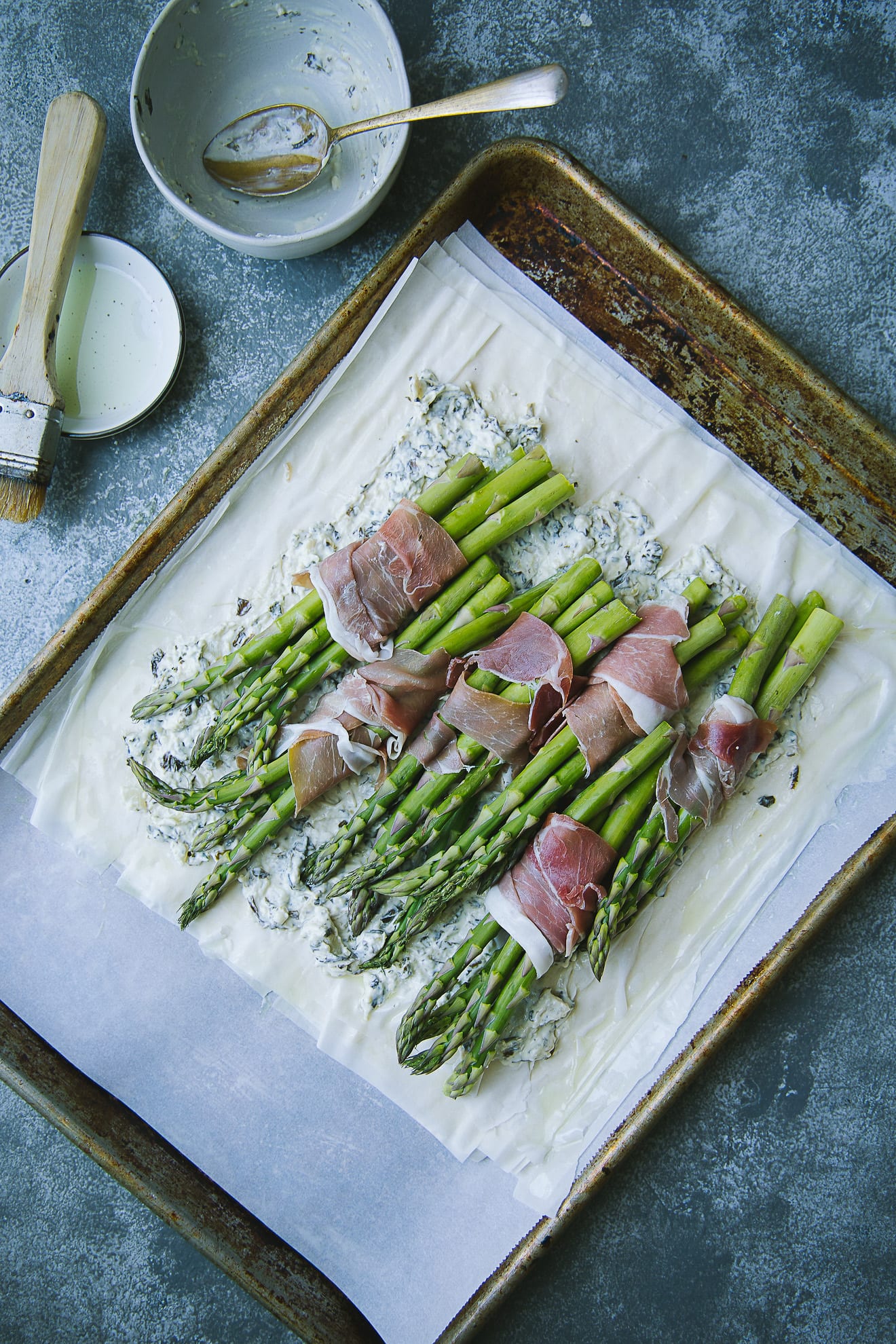 How to make this Asparagus Prosciutto Phyllo Tart
This Asparagus Prosciutto Phyllo Tart tart was my creative way to finish few leftover ingredients – spinach artichoke dip and prosciutto. I bought both of them in big bulk for a party and then, there was too much to consume. I topped the tart with spinach artichoke dip, but you can replace that with ricotta cheese or even cream cheese.
Prosciutto and asparagus always pair beautifully and somehow, these two went very well with the dip as well. We did have the tart for dinner, but it can make for a great brunch menu.
Here are few other Tart recipes you must try!
Tomato Tart with Basil and Paneer
Asparagus Prosciutto Phyllo Tart
Ingredients
½

packet phyllo dough sheets

15 to 16

asparagus

(end trimmed off)

12

prosciutto slices

½

cup

spinach artichoke dip

oil to brush the phyllo sheets

thinly sliced radish and nasturtium leaves

(optional garnish)
Instructions
Preheat the oven to 400 F

Open the thawed phyllo sheet packet and keep a damp kitchen towel handy to cover the sheets.

While the sheets are still attached to one another, cut it in half length-wise. Roll back the half of the sheets that we will not be using and pack it back to the freezer.

Keep everything ready to build the tart. Pour some oil in a bowl and keep the pastry brush ready.

Layer one phyllo sheet on the cookie sheet and brush oil on the sheet. Then, layer the next sheet. Continue this until you have layered all the sheets. If there are tiny torn here and there, don't worry.

Spoon the spinach artichoke dip and spread it evenly on the sheet. Top it with the asparagus and prosciutto.

Bake the tart for 20 to 25 minutes or until the edges are golden brown!

Garnish with the sliced radish and few nasturtium leaves.

Serve right away and enjoy while it's still warm.
Nutrition